July 14, 2016
Accenture, The University of Notre Dame, and The Rural Development Company in South Africa Launch Renewable Energy Program in KwaZulu-Natal, Delivering Clean, Affordable Electricity
Local entrepreneurs have solar energy, Internet connectivity, skills training, and mentors to build businesses and create jobs

NEW YORK; July 14, 2016 – Accenture (NYSE: ACN), the University of Notre Dame Initiative for Global Development (NDIGD) and The Rural Development Company have launched the first solar-powered microgrids in the northern KwaZulu-Natal district of uMkhanyakude, South Africa, as part of the Connectivity, Electricity and Education for Entrepreneurship (CE3) program.
One solar-powered microgrid provides power for irrigation equipment in South Africa while a larger solar facility powers a pack house where local farmers consolidate yields and process and package harvested crops. This reduces the farmers' overall burden of labor and operating costs, and enables the farmers' cooperative to achieve crop yields large enough to supply commercial buyers.

The CE3 program serves as a catalyst for local economic development in these rural communities. It strengthens existing businesses, creates employment, and builds new businesses through the provision of clean, affordable electricity, Internet connectivity, and programs that train local residents in basic computing, entrepreneurship and workforce readiness skills. The CE3 business model is sustainable in that it enables each site to cover its operating expenses, including the cost of maintaining the microgrid infrastructure.
Solar microgrids in South Africa by @Accenture @NotreDame deliver connectivity & aid economic dev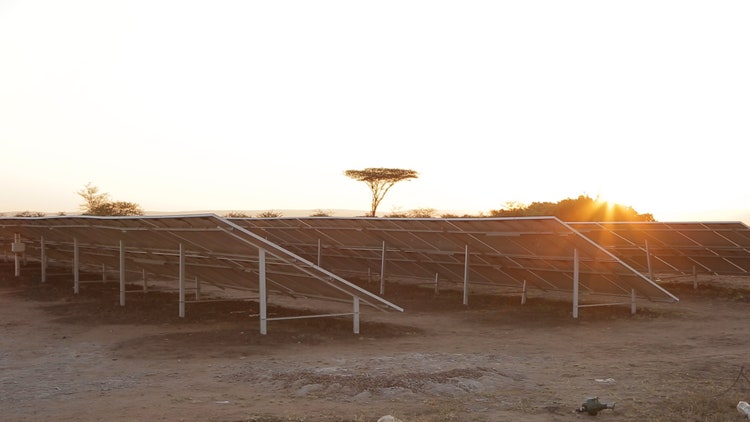 Solar microgrids installed in South Africa by Accenture and the University of Notre Dame
enable Internet connectivity and economic development

Accenture has supported CE3 with more than US$2.3 million in contributions since 2012 through its corporate citizenship initiative, Skills to Succeed, which is equipping more than 3 million people around the world with the skills to get a job or build a business. In 2012, Accenture and NDIGD introduced the CE3 project as a pilot program in rural northern Uganda – across three communities deeply impacted by decades of civil war. The current projects scale the model further in Uganda and into South Africa. Accenture expects to train and mentor more than 3,350 entrepreneurs in information technology and entrepreneurship in South Africa and Northern Uganda, and help create approximately 2,475 jobs or start-up businesses by June 2017.

In conjunction with the grant, Accenture Development Partnerships, which delivers the power of Accenture's global capabilities and experience to positively impact the lives of people in the developing world, teamed with NDIGD to help conceptualize, design and implement the CE3 project. The project team oversaw the market assessment, business model development and the program roll out. In doing so, they drew on Accenture's strategy, industry and technical skills, as well as its local presence in South Africa and experience working with the international development community.

Additionally, Accenture Development Partnerships led the project's sustainability efforts, training local staff, developing local management tools, assessing business models and providing training materials to help local businesses leverage solar energy in lieu of more expensive options. The project team also designed and developed a digital entrepreneurship training and mentorship program, giving community entrepreneurs access to training, webinars and online mentoring by Accenture employees.

"Drawing on Accenture's strategy and technology capabilities – combined with our experience in the renewable energy industry, dedication and resources of NDIGD, and local market connections of The Rural Development Company – we have been able to empower underserved communities and fuel economic development through renewable solar power," said Roger Ford, managing director, Accenture Development Partnerships. "We look forward to replicating the program and training aspiring entrepreneurs across rural Sub-Saharan Africa to contribute to the United Nations' Sustainable Development Goal #7 of ensuring access to affordable, reliable, sustainable and clean energy for all."

The participating organizations have 'industrialized' the CE3 model through the development of an assessment toolkit that measures local environment, regulatory and market conditions in order to adapt the model for a specific region. It does so by analyzing local needs and developing the financial model required to achieve operational sustainability and recovery of capital expenditures as the program is extended to additional communities.

"Our work with Accenture and The Rural Development Company in Africa is a model for excellence that delivers social, economic and environmental impact," said Scott Appleby, dean of Notre Dame's Keough School of Global Affairs. "Teaming with the private sector to foster economic and human development is a priority for NDIGD and the Keough School."

As the program is scaled, Accenture and NDIGD are installing two additional solar microgrids in Northern Uganda that will power local schools, businesses and CE3 business incubation centers. Transitioning communities to renewable power will have the added benefit of reducing their dependence on costly and polluting diesel fuel and kerosene.

About Accenture
Accenture is a leading global professional services company, providing a broad range of services and solutions in strategy, consulting, digital, technology and operations. Combining unmatched experience and specialized skills across more than 40 industries and all business functions – underpinned by the world's largest delivery network – Accenture works at the intersection of business and technology to help clients improve their performance and create sustainable value for their stakeholders. With more than 375,000 people serving clients in more than 120 countries, Accenture drives innovation to improve the way the world works and lives. Visit us at www.accenture.com.

About NDIGD
The Notre Dame Initiative for Global Development (NDIGD) combines the existing world-class teaching and research faculty of the University with a dedicated staff of experienced international development professionals, administrators, and researchers. Together they address the challenges of building just and equitable societies by leveraging the University's signature strengths to promote development and human dignity worldwide. It is an integral part of the Keough School of Global Affairs. Visit us at ndigd.nd.edu

# # #

Contact:

Barbara Lyon
Accenture
+ 1 703 947 1838
barbara.d.lyon@accenture.com