November 15, 2016
Accenture Positioned in Winner's Circle, Named as Overall Leader in Innovation in HfS Research's Blueprint for Intelligent Automation

NEW YORK; Nov. 15, 2016 – Accenture (NYSE: ACN) has been named to the 'Winner's Circle' and designated as the 'overall leader in innovation,' ahead of all competitors, in the inaugural HfS Research's Blueprint for Intelligent Automation. The report recognizes Accenture's vision and investments, its tools and platform strategy and its approach to applying intelligent automation in the delivery of services, across organizational boundaries, with a focus on vertical industry solutions and business process consulting.
The report is the first qualitative analyst assessment of intelligent automation, a nascent market that HfS defines as a continuum across Robotics Process Automation, Cognitive Computing, Autonomics and Artificial Intelligence. HfS projects exponential growth in this area in the next twelve months, due to broad-scale deployments and increasingly holistic automation approaches.

Accenture was praised for the plug-and-play, technology agnostic approach of its artificial intelligence engine, which allows clients to harness the latest leading capabilities from across the commercial and open source ecosystem. HfS also cited the broad cognitive capabilities of its myWizard® platform, which is playing a central role in the evolution of service delivery. The report noted that the latter is by far the most compelling build out of virtual agents currently available. Additionally, clients interviewed for the Blueprint commended the company's quality of delivery.\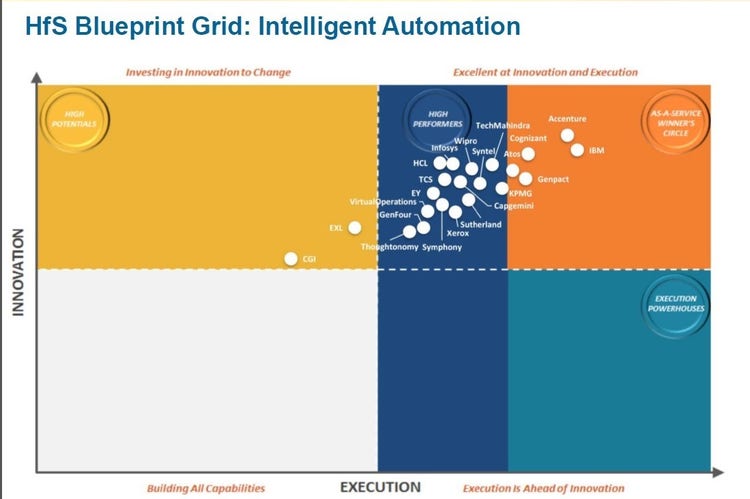 The HfS Research Blueprint for Intelligent Automation shows Accenture as a clear leader
"Accenture stands out as a leader in delivering comprehensive intelligent automation solutions, leveraging extensive industry knowledge and technology capabilities," said Tom Reuner, VP, Intelligent Automation Research, HfS Research, and author of the report. "The company's offerings are integral to helping its clients embrace the ideals of the As-a-Service Economy."

"As the collaborative bond between humans and machines deepens, companies are making intelligence and automation pervasive in their business," said Bhaskar Ghosh, group chief executive, Accenture Technology Services. "Solutions such as the Accenture myWizard® platform take advantage of this collaboration to enable smarter, more innovative and more efficient operations that help clients achieve greater productivity and insights to improve business performance."

"Accenture is a leader in investing in automation and transforming the delivery of business process and infrastructure services in order to help our clients transition to the As-a-Service economy," said Debbie Polishook, group chief executive, Accenture Operations. "Our intelligent automation capabilities, coupled with advanced analytics, are a critical component of this shift -- enabling us to deliver services with increased speed and efficiency, and driving greater innovation as clients generate and analyze data, gather insights and achieve better business outcomes."

"Artificial intelligence technologies are coming of age and maturing rapidly—disrupting and transforming how businesses operate and compete and how people work and live. We see the combinatorial effect of AI technologies creating new business value through reimagined business models and processes that deliver better outcomes for clients," said Paul Daugherty, chief technology officer, Accenture. "By transforming the relationship between humans and machines, businesses can achieve unprecedented levels of creativity, innovation and growth."

Accenture's strengths highlighted in the report consist of:
Holistic automation strategy: The Accenture Intelligent Automation Platform integrates Business Workflow Management, Delivery Management, Intelligent Automation, and Analytics and Insights, with a neutral ERP interface at the core. This is further enhanced by the Accenture AI Engine.
Strategically embedded analytics: Accenture Digital has more than 13,000 professionals dedicated to integrated analytics, essential for converting the data driven by intelligent automation into actionable insights and business outcomes.
Integrated vertical offerings: Accenture is helping to drive robust and point solutions into industry offerings, such as its Claims Adjudication Advisor and Lease Abstraction Advisor that combine a virtual agent with broad cognitive capabilities.
Strong collaboration with ecosystem partners: HfS noted that Accenture is building out dedicated intelligent automation practices; the strategic lever in the ecosystem is the AI Engine that allows a plug-and-play integration of disparate assets.
The findings of the HfS Blueprint report were determined by data for this Blueprint was collected in Q2/3 2016, covering services buyers, service providers, and advisors/influencers in this space. The top twenty system integrators, pure-play business process outsourcing companies (BPOs), the 'Big 4' and leading specialist consultants were evaluated in this study. Research consisted of interviews with buyers, structured discussions with service providers and publicly available information.

The HfS Research Blueprint for Intelligent Automation report can be accessed here.

About Accenture
Accenture is a leading global professional services company, providing a broad range of services and solutions in strategy, consulting, digital, technology and operations. Combining unmatched experience and specialized skills across more than 40 industries and all business functions – underpinned by the world's largest delivery network – Accenture works at the intersection of business and technology to help clients improve their performance and create sustainable value for their stakeholders. With approximately 384,000 people serving clients in more than 120 countries, Accenture drives innovation to improve the way the world works and lives. Visit us at www.accenture.com.

# # #

Contact:

Julie Bennink
Accenture
+ 1 312 693 7301
julie.l.bennink@accenture.com