March 02, 2016
Accenture Positioned in 'As-a-Service Winner's Circle' For Pharma BPO R&D and Commercial Services According to Report by HfS Research
NEW YORK; Mar. 2, 2016 – Accenture has been named to the "As-a-Service Winner's Circle" in the HfS Research Blueprint Report for Pharma BPO in the emerging As-a-Service Economy, with a focus on R&D and Commercial Services sectors.
The inaugural report identifies themes in the business process services market, and includes a competitive analysis of Accenture and six other multi-national and multi-functional service providers on innovation and execution capabilities in support of the drug development and sales and marketing stages. As a provider in the As-a-Service Winner's Circle, the report reveals that "Accenture has a strong capability and forward-looking approach that is being realized through investments in acquisitions and talent development."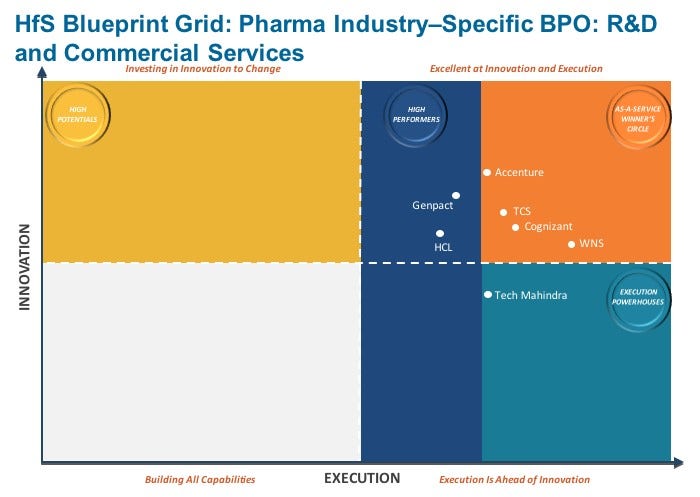 Source: © HfS Research. HfS Research Blueprint: Pharma BPO in the Emerging As-a-Service Economy: Focus on R&D and Commercial Services. January 2016.

"Accenture stands out particularly as a leader in this Blueprint because of its ability to partner closely with clients and deliver quality, globally resourced services to support drug development and marketing, and also coordinate across the industry to address common challenges," said Barbra Sheridan McGann, executive vice president, business operations research at HfS Research. "Clients appreciate the developing mindset around using data and digital technology in the context of driving business results, and not for the sake of technology itself."

Kevin Julian, managing director of Accelerated R&D Services, Accenture Life Sciences noted: "Accenture has been placed in the Winner's Circle of this HfS Blueprint report in recognition of the talent and strategy we provide to our global clients on a daily basis. As we continue to closely collaborate with our clients to deliver business outcomes, we are pleased to be recognized as a leader in the evolution of life sciences BPO to an 'as-a-service' model."

Additional points in the report, which cited Accenture's unique strengths include:
Technology and Business Mindset: Accenture has initiated the Life Sciences Cloud Coalition that drives the proprietary Accenture Life Sciences Cloud for R&D designed to aggregate internal and external data sources across clinical, safety, regulatory, and operational functions into a single analytics platform.
Extensive Global Network and Capability: Accenture is recognized by clients who spoke to HfS for its ability to bring global resources to bear, and balance on- and offshore resources.
Consistent Operational Excellence: Clients appreciate the level of attention to root cause analysis and training.
Unique Talent Development Approach: In an industry with high attrition and demand for specialized skills, Accenture has a partnership with the India Clinical Research Institute that allows preferential access to skilled pharmacovigilance resources. Across the Commercial Services business, Accenture is recognized by HfS for its focus on deploying therapeutic area training in key areas such as diabetes and oncology.
"Being placed as a leader in the 'Winner's Circle' recognizes our ability to deliver value through intelligent operations and innovations that are reshaping life sciences industry," said Shawn Roman, North America managing director, Commercial Services, Accenture Life Sciences. "We provide services that go well beyond cost savings to deliver true business value in areas such as new top line revenues, improved speed to market, technology-based productivity improvements and better insights to help improve patient outcomes."

Click here to access the HfS Research's Blueprint Report for Pharma BPO in the R&D and Commercial Services.

About Accenture
Accenture is a leading global professional services company, providing a broad range of services and solutions in strategy, consulting, digital, technology and operations. Combining unmatched experience and specialized skills across more than 40 industries and all business functions – underpinned by the world's largest delivery network – Accenture works at the intersection of business and technology to help clients improve their performance and create sustainable value for their stakeholders. With approximately 373,000 people serving clients in more than 120 countries, Accenture drives innovation to improve the way the world works and lives. Visit us at www.accenture.com.
# # #


Contact:

Cam Granstra
Accenture
+ 1 312 693 5992
cameria.l.granstra@accenture.com