February 10, 2016
Accenture Positioned Highest Leader in Everest Group PEAK Matrix™ Reports for Mobility Services in Global Insurance and Global Banking Industries


Deep domain and technology experience, a rich ecosystem and strong design capabilities differentiated Accenture as Leader

NEW YORK; Feb. 9, 2016 – Accenture (NYSE:ACN) has been placed in the leading position in two new Everest Group PEAK Matrix reports about mobility services in the global banking and the global insurance industries.
The PEAK Matrix is a framework to assess the relative market success and overall capability of service providers based on Performance, Experience, Ability and Knowledge (PEAK) in an industry. The reports noted that Accenture had created a differentiated position in both the banking and insurance markets by helping provide enterprises with the skills, resources and scalable end-to-end mobility solutions that utilise leading edge technologies and span the spectrum of offerings necessary to face the challenges of market evolution.

"Mobility is a vital tool for a successful digital transformation," said Ankur Seth, Practice Director, Everest Group. "In both the global banking and insurance assessments, Accenture was positioned as a Leader. Deep industry experience, strong technology capabilities and its role as a key player in an ecosystem that enables businesses to take advantage of the very latest technological advances for growth helps Accenture clients succeed, as they address the challenges of rapid market evolution."

In the PEAK Matrix for mobility services in global banking, Everest Group analyzed the capabilities of 17 leading technology service providers, specific to mobility in this sector. Accenture was positioned as a Leader, with comprehensive set of solutions across transaction banking, payments and mobile wallets, as well as application, device and content management services. The report noted Accenture's strong design and end-to-end capabilities for mobility projects, from consultation stages to ongoing support.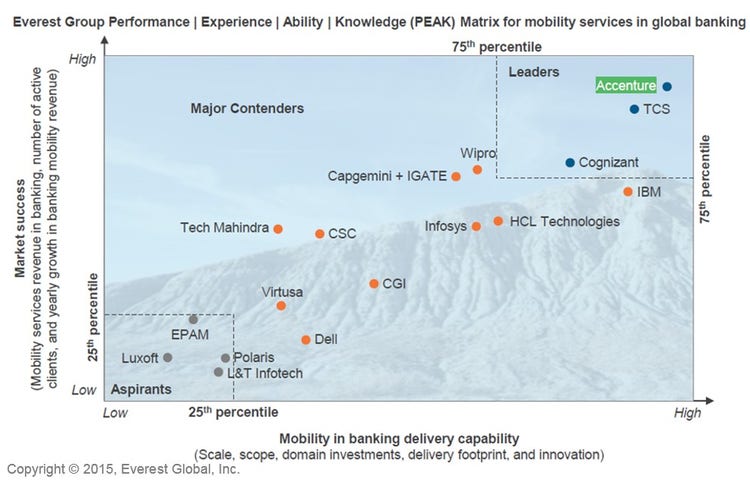 The PEAK Matrix for mobility services in global insurance analyzed the capabilities of 12 mobility service providers in the insurance sector, and again Accenture was positioned as a Leader. A strong ecosystem, range of in-house proprietary technologies and an industrialized portfolio of mobility assets were some of the strengths noted as contributing to the driving of tangible business outcomes for Accenture clients.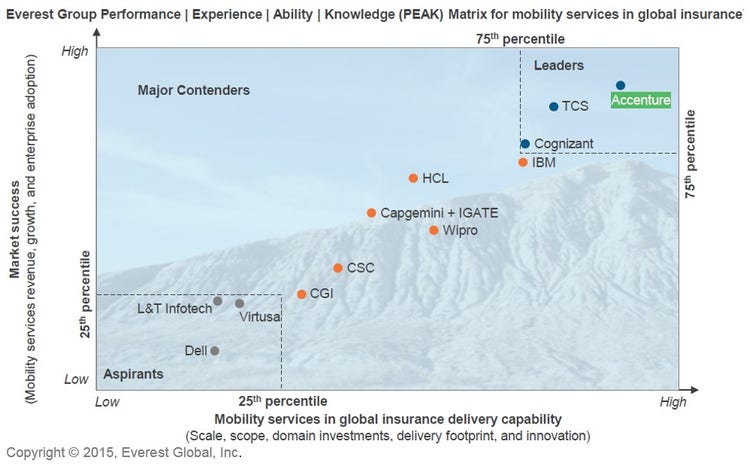 "By working closely with our colleagues and clients in the banking and insurance industries, we've been able to gain unparalleled experience as to how mobility can transform and grow businesses," said Jim Bailey, senior managing director, Accenture Digital – Mobility. "Accenture is at the center of the digital ecosystem, and as such, our clients get the solutions best suited to overcoming their challenges and addressing their business objectives, not undertaking technology projects for the sake of it. The Everest Group's reports demonstrate that Accenture's approach to digital transformation has delivered real business results for insurance and banking clients to date, and we will continue to invest in and test new technologies for our clients in both sectors to benefit from."

Methodology
The Everest Group's PEAK Matrix is a framework to assess the relative market success and overall capability of service providers. Service providers are positioned on the PEAK Matrix based on evaluation across two key dimensions:
Market success is measured by: revenue for mobility services, rate of revenue growth, and number of clients.
Delivery capability measured by scale of operations, scope, domain investment, delivery footprint and innovation
About Accenture
Accenture is a leading global professional services company, providing a broad range of services and solutions in strategy, consulting, digital, technology and operations. Combining unmatched experience and specialized skills across more than 40 industries and all business functions – underpinned by the world's largest delivery network – Accenture works at the intersection of business and technology to help clients improve their performance and create sustainable value for their stakeholders. With approximately 373,000 people serving clients in more than 120 countries, Accenture drives innovation to improve the way the world works and lives. Visit us at www.accenture.com.

Accenture Mobility, part of Accenture Digital, plans, implements and manages mobility solutions for businesses and public organizations, including developing and implementing enterprise mobility strategies; building and testing applications; and supplying credible, business ready Internet of Things offerings and managed services. Accenture Mobility services are based on deep industry insights and technical expertise that help clients across all industries achieve growth, efficiency and manage a successful transformation as they adopt the tools of a digital business. Find out more by following @mobilitywise and visiting www.accenture.com/mobility.

# # #

Contacts:

Joanna Vos
Accenture
+ 44 7500 835588
joanna.r.vos@accenture.com

Copyright © 2016 Accenture. All rights reserved.

Accenture, its logo, and High Performance Delivered are trademarks of Accenture.

This document makes descriptive reference to trademarks that may be owned by others. The use of such trademarks herein is not an assertion of ownership of such trademarks by Accenture and is not intended to represent or imply the existence of an association between Accenture and the lawful owners of such trademarks.