The report recognizes Accenture for its distinct mix of service delivery expertise and technology innovation that enables clients to address business outcomes on a flexible, plug-and-play basis. Accenture is lauded for its collaborative relationships with clients, its articulate vision and "new way of thinking," and for its recognizable investments in future capabilities that are driving new insights and models.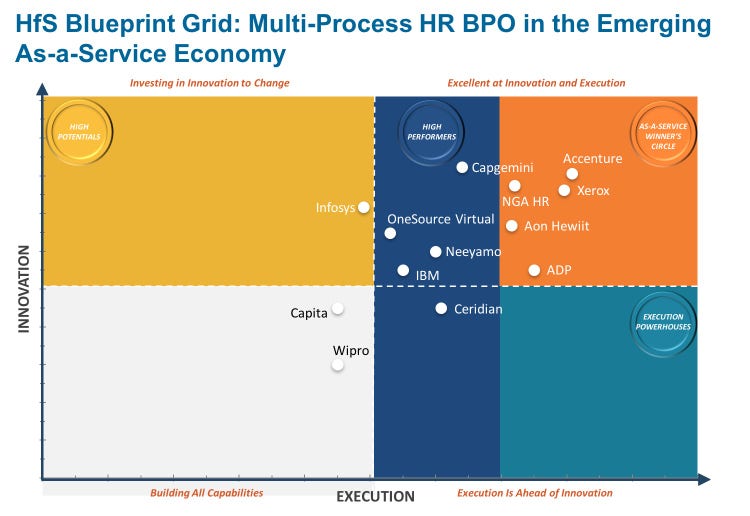 "Accenture demonstrates the most mature use of As-a-Service capabilities in the industry, which is indicative of its ability to increase the value of MPHRO for its clients," said Phil Fersht, CEO and chief analyst of HfS Research – The Services Research Company.™ "As a result of its forward thinking vision, proactive use of intelligent automation, clear technological and services framework and global scale, Accenture continues to dominate the market."

A significant element of the assessment methodology was based on the adoption of HfS Research's eight ideals of As-a-Service, which describe the operations of service providers and buyers in a business-outcome focused outsourcing partnership.

"Accenture's market-leading position in this report demonstrates our ability to provide clients with transformational, platform-based solutions that can flex to support dynamic business and workforce needs," said Debbie Polishook, group operating officer, Accenture Operations. "Enabled by cloud, analytics and automation, we're committed to delivering a consumer-based experience that offers the right balance of high-tech and high-touch services."

Additional Accenture strengths highlighted in the report include:
Extensive Use of Intelligent Automation: Accenture has proactively implemented extensive automation in its MPHRO contracts, for which it is praised by clients.
Service Delivery Based on Business Outcomes: Accenture is focused on addressing end business goals.
Integrated Service and Technology Delivery: Accenture has an ecosystem of third party and proprietary HR technologies that it implements into client organizations and are included in Accenture's outcomes and transactional based pricing.
Global MPHRO Support Across the Value Chain: Accenture has reached a "critical mass" whereby it can deliver on multi-country and multi-language MPHRO contracts.
Key Focus on Employee Engagement: Accenture has developed its MPHRO services around employee engagement and satisfaction, which is a leading driver for fostering continued growth within the MPHRO market.
Platform Agnostic: Accenture has teamed with third party providers to deliver implementations.
The results of the report were based on data collected in Q1 from buyers and providers of MPHRO services. The HfS Research 2016 HR Operations in the As-a-Service Economy Blueprint Report can be accessed here.

About Accenture
Accenture is a leading global professional services company, providing a broad range of services and solutions in strategy, consulting, digital, technology and operations. Combining unmatched experience and specialized skills across more than 40 industries and all business functions – underpinned by the world's largest delivery network – Accenture works at the intersection of business and technology to help clients improve their performance and create sustainable value for their stakeholders. With approximately 373,000 people serving clients in more than 120 countries, Accenture drives innovation to improve the way the world works and lives. Visit us at www.accenture.com.

# # #

Contact:

Hannah Unkefer
Accenture
+ 1 415 537 4848
hannah.m.unkefer@accenture.com