August 30, 2016
Accenture Positioned as a Leader in Latest IDC MarketScape Report on Serving Oil and Gas Companies

HOUSTON; Aug. 30, 2016 – Accenture (NYSE: ACN) has been positioned as a leader in the IDC MarketScape: Worldwide Oil and Gas Professional Services 2016 Vendor Assessment by IDC Energy Insights.1 Accenture is the only company to receive this distinction for the last three IDC MarketScape oil and gas reports.
The report evaluated Accenture and 12 other companies that provide professional services across the upstream, midstream, downstream, and trading segments of the oil and gas industry. The IDC MarketScape analyzed capabilities in business and management consulting, IT consulting, systems integration (SI), IT outsourcing and business process outsourcing and conducted more than 30 interviews with oil and gas companies for the report.

"Our leadership position in this report again this year recognizes Accenture's position at the intersection of business and technology. Our deep domain expertise, ability to deliver innovative, industry specific solutions and end-to-end service capabilities, set us apart," said Andrew Smart, managing director, Accenture energy industry group. "We continue to invest in strategic acquisitions, talent development and industry solutions to help our clients compete in today's digital world. We are excited by the work we are delivering with oil and gas companies, to help them transform core operations and create more agile, digitally enabled businesses."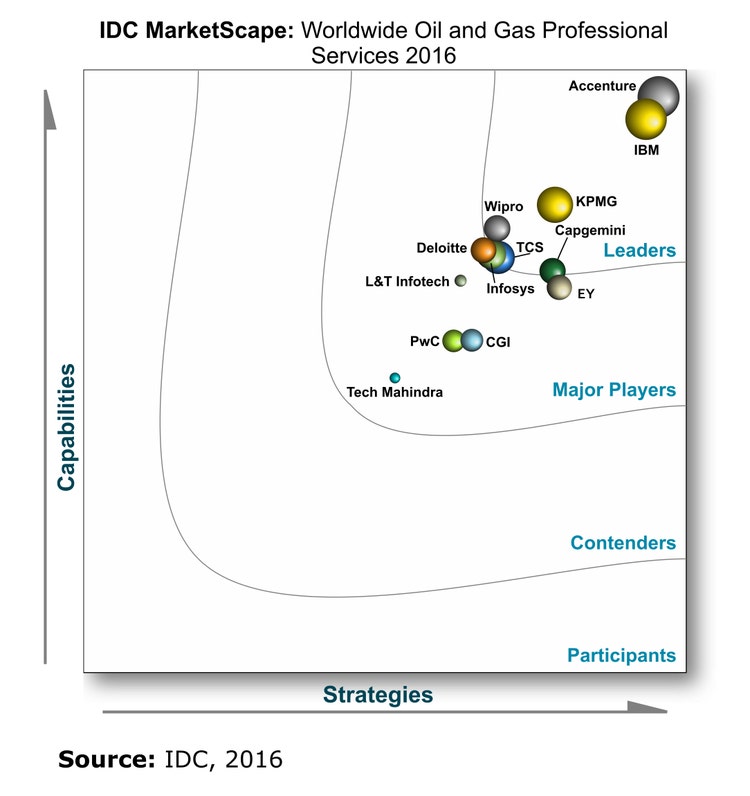 Accenture was recognized as being ahead of the curve in developing solutions for the oil and gas industry that are well conceived and start from a business standpoint. The report notes Accenture's differentiators include more than 40 years servicing the oil and gas industry and the deep domain expertise combined with technical skills needed to deploy high-impact solutions across the hydrocarbon value chain.
Accenture Positioned as Oil and Gas Leader in Latest IDC MarketScape Report @AccentureEnergy


"IDC Energy Insights believes that clients are demanding deep industry expertise combined with technical capabilities from their service vendors especially for complicated and high-impact initiatives. These kinds of skills helped to fuel Accenture to hit on all cylinders as interviewees rated them well above par for performance," said Chris Niven, Research Director, IDC Energy Insights Oil & Gas.

In addition to interviews with multiple major and large oil and gas companies, oilfield services, and manufacturers of oilfield equipment, the report is based on vendor briefings and other research information.

The IDC MarketScape: Worldwide Oil and Gas Professional Services Vendor Assessment 2016 can be accessed here.

More information about Accenture's services to the energy industry can be accessed here.

About Accenture.
Accenture is a leading global professional services company, providing a broad range of services and solutions in strategy, consulting, digital, technology and operations. Combining unmatched experience and specialized skills across more than 40 industries and all business functions – underpinned by the world's largest delivery network – Accenture works at the intersection of business and technology to help clients improve their performance and create sustainable value for their stakeholders. With more than 375,000 people serving clients in more than 120 countries, Accenture drives innovation to improve the way the world works and lives. Visit us at www.accenture.com.

About IDC MarketScape:
IDC MarketScape vendor analysis model is designed to provide an overview of the competitive fitness of ICT (information and communications technology) suppliers in a given market. The research methodology utilizes a rigorous scoring methodology based on both qualitative and quantitative criteria that results in a single graphical illustration of each vendor's position within a given market. IDC MarketScape provides a clear framework in which the product and service offerings, capabilities and strategies, and current and future market success factors of IT and telecommunications vendors can be meaningfully compared. The framework also provides technology buyers with a 360 degree assessment of the strengths and weaknesses of current and prospective vendors.

1 doc # Doc #US40842116, August 2016

# # #

Contacts:

Guy Cantwell
Accenture
+ 1 281 900 9089
guy.cantwell@accenture.com

Matt Corser
Accenture
+ 44 755 784 9009
matthew.corser@accenture.com