September 26, 2016
Accenture Named to Thomson Reuters Index of World's Most Diverse and Inclusive Companies


Ranking is latest inclusion and diversity recognition for the company

NEW YORK; Sept. 26, 2016 – Accenture (NYSE: ACN) has been named to Thomson Reuters' inaugural Diversity & Inclusion Index, which ranks the 100 most diverse and inclusive companies in the world. Accenture ranked No. 18 on the list.
"Accenture's commitment to inclusion and diversity starts at the top, and I am personally driven by the belief that diversity makes organizations stronger, smarter and more innovative," said Pierre Nanterme, Accenture's chairman and CEO. "At Accenture, we create an environment where our people are empowered to bring their individual points of view, experiences, cultures and skills – in other words, their diversity – to the table, which results in the very best solutions for our clients and for our business. Quite simply, inclusion and diversity are essential for success and relevance in today's world. On behalf of everyone at Accenture, we are delighted to receive this recognition."

To compile the Index, Thomson Reuters assessed publicly available data for more than 5,000 publicly traded companies around the world. The companies were measured on 24 separate metrics across four key categories. The Index was then calculated by weighing each metric based on importance in the market and how each company compares with its peers.
We're proud to be among the Top 25 of @thomsonreuters D&I Index #TRIndex. Read more http://bddy.me/2ddLtQ8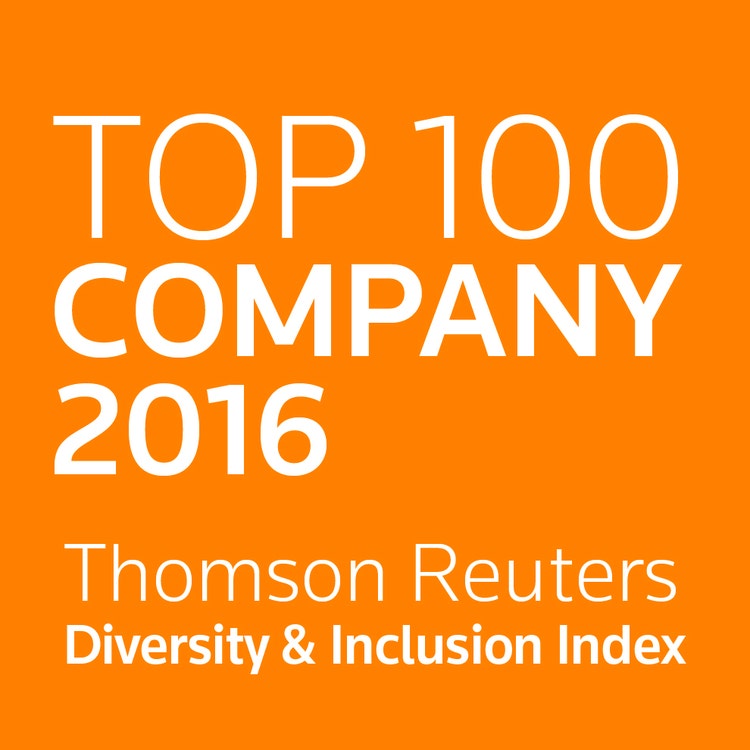 "We are delighted that Accenture ranks among the top 25 most diverse and inclusive organizations globally, based on our D&I index," said Patsy Doerr, global head of Corporate Responsibility and Inclusion at Thomson Reuters. "The Thomson Reuters D&I index is the first of its kind that measures relative performance against multiple factors that define diverse and inclusive workplaces. The business case is clear; in order to attract and retain top talent, this must be a top priority. We want to congratulate Accenture on demonstrating policies that help to support the central values that underpin our D&I index."

Accenture's ranking reflects the company's commitment to going beyond current industry workplace best practices to create new standards for learning and development, inclusion and diversity. Recent initiatives include:
Investing US$841M in employee learning and development in fiscal 2015—delivering 15 million hours of training, at an average of more than 45 hours per person;
Reporting, for the first time, the demographics of its workforce in markets around the world, including the United States, South Africa and ASEAN countries;
Shifting from an annual performance-management process to Performance Achievement, which includes real-time, forward-looking conversations about setting priorities, growing strengths and creating rewarding career opportunities; and
Expanding parental benefits in markets around the world, including India, Philippines and United States, to help its people navigate the challenges of raising a family while continuing to pursue their careers.
"This recognition is a significant acknowledgment of Accenture's long-standing commitment to inclusion and diversity," said Ellyn Shook, Accenture's chief leadership and human resources officer. "Most recently, we surpassed our goal of 40 percent woman new hires worldwide by 2017. Looking ahead, we will continue striving to create an environment where our more than 375,000 people – across abilities, age, ethnicity, gender, religion, sexual orientation, and gender identity and expression – can bring their 'best selves' to work and be successful, professionally and personally."

The Thomson Reuters ranking is the latest in a series of recognitions for Accenture's diverse and inclusive workplace and culture. The company has been included on the following lists: DiversityInc's Top 50 Companies for Diversity; Working Mother's 100 Best Companies ; Working Mother's Best Companies for Multicultural Women; and the Human Rights Campaign's Corporate Equality Index.

To learn more about inclusion and diversity at Accenture, visit accenture.com.

About Accenture
Accenture is a leading global professional services company, providing a broad range of services and solutions in strategy, consulting, digital, technology and operations. Combining unmatched experience and specialized skills across more than 40 industries and all business functions – underpinned by the world's largest delivery network – Accenture works at the intersection of business and technology to help clients improve their performance and create sustainable value for their stakeholders. With more than 375,000 people serving clients in more than 120 countries, Accenture drives innovation to improve the way the world works and lives. Visit us at www.accenture.com.

About Thomson Reuters
Thomson Reuters is the world's leading source of news and information for professional markets. Our customers rely on us to deliver the intelligence, technology and expertise they need to find trusted answers. The business has operated in more than 100 countries for more than 100 years.

# # #

Contacts:

Stacey Jones
Accenture
+ 1 917 452 6561
stacey.jones@accenture.com

Sam Hyland
Accenture
+ 1 917 452 5184
samuel.hyland@accenture.com