July 25, 2016
Accenture Launches Liquid Studio in France to Help Organizations Accelerate Digital Transformation with Rapid Prototyping and Application Development


Accenture Liquid Studio is co-located with the Innovation Center in Paris

PARIS; July 25, 2016 – Today Accenture (NYSE: ACN) opened a new Liquid Studio in Paris, France, strategically co-located with the Accenture Innovation Center. The latest in its growing network, the studio is designed to help clients explore new methods of IT delivery, create an omni-channel digital presence, and deliver world-class user experiences that will help them attract and retain customers.
The mission of the Accenture Liquid Studio is to help organizations ideate and rapidly define, create, test, deliver and manage innovative applications that are easy to update, replace, remove or augment as their business needs evolve. Clients can also experiment with and prototype emerging technologies such as the Internet of Things, wearables, as well as artificial intelligence that have the potential to transform their operations and customer experiences.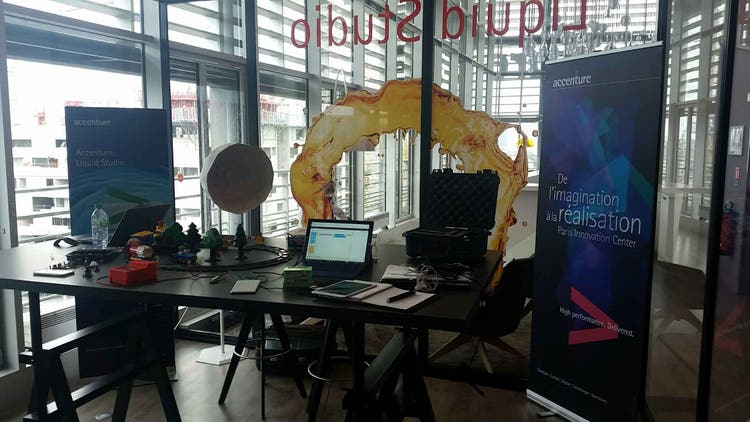 Interior of the Accenture Liquid Studio in Paris, France
Working at the Liquid Studio, European companies will collaborate in a hands-on environment with Accenture's highly skilled software engineers to quickly prototype and develop a wide range of custom applications using cloud infrastructure and platforms, rapid application development principles such as intelligent automation, lightweight frameworks and plug-and-play, innovative Agile and DevOps engineering approaches and microservice-based architectures.
Accenture opens new Liquid Studio in Paris, France to enable rapid prototyping and application development


"Accenture Liquid Studios combine scale, automation, industry knowledge, outcomes-based risk acceptance and a unique understanding of how far clients may be willing to go to innovate," said Patrick Heffernan, practice manager and principal analyst at Technology Business Research, Inc., an independent market research and advisory firm. "With its studios, Accenture is setting a new standard for how high-touch, experience-driven client engagement centers will evolve in the future."

"Business cycle times are shrinking and technology is increasingly a driver of business strategy, not just a supporting function," said Bhaskar Ghosh, group chief executive, Accenture Technology Services. "To compete with agility and speed, companies can no longer afford massive, multi-year system implementations. They need fundamentally new approaches to application development, which helps them become built for change. The new Liquid Studio can help deliver innovative solutions to businesses with speed and agility."

"The Liquid Studio in Paris enables us to deliver a complete cycle of innovation services," said Christian Nibourel, country managing director for Accenture in France and Benelux. "With the pace of technological change increasing faster than ever, organizations need to create a competitive advantage by becoming more agile, adaptive and aligned through digital technologies. The Liquid Studio is a one-of-a-kind 'think-and-act tank' equipped to support our clients in the region and contribute to the dynamic of innovation in the country."

The new location works closely with the Accenture Liquid Studio in Silicon Valley, CA, Accenture Labs, including the one in Sophia Antipolis, and the company's Open Innovation program to take emerging technologies out of the lab and start up community and into development for large enterprises.

The Liquid Studio also offers modernization and migration services to help companies make legacy systems future ready for the digital world. And, it applies intelligent automation to testing and other phases of delivery, to help cut the cycle time from weeks or months down to days.

"Clients can come and work from this studio collaboratively with Accenture and use the power of its alliances to create innovative solutions for their businesses," said Yves Bernaert, senior managing director, Accenture Technology for Europe. "The studio can help develop relevant use cases and products by having engineering teams sit side-by-side in a highly collaborative environment."

Read more about the Accenture Liquid Studio.

About Accenture
Accenture is a leading global professional services company, providing a broad range of services and solutions in strategy, consulting, digital, technology and operations. Combining unmatched experience and specialized skills across more than 40 industries and all business functions – underpinned by the world's largest delivery network – Accenture works at the intersection of business and technology to help clients improve their performance and create sustainable value for their stakeholders. With approximately 375,000 people serving clients in more than 120 countries, Accenture drives innovation to improve the way the world works and lives. Visit us at www.accenture.com.

# # #

Contacts:

Hannah Unkefer
Accenture
+ 1 415 537 4848
hannah.m.unkefer@accenture.com

Clémence Caradec
Accenture
+ 33 1 53 23 55 23
clemence.caradec@accenture.com