September 15, 2016
Accenture Launches HealthTech Innovation Challenge to Foster Technology Innovation In the Healthcare Industry


Program will help harness the industry's $6.5 billion in start-up funding fueled by open innovation

NEW YORK; Sept. 15, 2016 –- Accenture today announced the creation of the Accenture HealthTech Innovation Challenge which brings together leading-edge startups with prominent life sciences and health companies to tackle some of the world's greatest health challenges including access, affordability and transparency.
As part of Accenture's broader HealthTech Innovation program, startups from around the globe will compete to bring innovative technology and creative solutions forward to improve the way people access and manage healthcare. Selected finalists will present to an exclusive panel of judges, comprised of senior executives from globally recognized life sciences and health companies, gaining exposure and access to these industry-leading companies to bring their ideas to market.

This program from Accenture's Life Sciences and Health practices is tied to Accenture Ventures, which is focused on accelerating the adoption of early stage enterprise technology innovations.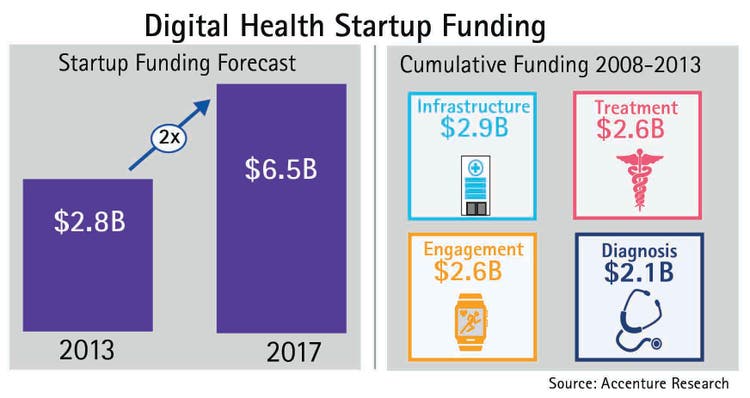 "Digital disruption is fundamentally changing the life sciences and health industries. New digital players from within and outside the ecosystem have the potential to make a significant impact to the way the world approaches healthcare," said Anne O'Riordan, senior managing director of Accenture Life Sciences and co-author of Healthcare Disrupted. "With all the activity in the startup space, many established healthcare organizations are asking how do they decide which innovators can help them best deliver patient care. With the launch of the Accenture HealthTech Innovation Challenge, Accenture will identify emerging innovators and disruptors and act as a catalyst by connecting them with the companies who can fast-track market impact."

The four categories startup companies can enter in the Accenture HealthTech Innovation Challenge are:
Help ME have easier access to healthcare where applicants address how the underserved or remote populations can be better supported in their health and lifestyle needs.
Help ME get better faster where applicants address how services can be provided to support care plan adherence and improved outcomes; how real world evidence and/or non-traditional data streams can be used to improve patient outcomes.
Help ME better manage my health where applicants address how consumers (patients, caregivers or families) can get the right health information and services at the right time; how people's lifestyle needs be better understood to optimize care.
Help keep MY information private and secure where applicants address how the privacy and security of a person's health and lifestyle information can be improved while enabling information sharing and improved care.

"This program aims to help healthcare startups advance their business agenda and infuse fresh ideas across the system to improve patient care, said Brian Kalis, managing director of digital health at Accenture. "We forecast that start-up funding for digital healthcare, such as wearables and virtual health, will reach $6.5 billion by the end of next year. This growth continues to be fueled by open innovation between startups and a broad spectrum of stakeholders with the same shared goal of advancing healthcare."

Two initial pitching sessions will take place in London on November 25, 2016 and New York on December 1, 2016. Selected startups will be invited to pitch to an exclusive panel of judges that includes senior executives from AmerisourceBergen, Anthem, the Bill & Melinda Gates Foundation, Bupa, Cardinal Health, Novartis, Stanford University Medical Center, UCB, and more. The established health and life sciences companies involved in the program will gain exposure to fully vetted, cutting-edge technologies as they evolve and potentially disrupt the healthcare industry.

The final judging round will take place at the StartUp Health Festival in San Francisco during the JP Morgan Healthcare Conference January 9, 2017. Accenture is the lead Innovation Partner of the festival which brings together over 1,000 of the world's leading healthcare innovators and investors. The top entrants in each category will gain exposure and access to leading companies in their target market or therapeutic area. They will also be offered the opportunity to participate in in StartUp Health's Launchpad program.

Startup businesses can enter at www.accenture.com/healthtechinnovation from now until October 21, 2016.

About Accenture
Accenture is a leading global professional services company, providing a broad range of services and solutions in strategy, consulting, digital, technology and operations. Combining unmatched experience and specialized skills across more than 40 industries and all business functions – underpinned by the world's largest delivery network – Accenture works at the intersection of business and technology to help clients improve their performance and create sustainable value for their stakeholders. With approximately 375,000 people serving clients in more than 120 countries, Accenture drives innovation to improve the way the world works and lives. Visit us at www.accenture.com.
# # #


Contacts

Jenn Francis
Accenture
+ 1 630 338 6426
jennifer.francis@accenture.com

Cam Granstra
Accenture
+ 1 312 693 5992
cameria.l.granstra@accenture.com