January 13, 2016
Accenture Invests More than US$840 Million in Employee Learning and Professional Development


Company reinvents training through digital learning environment

NEW YORK; Jan. 13, 2016 – Accenture (NYSE: ACN) invested US$841 million on the training and professional development of its people in fiscal 2015 – delivering 15 million hours of training, at an average of more than 40 hours per employee. With a focus on digital, the company has reinvented its approach to learning, enabling its 373,000 people to unleash ideas, drive innovation and develop the highly specialized skills needed to serve Accenture's clients and communities.
"As a talent-led organization, we are always inventing new ways for our people to learn and grow professionally in their careers," said Pierre Nanterme, Accenture's chairman and CEO. "Digital is key to learning at Accenture, and we continue to invest in the latest digital technologies to deliver highly relevant training to our people – quickly and at the point of need – to ensure that we are bringing our clients the end-to-end capabilities and outcomes that only Accenture can deliver."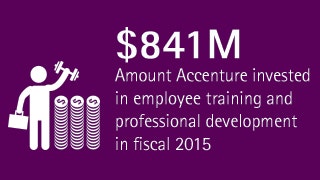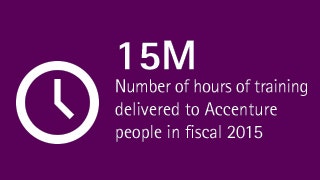 Reinventing training through Accenture Connected Learning
The centerpiece of this investment is Accenture Connected Learning, a blend of classroom-based training and a digital learning environment that links the company's employees to professional content and world-class experts from inside and outside Accenture.

Since its introduction at the start of fiscal 2015, Accenture Connected Learning has enabled the company to develop highly specialized skills at scale and to respond to quickly changing business requirements faster than ever before. At the same time, Accenture Connected Learning enables employees – be they data scientists, visual designers, information architects, mortgage processors or any of the diverse skilled professionals within the company – to enrich their professional capabilities, develop the critical skills needed to stay market-relevant and enhance their own career opportunities.

"Accenture Connected Learning makes learning continuous, flexible and increasingly democratized," said Ellyn Shook, Accenture's chief leadership and human resources officer. "Our people learn best by connecting, collaborating and practicing for the scenarios they will encounter in their work with our clients. From basic skills to industry-specific content, learning is available to all our people anywhere, anytime – and, in many cases, no selection or approval is involved. Simply tap the app and start learning."

Specifically, Accenture Connected Learning comprises:
More than 50 connected classrooms that enable Accenture people from multiple locations – often spanning thousands of miles – to participate together in interactive and collaborative classroom sessions taught by Accenture's senior leaders and world-class subject-matter experts. Accenture plans to double the number of its virtual classrooms in fiscal 2016, to more than 100.
More than 24,000 online courses and 900 learning boards – online forums curated by subject matter experts through which Accenture people can find and share the best information and ideas. These online courses and learning boards provide anywhere, anytime learning opportunities – giving employees development opportunities outside of the traditional classroom environment.
Five regional learning centers , which offer Accenture employees a more traditional classroom learning environment and help develop the company's talent locally. The company has centers in Bangalore, India; Kuala Lumpur, Malaysia; London, England; Madrid, Spain; and St. Charles, Illinois (outside Chicago) in the United States.
More than 100 Professional Communities , the newest learning environment within Accenture Connected Learning, which bring together Accenture colleagues around the world who do similar work, such as software engineering, or who specialize in a specific industry, such as banking. Through Professional Communities, employees can harness the power of Accenture's global network for answers, ideas, collaboration, innovation, lessons learned, industry insight and more – whether for ongoing professional development or a point-in-time need.
Training is just one part of the overall investment Accenture makes to help its people succeed professionally as well as personally. To strengthen how it develops and grows employees, earlier this fiscal year the company began shifting from an annual performance management process to one that includes real-time, forward-looking conversations about setting priorities, growing strengths and creating rewarding career opportunities. Additionally, to help its people navigate the challenges of raising a family while continuing to pursue their careers, the company significantly expanded maternity and paternity leave benefits in a number of countries, providing those who choose to be at home following the birth or adoption of a child with greater support and helping to ease their transition back to work.

About Accenture
Accenture is a leading global professional services company, providing a broad range of services and solutions in strategy, consulting, digital, technology and operations. Combining unmatched experience and specialized skills across more than 40 industries and all business functions – underpinned by the world's largest delivery network – Accenture works at the intersection of business and technology to help clients improve their performance and create sustainable value for their stakeholders. With approximately 373,000 people serving clients in more than 120 countries, Accenture drives innovation to improve the way the world works and lives. Visit us at www.accenture.com.

# # #

Contacts:

Stacey Jones
Accenture
+ 1 917 452 6561
stacey.jones@accenture.com

Sam Hyland
Accenture
+ 1 917 452 5184
samuel.hyland@accenture.com