December 21, 2016
Accenture Awards INR 48 Million in Grants to Support Job-Skills Training for Persons with Disabilities in India
NEW DELHI; Dec. 21 2016 – To increase job readiness and opportunity for persons with disabilities, Accenture (NYSE: ACN) has awarded a series of grants worth INR 48 million to its nonprofit partners Dr. Reddy's Foundation, Anudip Foundation and EnAble India.
The grants – a part of Accenture's Skills to Succeed global corporate citizenship initiative which aims to equip 3 million with job skills by 2020 – will enhance programs that provide job skills to persons with disabilities in India and connect them to open positions. Specifically, the grants will support:
Dr. Reddy's Foundation's GROW skilling program for persons across India with locomotor disabilities and hearing impairment, focused on communication and work-readiness skills; skills for targeted service industries such as information technology (IT), hospitality and retail; and basic digital skills. The program also helps connect disabled persons with suitable jobs.
The Anudip Foundation's Specially Abled Vocational Education (SAVE) program in West Bengal and Odisha, tailored to the physically and visually challenged. The three-month program provides IT and business-process-outsourcing-specific training informed by employer requirements and available positions.
EnAble India in scaling its innovative Namma Vaani system which, through interactive voice response, uses mobile phones to create an interactive, inclusive social platform to create a network for persons with disabilities. Through Namma Vaani, these individuals are able to not only share their stories, but also receive information related to employment opportunities, government schemes and skills development programs.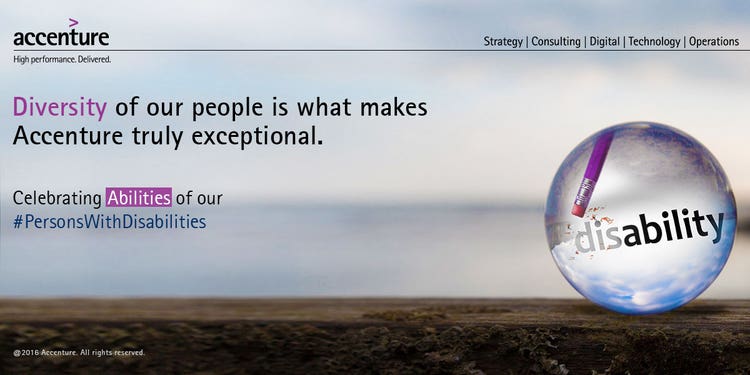 "Over the past five years, we have teamed with several of our Skills to Succeed partners to make a measurable impact for this community. I am proud to share that we expect to have equipped approximately 20,000 persons with disabilities in India with job skills by the end of fiscal 2017," said Rekha M. Menon, chairman and senior managing director, Accenture in India.

Accenture strives to ensure an inclusive, barrier-free work environment that supports its people with disabilities across the globe. Most recently, Accenture was recognized as a 'Role Model Company' by the National Center for Promotion of Employment for Disabled People (NCPDEP) – India's leading cross-disability advocacy organization. The recognition is part of NCPDEP's 2016 Helen Keller Awards which, for nearly two decades, have recognized companies for their commitment to providing equal employment opportunities for persons with disabilities.

"No inclusion agenda in India can be complete without a focus on the more than 20 million persons with disabilities in India," Menon said. "This is integral to Accenture's inclusion and diversity initiatives, and we remain committed to working across industries to build a more equitable environment, in the workplace and beyond.

This announcement comes during Accenture's company-wide, month-long celebration of the United Nations-commemorated International Day of Persons with Disabilities. December 2016 marks the company's seventh year of participation, with local events in 22 countries including India.

About Accenture
Accenture is a leading global professional services company, providing a broad range of services and solutions in strategy, consulting, digital, technology and operations. Combining unmatched experience and specialized skills across more than 40 industries and all business functions – underpinned by the world's largest delivery network – Accenture works at the intersection of business and technology to help clients improve their performance and create sustainable value for their stakeholders. With more than 394,000 people serving clients in more than 120 countries, Accenture drives innovation to improve the way the world works and lives. Visit us at www.accenture.com.

# # #

Contact:

Garima Misra Punia
Accenture
+ 91 9811818477
garima.misra.punia@accenture.com