February 23, 2016
Accenture and SEAT Build Proof of Concept to Support Drivers' Connected Lifestyles


App allows remote control of connected appliances in the home, car status alerts and driver behaviour monitoring capabilities

BARCELONA; Feb. 23, 2016 – Accenture (NYSE:ACN) and SEAT have developed a proof of concept that explores the opportunities for new services enabled by the Internet of Things (IoT) and the connected vehicle.
It will be showcased by Accenture at Mobile World Congress, 22-25 February in Barcelona, Spain (demos available by appointment only).

The solution includes three elements: car-to-home connectivity, car status alerts, and a driver behaviour monitoring capability. SEAT is currently investigating the possible connectivity solutions with the car in order to define which is most suitable.

The car status capability allows users of the app to replicate elements of the dashboard on their mobile device from any location, allowing for a visualization of measurements such as fuel and oil levels during the trip or while the car is parked.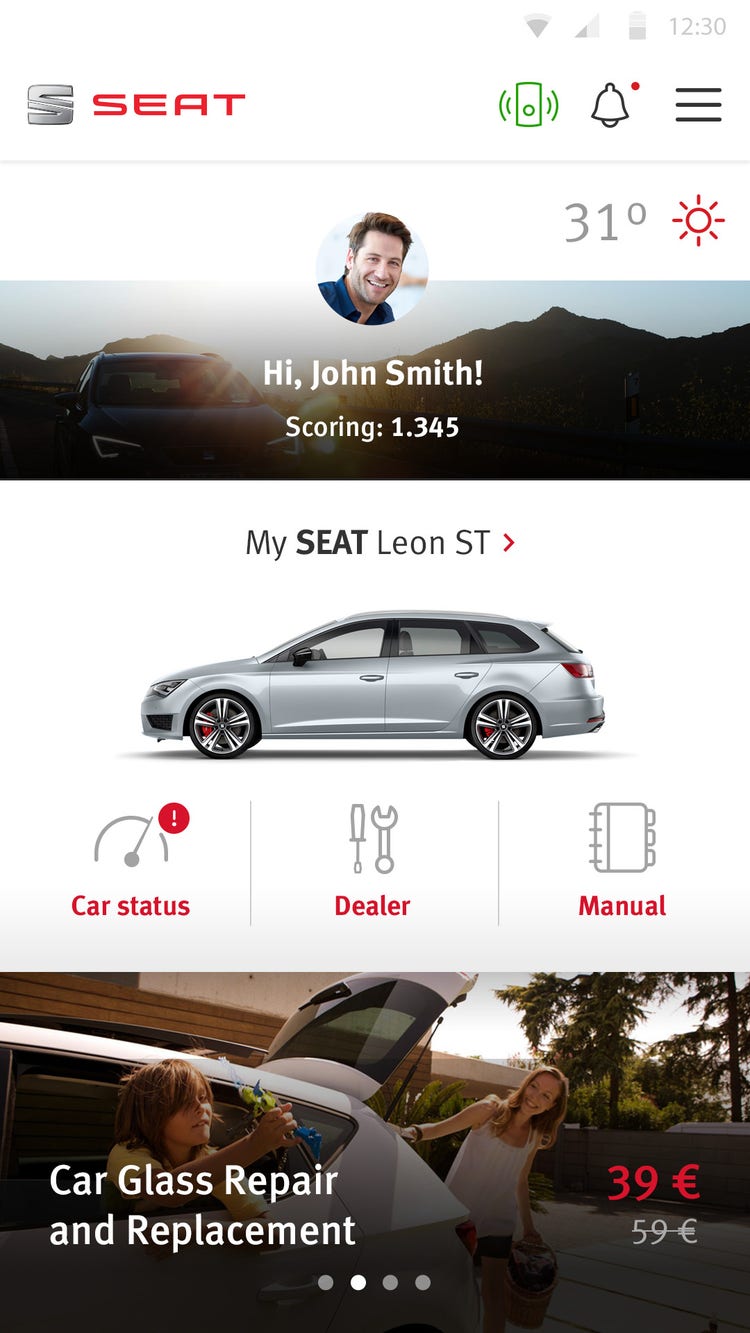 The app allows for warnings and alerts to be pushed to mobile devices, flagging up a potential engine or parts problems. Relevant information from an electronic car manual will be displayed alongside each error message, and roadside assistance is also integrated into the app design. In case of breakdown, the details and nature of any parts failures, as well as the vehicle's current location, can be shared with the relevant company.

The app has been designed to allow dealer messages will be pushed to it, notifying users for example that a part replacement is needed or reminding them that a service is due. The app will display costs and offers from individual dealers, and will also be capable of integrating with calendar applications to book the appointment.

The technology also allows a driver to choose to monitor their behaviour. It applies an adaptive algorithm to collated historical driving patterns and fresh data gathered from each car journey to offer the user advice on improving driving techniques, showing tips and recommendations to increase car performance, how to drive in a more environmentally-friendly manner, and even how save money by reducing fuel consumption and unplanned car maintenance.

The car-to-home capability on the proof-of-concept uses mobile connectivity to allow SEAT drivers to remotely control their connected home appliances. By integrating geolocation into the mobile app, this can allow, for example, for the temperature in the car to be automatically replicated at home once the car reaches a certain distance from the property. The proof of concept also enables the remote programming of the thermostat that controls the home's central heating from the vehicle's dashboard. Other devices that could be controlled in a similar way includes wearables, house lights or security cameras.

"The MY SEAT App represents the next step to position ourselves in the connected vehicle ecosystem," said Pablo Barrios, Global Head of Digital Marketing and CRM at SEAT. "With this new app we will enable a permanent, customized and relevant dialog with customers while bringing many benefits for both SEAT and the customers themselves",

The proof of concept is built on Accenture Connected Platforms as a Service, Accenture's open and broadly deployed global IoT platform architecture, which for this project is extensively optimized for the Microsoft Azure IoT Suite. This approach allowed SEAT and Accenture to rapidly move from ideation to building and rolling out an industry-specific IoT proof-of-concept.

"Experimenting with IoT-enabled solutions in this way is vital to identifying where value might be generated for a business," said Joan Cavallé, managing director in Accenture's automotive practice. "In this project with SEAT, we've been able to quickly develop an industry-specific solution that proves the potential of the IoT in the connected vehicle ecosystem. The fact that it also interacts with the connected home ecosystem and mobile devices is an indication of the future, and of how the 'connected world' will really look like in a few years' time."

Accenture worked with SEAT earlier this year to help design a connected vehicle strategy for the car company.

To make an appointment to see the proof-of-concept at Mobile World Congress, please contact joanna.r.vos@accenture.com.


About Accenture
Accenture is a leading global professional services company, providing a broad range of services and solutions in strategy, consulting, digital, technology and operations. Combining unmatched experience and specialized skills across more than 40 industries and all business functions – underpinned by the world's largest delivery network – Accenture works at the intersection of business and technology to help clients improve their performance and create sustainable value for their stakeholders. With approximately 373,000 people serving clients in more than 120 countries, Accenture drives innovation to improve the way the world works and lives. Visit us at www.accenture.com.\
# # #

Contact:

Anthony Hatter
Accenture
+ 44 7810 756 138
anthony.hatter@accenture.com