November 15, 2016
Accenture and RichRelevance Expand Strategic Alliance to Bolster Personalization Services for Leading Brands


Accenture Ventures invests in omnichannel personalization leader as customer expectations continue to grow worldwide

NEW YORK; Nov. 15, 2016 – Accenture (NYSE: ACN) has expanded its strategic alliance with RichRelevance, a global leader in omnichannel personalization, to strengthen the capabilities of Accenture Interactive and boost the personalization services it delivers to global clients. As part of the expanded relationship, Accenture Ventures has made a minority investment in RichRelevance.
Building on an alliance that was formed in 2015, Accenture Interactive becomes the preferred implementation partner for the RichRelevance global personalization platform. More than 240 multinational brands rely on RichRelevance to power personalized content, search, offers, and product recommendations to shoppers across web, mobile, call center, and in-store channels.
Consumers are lost in choice – Accenture Interactive and RichRelevance aim to help clients
make it easier for customers to find what they want, how and when they want it
The expanded relationship is expected to add further momentum to Accenture Interactive's globally growing personalization business and broaden RichRelevance's market footprint. Accenture Interactive also gains access to additional training opportunities for advanced skills in the RichRelevance platform and will be granted early insights into the RichRelevance product roadmap and development pipeline.
#Accenture becomes preferred implementation partner of #RichRelevance, makes investment to bolster #personalization services


Together, Accenture Interactive and RichRelevance will continue to pursue opportunities to create differentiated client solutions and intellectual property, including collaborating to:
Help clients build digital concierge services for end customers using the RichRelevance Personalization Platform. Accenture Interactive will develop specific algorithms on the platform which clients can feed with data to provide their customers with meaningful experiences.
Deliver a more improved customer experience for clients through a combination of Accenture assets such as the Accenture Clustering Engine and RichRelevance's BuildTM services. The Accenture Clustering Engine is a proprietary artificial intelligence and cluster analysis solution; RichRelevance Build™ provides instant access to API-based personalization tools to manage and route data from any source and integrate personalization into any application.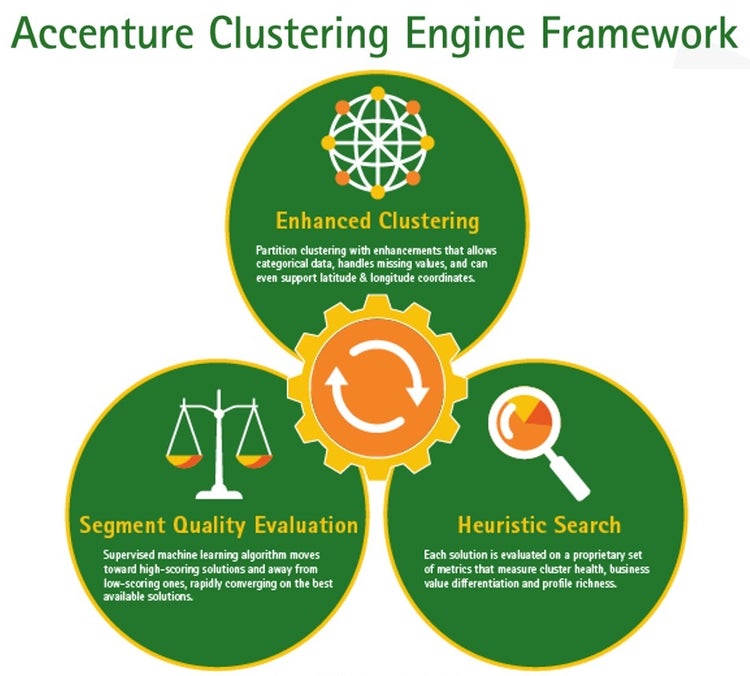 The Accenture Clustering Engine uses artificial intelligence
to help identify best candidate segments

Jeriad Zoghby, global personalization lead at Accenture Interactive, said: "As customer expectations for personalized experiences continue to grow, companies are looking for ways to leverage the availability of rich data and technology to power the next-generation of digital experiences. Together with RichRelevance, we can make it easier for customers to find what they want, how and when they want it by combining data-driven insights with a best-in-class personalization platform."

Eduardo Sanchez, President and CEO of RichRelevance, said: "RichRelevance provides the enterprise-scale personalization infrastructure that companies need to deliver a differentiated customer experience. To support record demand for our personalization platform, we've decided to strengthen our relationship with the world's largest digital agency and recognized leader in commerce. Our alliance will help clients deliver the kind of innovative customer experiences that consumers demand today."
Watch Jeriad Zoghby, global personalization lead at Accenture Interactive, discuss
market trends and how Accenture defines personalization on RelevanceTV
Accenture and RichRelevance are broadening their alliance at a time when many companies are seeking help to redesign their service, data, and technology architecture to deliver more seamless digital and physical experiences throughout the customer relationship.

The two companies recently completed a personalization project with a leading premium vacation brand. Accenture Interactive, the client's digital agency of record, and Accenture's design and innovation unit Fjord redesigned the company's booking flow and trip planner, embedding RichRelevance's technology to personalize the guest and excursion experience for the company's customer.

About Accenture
Accenture (NYSE: ACN) is a leading global professional services company, providing a broad range of services and solutions in strategy, consulting, digital, technology and operations. Combining unmatched experience and specialized skills across more than 40 industries and all business functions – underpinned by the world's largest delivery network – Accenture works at the intersection of business and technology to help clients improve their performance and create sustainable value for their stakeholders. With approximately 384,000 people serving clients in more than 120 countries, Accenture drives innovation to improve the way the world works and lives. Visit us at www.accenture.com.

Accenture Interactive, part of Accenture Digital, helps the world's leading brands drive superior marketing performance across the full multichannel customer experience. Accenture Interactive offers integrated, industrialized and industry-driven digital transformation and marketing solutions. It was recently named by Ad Age as the world's largest and fastest-growing digital agency. To learn more follow us @Accenture Social and visit www.accenture.com/interactive.

Accenture Ventures accelerates the adoption of early stage enterprise technology innovations. It identifies the most promising sources of innovation in the market, working with start-ups, entrepreneurs, investors, academic R&D, and corporate R&D groups around the world. Accenture Ventures develops alliances and partnerships to more quickly scale innovation. It also participates as a strategic investor where appropriate – always aligned with the objective to deliver the most innovative solutions to our clients.

About RichRelevance
RichRelevance is the global leader in omnichannel personalization and is used by more than 240 multinational companies to deliver the most relevant and innovative customer experiences across web, mobile and in store. RichRelevance drives more than one billion decisions every day, and has generated over $20 billion in sales for its clients, which include Office Depot, Costco, Darty, and Marks & Spencer. Headquartered in San Francisco, RichRelevance serves clients in 42 countries from 9 offices around the globe.

# # #

Contacts:

Jens R. Derksen
Accenture
+ 49 175 57 61393
jens.derksen@accenture.com

Renee Newby
BPR for RichRelevance
+ 757 651 6554
renee@bradypr.com