May 19, 2016
Accenture and Opera Romana Pellegrinaggi Launch Official Extraordinary Jubilee Year of Mercy App


Up to 40 million visitors expected to Rome can plan Jubilee trip with mobile app

ROME; May 19, 2016 – Accenture (NYSE: ACN) today announced that the official mobile application for the Extraordinary Jubilee Year of Mercy has been built and launched by Accenture Mobility, part of Accenture Digital, to help an expected 25 – 40 million visitors to Rome build itineraries for their trip. Accenture worked with Opera Romana Pellegrinaggi, the Vatican State's hospitality organization, to develop the application after being selected as its Official Digital Partner.
To accompany this major event for pilgrims and tourists to Rome, Accenture and Opera Romana Pellegrinaggi developed the mobile app for Android and iOS. Named 'IUBITINERA' from the Latin "Iubileum Itinera" (routes of the Jubilee), users can download the app for free and use it as a digital guide along the four official routes of the Jubilee in Rome: the Papal Route, the Pilgrim Route, the Route of Mercy and the Marian Route.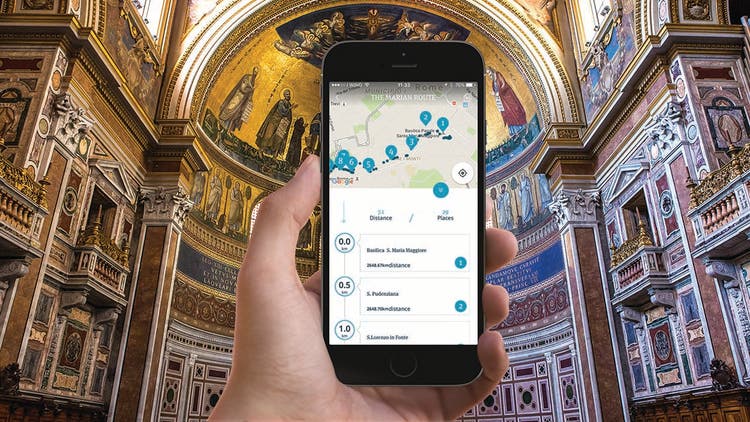 The IUBITINERA app will help make this the first Digital Jubilee Year
Available in English and Italian, the interactive maps contain pictures and descriptions of more than 60 points of interest, including works of art, historic monuments or items of religious or cultural significance. By utilizing location-based services, these pop-up on device screens when users are walking past them, whether following an interactive route or not. Users will also be able to take advantage of real-time tourist and transport information for Rome, and pilgrims will also have access to meditations and religious teachings via the app.

Designed to offer a simple user experience suitable for all ages and users both online or offline, the app is easy to navigate so that information can be found quickly. The app can track the distance travelled by users as well as the distance still to cover on each route before reaching the Basilica of St. Peter, where the four paths of the Jubilee Year of Mercy end. In addition, users can save and share their progress through social networks, providing and receiving feedback on their experiences.

"The IUBITINERA app will help make this the first Digital Jubilee Year," said Monsignor Andreatta, CEO of Opera Romana Pellegrinaggi, who has been involved in the organization of three Jubilees. "It was important to us that people could experience all that Rome and the Jubilee routes have to offer in a frictionless way, and we selected Accenture for its ability to quickly design, build and test a light, simple app for this. Navigation and route planning are made easy through the app, and people can share their experiences via social networks. Through this elegantly designed digital solution from Accenture, we can enhance people's visits to Rome not only on the occasion of the Jubilee, but also for the tourists in the near future."

"Supporting Opera Romana Pellegrinaggi in opening up this major event to all visitors is something we are very proud of," said Fabio Benasso, President and CEO of Accenture ICEG: "By putting an interactive digital assistant in the hands of up to 40 million visitors, we will help make the experience special and fulfilling for everyone coming to Rome in this Jubilee year. Quickly building useful apps that provide large volumes of information but offer a smart, light, enjoyable user experience is a challenge increasingly faced by organizations everywhere, and this app is an excellent example of how it can be achieved. The Extraordinary Jubilee Year of Mercy is a complex, internationally important event, and this collaboration takes place following on from our official global partnership with Expo Milan 2015, one of the world's largest and most complex events, serving more than 21 million visitors in six months during 2015."

The Extraordinary Jubilee Year of Mercy runs from 8th December 2015 to 20th November 2016, and the app will be managed and updated by Accenture throughout that time to offer the best, most relevant experience to visitors.

For more details and to download the app for free, please visit the Apple Store or Google Play.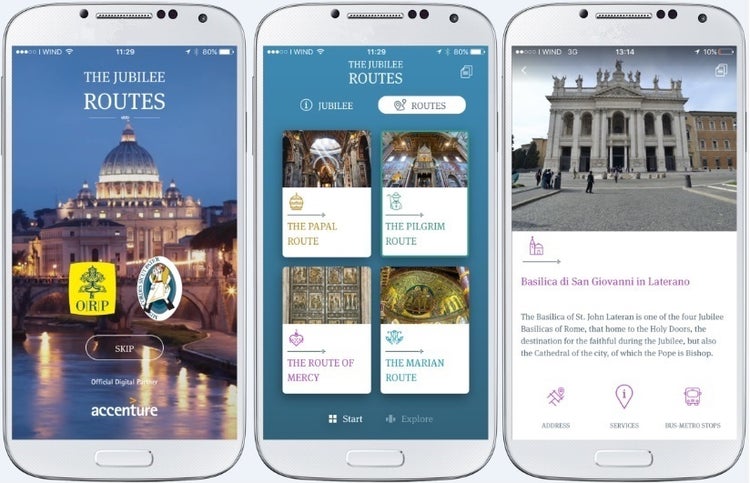 Designed to offer a simple user experience suitable for all ages and users both online or offline,
the app is easy to navigate so that information can be found quickly
About Accenture
Accenture is a leading global professional services company, providing a broad range of services and solutions in strategy, consulting, digital, technology and operations. Combining unmatched experience and specialized skills across more than 40 industries and all business functions – underpinned by the world's largest delivery network – Accenture works at the intersection of business and technology to help clients improve their performance and create sustainable value for their stakeholders. With approximately 373,000 people serving clients in more than 120 countries, Accenture drives innovation to improve the way the world works and lives. Visit us at www.accenture.com.

Accenture Digital , comprised of Accenture Analytics, Accenture Interactive and Accenture Mobility, offers a comprehensive portfolio of business and technology services across digital marketing, mobility and analytics. From developing digital strategies to implementing digital technologies and running digital processes on their behalf, Accenture Digital helps clients leverage connected and mobile devices; extract insights from data using analytics; and enrich end-customer experiences and interactions, delivering tangible results from the virtual world and driving growth. To learn more about Accenture Digital, follow us @AccentureDigi and visit www.accenture.com/digital.

About Opera Romana Pellegrinaggi
Opera Romana Pellegrinaggi (ORP) is an activity of the Vicariate of Roma, a body of the Holy Seat, directly dependent on the Cardinal Vicar of the Pope. The ORP accompanies pilgrims along the routes of the Spirit all over the world and offers spiritual, technical and organizational assistance. Today, after more than 80 years after its foundation, the ORP is experiencing a new stage of his service to the Pope and to the pilgrims: a renewed service for hospitality in Rome and for Pilgrimages, inspired by the Extraordinary Jubilee of Mercy, proclaimed by Pope Francis.

# # #

Contacts:

Armando Barone
Accenture Media Relations Italy
+ 39 3485608969
armando.barone@accenture.com

Giulia Marcolli
Accenture Media Relations Italy
+ 39 3498689211
giulia.marcolli@accenture.com

Follow @AccentureItalia