September 06, 2016
Accenture and Leading Financial Institutions Invite Applications for Fifth Annual FinTech Innovation Lab London


Program Expands to Support Insurtech Ventures, as New Data Shows UK investment surge

LONDON; Sept. 6, 2016 – Applications are now being accepted for Accenture's (NYSE:ACN) fifth annual FinTech Innovation Lab London, a 12-week program that helps early- and growth-stage fintech companies accelerate product and business development by providing mentorship and exposure to decision-makers at top financial institutions. Fintech entrepreneurs developing cutting-edge products, services and technologies are invited to apply now until Oct. 9 at FinTech Innovation Lab London 2017.
This year's Lab is being expanded to select 20 startups and, for the first time, will include a dedicated stream for insurtech entrepreneurs. This reflects the rapid rise of insurance technology ventures in recent years, with new data from Accenture highlighting a surge in UK insurtech investment to over $22 million as of 31st August 2016, up from $250,000 at the same point last year. This early indication of Q3 2016 activity shows investment is nearly three times the total UK investment made in 2015 (approx. $8 million).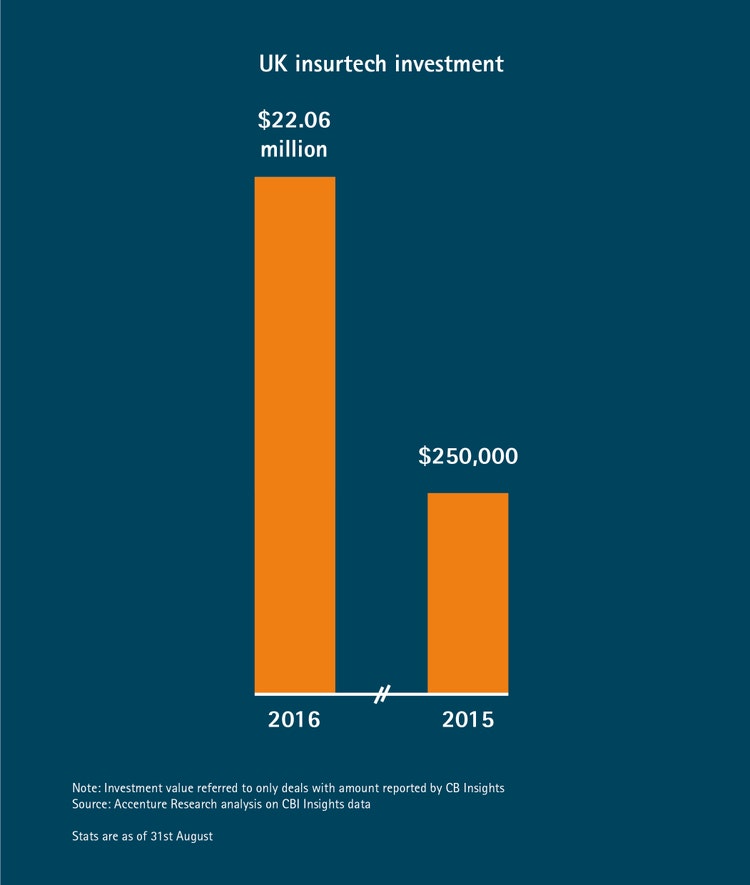 "Innovation is borderless," said Julian Skan, Accenture managing director for Financial Services. "Like London itself, the Lab has become a heathy ecosystem for global fintech innovation, attracting applicants from more than 33 countries since we launched in 2012. There are few industries that need innovation more than financial services, which is why firms must keep their foot on the pedal with digital technologies. At the same time, even the nimblest of startups have much to learn from financial institutions, regulators and larger tech companies."

The financial institutions participating in the London Lab include AXA, Societe Generale, Bank of America Merrill Lynch, Barclays, Citi, Credit Suisse, Deutsche Bank, Goldman Sachs, HSBC, Intesa Sanpaolo, JPMorgan Chase, Lloyds Banking Group, Morgan Stanley, Nationwide Building Society, RBS, Santander and UBS. Participating global insurers supporting the program will be unveiled in January.

Startups will partner with senior-level financial services executives who will help them fine-tune and develop their technologies and business strategies. The Lab begins in January 2017 and entrepreneurs will ultimately present their business cases at a Graduation Day in March in front of an audience of venture capitalists and financial-industry executives.

As a supporter of the Lab, Nationwide Building Society recently completed successful testing of release management software from startup Cutover, one of the 2016 finalists of the FinTech Innovation Lab London.

"Technology is rapidly changing our relationship with money and our financial services providers. Nationwide is committed to move with pace and confidence to deliver innovations which enable our members to get more from their money," said Matt Cox, Head of Insight & Innovation at Nationwide Building Society. "So we are proud to support Accenture's FinTech Innovation Lab for the third year and it is always exciting to see the cutting edge propositions from the start-ups. We look forward to forming new relationships with the next generation of FinTech start-ups whilst nurturing existing collaborations with 'graduates' of the programme."

"Fintech continues to be a highly attractive sector for investors," said Eileen Burbidge, HM Treasury's Special Envoy for FinTech. "It's vital that the UK continues to grow the fintech economy by creating conditions where startups and financial services can work together in an ecosystem that boosts the global economy. This Lab and other industry initiatives show that the UK continues to be very open for business and home to innovation. The growing sector will undoubtedly unlock a wealth of opportunities for both financial institutions and entrepreneurs alike."

Since its launch, 36 start-ups have participated in the London Lab, securing more than 50 contracts with global banks and increasing revenues by 170 percent. Globally, the Labs' alumni companies have raised more than US$370 million in financing after participating in the program. The FinTech Innovation Lab London, launched by Accenture in 2012, is a mentorship program for entrepreneurs that are developing innovative and disruptive technologies for the financial services sector – particularly in the areas of big data; analytics and cognitive computing; security and identity management; risk management and compliance; digital marketing and social media; cloud; payments; blockchain technology; talent management; and, Internet of Things applications.

The London Lab is modelled on a similar program that Accenture co-founded in 2010 with the Partnership Fund for New York City, the US$115 million investment arm of the Partnership for New York City (www.pfnyc.org). In 2014, Accenture launched FinTech Innovation Labs in Asia-Pacific and Dublin, Ireland.

About Accenture
Accenture is a leading global professional services company, providing a broad range of services and solutions in strategy, consulting, digital, technology and operations. Combining unmatched experience and specialized skills across more than 40 industries and all business functions – underpinned by the world's largest delivery network – Accenture works at the intersection of business and technology to help clients improve their performance and create sustainable value for their stakeholders. With more than 375,000 people serving clients in more than 120 countries, Accenture drives innovation to improve the way the world works and lives. Visit us at www.accenture.com.

# # #

Contacts:

Petra Shuttlewood
Accenture
+ 44 7788 305373
petra.shuttlewood@accenture.com

Natalie De Freitas
Accenture
Natalie.de.freitas@accenture.com

Copyright © 2016 Accenture. All rights reserved. Accenture, its logo, and High Performance Delivered are trademarks of Accenture.