November 16, 2016
Accenture Again Named to 'Winner's Circle' by HfS Research for Excellence in Population Health and Care Management

CHICAGO; Nov. 16, 2016 – Accenture (NYSE: ACN) has once again been named to the 'Winner's Circle' of HfS Research's Population Health and Care Management Business Process Services Blueprint Report. This is the second consecutive year that Accenture ranked as the overall leader in execution, with strong delivery, client relationships and scale and breadth of services.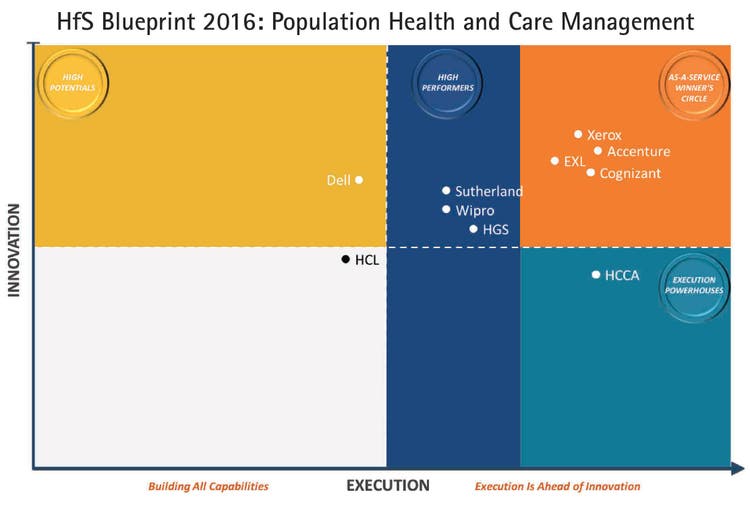 "Accenture is a sophisticated and innovative thought leader with a wealth of knowledge and experience looking to change the game in healthcare operations," said Barbra Sheridan McGann
,
managing director with HfS Research. "The company demonstrates excellence in deploying the technologies and talent that drive business outcomes through outsourcing, and thoroughly deserves its place in the 2016 'Winner's Circle.'"

The report, which assessed 10 service providers, noted that companies in the 'Winner's Circle' exhibit highest overall performance in 'As-a-service' execution and innovation, are in collaborative engagements with clients, and are making investments in future capabilities in talent and technology to continue to increase value. These providers are also incorporating analytics and/or BPaaS to deliver 'insight driven services.'

Additional Accenture strengths that HfS highlighted in the report include:
Wealth of Knowledge, Discipline, and Resources: Accenture's health practice stands out in terms of talent – knowledge and experience in healthcare practices, policies, current and up-and-coming technologies, and partnerships.
Increasingly Complex Clinical Processing: Accenture works with clients to determine where the services in the clinical health management space are not differentiated and can be reliably sourced. Accenture has built out specialty support for complex clinical processing, such as gene therapy and spinal fusions.
Business-Outcome-Oriented Analytics: Building momentum on the analytics capability we saw in the first PHMC blueprint, Accenture offers as-a-service analytics to target specific results such as risk score accuracy and utilization management. For example, it has a system to monitor and identify at the procedure level and by team, or state, and figure out the high volume cases, which codes and the impact of nurse review and escalation.
Automation in Utilization Management: Accenture offers a library of automation tools range from simple macros and workload distribution to experimenting with artificial intelligence in prior authorization.
Design Thinking and Innovation: Accenture is increasingly tapping into design thinking to bring "out of the box" approaches to healthcare clients. They shared examples, such as for chronic condition management services that center on patient expectations to define the roles of healthcare providers and payers in education, communication, and payment.
"We are once again honored to have been recognized as a leader in the realm of healthcare business process services," said Theresa Gaffney R.N., managing director of health BPO for Accenture Operations. "The recognition reflects our focus on delivering better business outcomes for our clients by investing in new technology and talent across intelligent automation, artificial intelligence, digital capabilities and analytics."

The HfS Research Blueprint Report for Population Health and Care Management services can be accessed here.

About Accenture
Accenture is a leading global professional services company, providing a broad range of services and solutions in strategy, consulting, digital, technology and operations. Combining unmatched experience and specialized skills across more than 40 industries and all business functions – underpinned by the world's largest delivery network – Accenture works at the intersection of business and technology to help clients improve their performance and create sustainable value for their stakeholders. With more than 384,000 people serving clients in more than 120 countries, Accenture drives innovation to improve the way the world works and lives. Visit us at www.accenture.com.
# # #


Contact:

Jenn Francis
Accenture Health
+ 1 630 338 6426
jennifer.francis@accenture.com