June 27, 2016
Accenture Achieves Lead Position in Innovation Category of HfS Research's Telecom Operations As-a-Service Report

NEW YORK; June 27, 2016 – Accenture (NYSE: ACN) is positioned in the 'Winner's Circle' and as the overall leader in innovation, ahead of all competitors, in the HfS Research Telecom Operations As-a-Service Blueprint Report.
The report recognizes Accenture for its three-layer approach to governance ensuring tactical, operational and strategic issues and opportunities are proactively managed; for embedding automation and analytics into all of its engagements; for its structured platform-led crowdsourcing approach for tapping external and internal capabilities on demand; and for its 360° approach to addressing security across people, processes and technology. Clients praised Accenture in the report for its ability to deliver tangible business outcomes such as capital expenditure efficiency, process efficiency, cost reduction and customer satisfaction.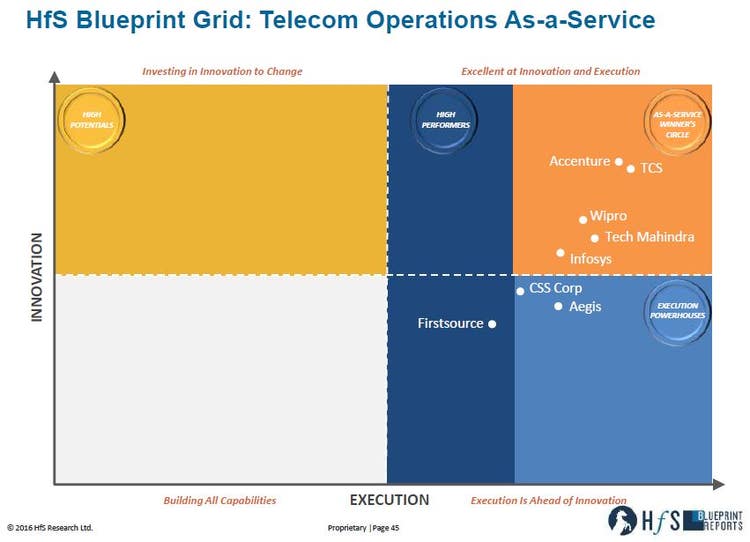 "Accenture's market-leading position in our report is a result of its ability to deliver business outcomes to its global clients and for its compelling As-a-Service vision with a full set of offerings in telecom," said Phil Fersht, CEO and chief analyst of HfS Research – The Services Research Company.™ "As the overall leader in innovation, Accenture has an articulate vision and new way of thinking, having made recognizable investments in automation to drive new insights and operating models for its clients."
Accenture highlighted as lead in Innovation Category of HfS Research's Telecom Operations As-a-Service Report


The report assessed eight major service providers with an emphasis on their ability to adopt the As-a-Service ideals which describe a more flexible, outcome focused way of engaging and managing resources to deliver services. HfS notes that the As-a-Service telecom operations market has the potential to reach $2.5 billion – 25 percent of the potential telecom operations market – yet currently only comprises about $300 million (nine percent).

"Our ongoing market leadership is a result of our industry expertise, our analytics that drive improved decision-making, our process excellence and our streamlined digital technology that create client value," said Debbie Polishook, group operating officer, Accenture Operations. "We remain committed to continually innovating our offerings to align with our As-a-Service strategy and to bring new and increased business performance to our clients."

Additional Accenture strengths highlighted in the report include:
Vision of Telecoms As-a-Service Economy: Accenture has developed a comprehensive roadmap of how telecoms can transform into integrated digital service providers, enabling them to compete in the digital economy.
Delivery of Services for All Processes: Accenture has a depth of client experiences and capabilities across all telecom operations sub-processes of network, fulfillment, assurance and billing. Clients have seen transformative solutions in all areas and a deep bench of skilled delivery resources, and have benefited from Accenture's automation and analytics capabilities.
Analytics and Experience of Delivering Business Outcomes: Accenture has demonstrated its strong analytics credentials with a large number of case studies. Clients benefit from Accenture's focus on tangible business outcomes.
Quality of Customers: Accenture has one of the highest number of clients in the ranks of the top 50 telecoms.
The findings of the HfS Blueprint report were determined by over 500 data points collected in Q1 2016 and Q2 2016, covering buyers, providers and advisors/influencers of telecom operations services.

The HfS Research Telecom Operations As-a-Service Blueprint Report can be accessed here.

About Accenture.
Accenture is a leading global professional services company, providing a broad range of services and solutions in strategy, consulting, digital, technology and operations. Combining unmatched experience and specialized skills across more than 40 industries and all business functions – underpinned by the world's largest delivery network – Accenture works at the intersection of business and technology to help clients improve their performance and create sustainable value for their stakeholders. With more than 375,000 people serving clients in more than 120 countries, Accenture drives innovation to improve the way the world works and lives. Visit us at www.accenture.com.

# # #

Contact:

Oriana Branon
Accenture
+ 1 415 537 5032
oriana.branon@accenture.com