Accenture is praised in the report for its significant investments in talent and technology – particularly in intelligent automation and analytics – and for its ability to evolve to deliver business outcomes-driven Finance and Accounting (F&A) solutions As-a-Service. As a leader, Accenture is recognized for its collaborative relationships with clients, for its articulate vision and "new way of thinking" and for its ability to drive new insights and models.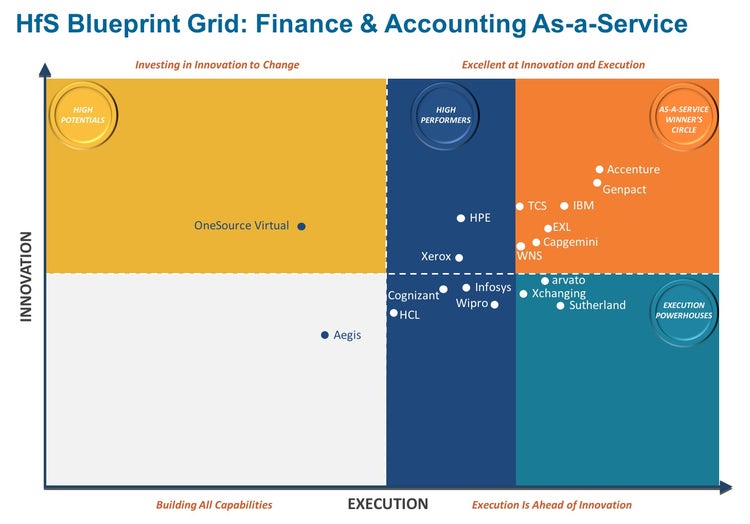 "Accenture continues to lead the market in F&A BPO year after year and stands out among its peers for its industry expertise and ability to apply intelligent automation and analytics to its engagements," said Phil Fersht, CEO of HfS Research. "Accenture has a compelling and forward-thinking vision for F&A As-a-Service delivery that brings together analytical talent and technology-based solutions."

The report focuses on the adoption of As-a-Service ideals for redefining the value of sourcing engagements. It builds upon last year's Progressive F&A BPO Blueprint, in which Accenture was also the overall leader.

"Accenture was a pioneer in the F&A BPO market with our first engagement 25 years ago and we've been committed to continuously evolving our services in order to deliver business outcomes to our clients ever since," said Mike Salvino, group chief executive, Accenture Operations. "Our relentless focus on applying talent and the latest in analytics and automation technology is recognized once again in our position as the overall market leader in F&A BPO."

Additional Accenture strengths highlighted in the report include:
Evolution to As-a-Service Underway: Twenty-five years into BPO, Accenture is continuing to invest in talent and technology to embrace As-a-Service delivery. HfS hears from clients an appreciation for the firm's depth of consultative F&A process talent, capable delivery staff and technical expertise. Its proven ability to service F&A queries using mobile and desktop apps is a genuine "As-a-Service" attribute that leverages talent, technology and consumption pricing.
Intelligent Automation Focus: Accenture has targeted specific areas of F&A for Robotic Process Automation with multiple successful implementations. It has made a move into Artificial Intelligence with a pilot virtual assistant at its F&A Vendor Help Desk. Additionally, Accenture has an App Exchange "library" of more than 900 reusable automation and business process solutions.
Training As-a-Service Talent: "Automation 101" is mandatory training for all Accenture BPO delivery professionals to identify processes that can be automated and increase their focus on value-driven tasks. Accenture also rolled out SolutionLIVE Marketplace as a unique way to allocate work. Clients appreciate this kind of effort from Accenture that also helps address attrition and increase employee engagement.
Integrating Operational and Risk Management Analytics: Accenture Operations Navigator is evolving from a key performance indicator reporting tool to a real-time analytics dashboard with up-to-the-minute data and visualizations that identify bottlenecks and opportunities for automation.
The results of the HfS Blueprint report were based on data collected in Q4 2015 and Q1 2016 covering buyers, providers and advisors/influencers of F&A BPO services.

The HfS Research Finance and Accounting As-a-Service Business Process Outsourcing Blueprint Report can be accessed here.

About Accenture.
Accenture is a leading global professional services company, providing a broad range of services and solutions in strategy, consulting, digital, technology and operations. Combining unmatched experience and specialized skills across more than 40 industries and all business functions – underpinned by the world's largest delivery network – Accenture works at the intersection of business and technology to help clients improve their performance and create sustainable value for their stakeholders. With approximately 373,000 people serving clients in more than 120 countries, Accenture drives innovation to improve the way the world works and lives. Visit us at www.accenture.com.

# # #

Contact:

Hannah Unkefer
Accenture
+ 1 415 537 4848
hannah.m.unkefer@accenture.com