March 02, 2015
Tech-Savvy Seniors Want Online Options to Access Care from Home, Accenture Survey Shows


Identifies five digital technology applications as key to managing healthcare

CHICAGO; March 2, 2015 – Just as an estimated 3.9 million Americans are reaching 65 years old this year1, an Accenture survey shows there is growing demand among tech-savvy seniors (67 percent) who want to access healthcare services from home, but the majority (66 percent) are worried today's technology isn't sufficient to do so.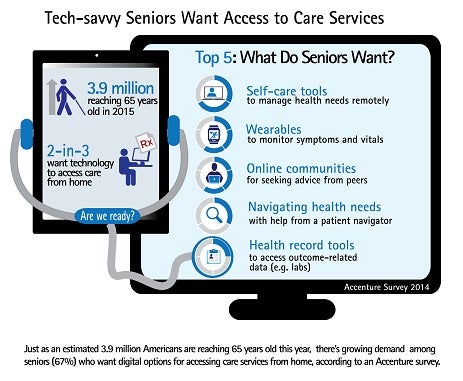 "Just as seniors are turning to digital tools for banking, shopping, entertainment and communications, they also expect to handle certain aspects of their healthcare services online," said Kaveh Safavi M.D., global managing director of Accenture's health business. "What this means for healthcare systems is that they need to consider the role that digital technology can play in making healthcare more convenient for patients of all ages at every touch point."

The survey showed seniors who place a higher priority on technology are more likely to proactively manage their health. For example, most seniors (75 percent) who value technology are active in tracking their weight digitally, compared to 43 percent of those who do not. Similarly, half of tech-savvy seniors are actively monitoring their cholesterol, compared to 31 percent of those who do not value technology.

Top five areas for growth
The survey results indicate that seniors are interested in accessing a number of digital technology applications they can use to better manage their healthcare, including:
Self-care: More than two-in-three seniors prefer to use self-care technology to independently manage their health. AARP estimates start-up funding in this area grew to $166 million in 2013, up from $143 million in 2012.
Wearables: More than three-in-five seniors are willing to wear a health-monitoring device to track vital signs, such as heart rate and blood pressure. AARP estimates $266 million in funding was invested in this area in 2013, more than 2011 and 2012 combined.
Online Communities: Three-in-five seniors are somewhat or very likely to turn to online communities, such as Patient Like Me, for reactions to a doctor's recommendation before acting on it. AARP estimates funding for these platforms rose to $142 million in 2013.
Navigating Healthcare: A third of seniors would prefer to work with a patient navigator to manage their healthcare. Last year, $384 million was invested in solutions, like patient navigators, for care navigation.
Health Record Management: A quarter of seniors regularly use electronic health records for managing their health, such as accessing lab results (57 percent), and projections by Accenture suggest it will grow to 42 percent in five years, as consumer-facing tools increase.
The Pew Research Center estimates over half (59 percent) of those ages 65 and older were active Internet users in 2012-2013. Accenture's survey showed the top reason for most seniors (62 percent) to go online was to find health information. Most seniors want access to healthcare technology, such as virtual physician consultations (20 percent), but less than a third of healthcare providers offer such capabilities.

Other Accenture research found over half (57 percent) of officials from U.S. state and local government long-term care agencies believe the use of more technology will have an important role in alleviating the challenges of an increasingly older population. Those officials also projected the growing demand for elderly care services will have the most impact over the next decade, while U.S. census data indicates the rising wave of seniors will grow beyond 2025.

Methodology
Accenture conducted consumer research with 10,730 adults across 10 countries (United States, Australia, Brazil, Canada, Italy, Spain, Norway, Japan, Singapore and the United Kingdom), including 354 U.S. seniors (ages 65+) receiving Medicare benefits, assessing their perceptions of using technology to manage their health. The survey was fielded between May and June 2014.

About Accenture
Accenture is a global management consulting, technology services and outsourcing company, with approximately 319,000 people serving clients in more than 120 countries. Combining unparalleled experience, comprehensive capabilities across all industries and business functions, and extensive research on the world's most successful companies, Accenture collaborates with clients to help them become high-performance businesses and governments. The company generated net revenues of US$30.0 billion for the fiscal year ended Aug. 31, 2014. Its home page is www.accenture.com.

1 U.S. Census Bureau: Estimate of Older Population in the United States, November 2012

# # #

Contact:

Jenn Francis
Accenture Health
+ 630 338 6426
jennifer.francis@accenture.com