June 15, 2015
One in Three U.S. Employees Would Quit If Current Employer Failed to Sponsor Health Benefits, Accenture Finds

CHICAGO; June 15, 2015 – Employers who fail to fully sponsor their employees' health benefits would face widespread employee dissatisfaction, lower employee productivity and the loss of nearly a third of their employees within one year, according to new research by Accenture (NYSE: ACN).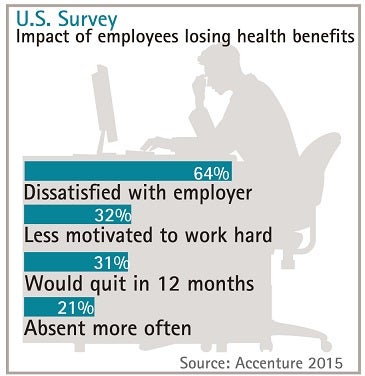 The Accenture research, which included a survey of more than 2,700 U.S. workers, found that three-fourths (76 percent) of workers see health insurance as a vital factor to continue working at their current employer. While less than 1 percent of respondents said they expect to lose employer-sponsored health insurance in the future, roughly one-third (31 percent) said that, if they did lose their insurance, they would leave their job within 12 months, with half of those (15 percent) saying they would quit immediately.

Not surprisingly, the impact of employers not sponsoring health insurance would have a significant negative impact on workforce productivity, including widespread employee dissatisfaction (cited by 64 percent of respondents), less motivation to work hard (32 percent) and increased absenteeism (21 percent). For a company with 1,000 employees who earn an average salary of $50,000, these turnover costs could climb to more than $3 million in the first year alone.

Even after an employer dropped heath benefits, three-fourths of employees (76 percent) still preferred that employers help them find health insurance and manage their selections. In fact, an employer's involvement in the distribution channel, such as in an employee-curated marketplace, mattered as much, if not more than, the cost of the health insurance plan. Even when left at a comparable financial position, in terms of the employer contribution, more than half (58 percent) remained dissatisfied with their employer discontinuing their role in facilitating health benefits.

"When exploring alternatives to employee health benefits, employers must carefully consider whether the health-insurance cost savings outweigh the projected impact to turnover and productivity losses," said Rich Birhanzel, managing director for Accenture Health Administration Services. "When it comes to employee satisfaction, our findings show that maintaining a relationship with employees may be just as important to companies – if not more important – than the cost of providing those employees with health insurance."

Methodology
Accenture's research combined extensive market analysis with insights from an online survey of 2,709 U.S. consumers between the ages of 18 and 64 who receive employer-sponsored group health insurance. The research explored employee preferences and sentiment during a variety of scenarios depicting changes to their health insurance benefit. The research was conducted in March 2015.

About Accenture
Accenture is a global management consulting, technology services and outsourcing company, with more than 323,000 people serving clients in more than 120 countries. Combining unparalleled experience, comprehensive capabilities across all industries and business functions, and extensive research on the world's most successful companies, Accenture collaborates with clients to help them become high-performance businesses and governments. The company generated net revenues of US$30.0 billion for the fiscal year ended Aug. 31, 2014. Its home page is www.accenture.com.
# # #


Media Contact:

Jenn Francis
Accenture Health
+ 1 630 338 6426
jennifer.francis@accenture.com