November 05, 2015
Omni-Channel Experience is Critical to Fueling B2B Customer Engagement, Finds Accenture and SAP hybris Study


While 70% of B2B Revenues Come from Customers Using Digital Channels, Most Sellers Struggle to Deliver Seamless Purchase Experience across All Channels

NEW YORK and CHICAGO; Nov. 5, 2015 – As today's business-to-business (B2B) buyers are increasingly adopting digital throughout every stage of the customer journey, expecting engaging, seamless, and consistent experiences across touchpoints, suppliers struggle to weave everything together into a coherent omni-channel strategy, according to new commissioned research by Accenture (NYSE: ACN) and SAP hybris (NYSE: SAP).
The global study of 2,000 B2B buyers and sellers – titled "Mastering Omni-Channel B2B Customer Engagement – was conducted by Forrester Consulting on behalf of Accenture Interactive, part of Accenture Digital, and SAP hybris. It finds that business buyers' expectations for personalization and excellent support – regardless of channel, device, or stage in the journey – are rapidly evolving, influenced by their experiences as consumers. For instance, more than half of buyers said they would like suppliers to offer personalized recommendations across interactions. However, most B2B enterprises are not set up to deliver a seamless omni-channel experience, citing "difficulty sharing customer data between channels or locations" as the top barrier.

B2B Buyers Embrace Digital
B2B buyers are adopting more online channels than ever: seventy percent of B2B revenues now come from customers using digital channels. When compared to the previous year:
Sixty-five percent of buyers reported an increase in total spend online on work purchases
Sixty-three percent of buyers increased the percentage of total work purchases made online
Fifty-three percent of buyers reported the average size of their online work purchases increased
Additional B2B buyer trends include:
B2B buyers turn to consumer sites. Even when B2B customers aren't buying online, they are researching via digital channels, with 98 percent of buyers doing at least some online research on work-related purchases that they make offline. Most begin their research using either consumer marketplaces, such as Amazon or eBay (33 percent), or search engines (26 percent). Traditional B2B online destinations declined significantly from last year, with brand manufacturers' websites down 19 percentage points and distributor websites down 16 points.
Online is the most popular channel for purchases. Forty-four percent make purchases via web, mobile or tablet more than half of the time. The study also points to the declining role of the sales representative, with only 20 percent of buyers purchasing directly from a sales rep more than half of the time. Phone or email customer service lagged at 17 percent.
B2B buyers are crossing channels throughout the buyer journey. Thirty-eight percent of buyers exclusively use digital channels, while 32 percent mix online and offline channels.
"Empowered by digital channels, today's buyers are exerting more control over the sales process," said Anatoly Roytman, managing director, Accenture Interactive, and global digital commerce lead. "The stakes have never been higher for B2B sellers to create a positive online customer experience, one that is integrated with existing channels. Those who deliver a seamless omni-channel experience will be rewarded with repeat business and loyal customers."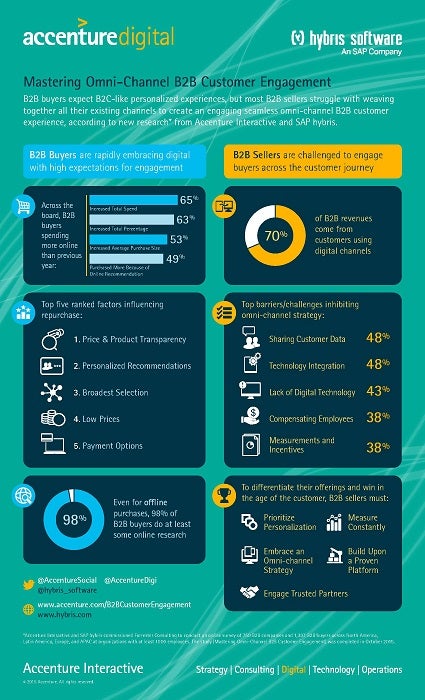 B2B Buyers Have High Expectations for Engagement
The study found that B2B buyers not only desire – but expect – a seamless omni-channel buying experience. And, sellers are listening. "Meeting customer expectations" was the top driver for investment in omni-channel (74 percent, up from 66 percent last year). Sellers cited "to provide a consistent customer experience, regardless of channel" as the second-most driver (65 percent).

Additionally, buyers will reward sellers that deliver a positive customer experience, with price transparency and personalization as key influencers of repeat purchases. When asked which capabilities they'd most like B2B suppliers to offer, buyers cited the following:
Enhanced search functionality (62 percent)
Rating and reviews (56 percent)
Personalized recommendations across interactions (54 percent)
Information about promotions and special offers (51 percent)
Mobile-optimized website for phone or tablet (41 percent)
Sellers Struggle to Keep Up with Buyer Expectations
Despite a wide recognition of buyers' wants and needs, B2B sellers are not prepared to deliver a seamless omni-channel experience, finds the Accenture/SAP hybris study. The top three barriers:
Difficulty sharing customer data between channels or locations
Lack of digital commerce technology
Difficulty integrating back-office technology across channels
"Businesses have most of the customer data they need – the problem is that it isn't readily available across all channels," said Brian Walker, chief strategy officer, SAP hybris. "Siloed systems and channels and a lack of tools that intelligently organize and distribute data prevent organizations from delivering the seamless, omni-channel, personalized experiences buyers desire. To master this – and do it continuously, in real-time – represents the next stage in B2B e-commerce maturity."

Taking Control of the Omni-Channel Experience
B2B sellers are rising to the challenge by ramping up their omni-channel investments. Providing a consistent, cross-channel customer experience was cited by sellers as not only a top commerce initiative, but their top company initiative overall.

"Customer engagement is the Holy Grail of marketing today, and an effective omni-channel strategy is the key to consistent and compelling engagement," said Bob Barr, global B2B commerce lead, Accenture Interactive. "It's not just about the technology – superior customer engagement requires the right omni-channel strategy, partner ecosystem, and integrated platforms that tie various touchpoints together. B2B companies that master this will be able to solve problems in real-time and to support their customers across every stage of the buyer journey."

To read the full results of this study, visit: accenture.com or hybris.com.

About the study
For the study, "Mastering Omni-Channel B2B Customer Engagement," commissioned by Accenture and SAP hybris, Forrester Consulting conducted an online survey of 750 B2B companies (sellers) and 1,307 B2B buyers across North America, Europe, Latin America and Asia-Pacific at organizations with at least 1,000 employees. The study's objective was to evaluate B2B buyers and their online experiences and how B2B sellers are leveraging platforms and technologies to address the growing demands of B2B buyers. The study was conducted from August to September 2015.

For more information on this research, register here for an upcoming webinar with Accenture, SAP hybris, and featuring Forrester, on December 8 at 11:00 AM ET/16:00 PM GMT/17:00 PM CET.

About Accenture
Accenture is a leading global professional services company, providing a broad range of services and solutions in strategy, consulting, digital, technology and operations. Combining unmatched experience and specialized skills across more than 40 industries and all business functions – underpinned by the world's largest delivery network – Accenture works at the intersection of business and technology to help clients improve their performance and create sustainable value for their stakeholders. With more than 358,000 people serving clients in more than 120 countries, Accenture drives innovation to improve the way the world works and lives.

Accenture Interactive, part of Accenture Digital, helps the world's leading brands drive superior marketing performance across the full multichannel customer experience. Accenture Interactive offers integrated, industrialized and industry-driven digital transformation and marketing solutions. To learn more follow us @AccentureSocial and visit www.accenture.com/interactive.

About hybris
SAP hybris provides omni-channel customer engagement and commerce solutions that allow organizations to build up a contextual understanding of their customers in real-time, deliver a more impactful, relevant customer experience and sell more goods, services and digital content across every touch point, channel and device. Through its state-of-the-art customer data management, context driven marketing tools and unified commerce processes, hybris has helped some of the world's leading organizations including 3M, ASICS, Bridgestone, EE, Galeries Lafayette, Johnson & Johnson, Levi Strauss & Co, Nestlé, Nespresso, Nikon, Rexel, Samsung Electronics, Ted Baker, Tommy Bahama and W.W. Grainger, to attract, retain, and grow a profitable customer base. hybris Commerce Suite
,
hybris Marketing and hybris Billing sit right at the heart of SAP's customer engagement and commerce (CEC) suite of solutions, alongside SAP® Cloud for Sales, SAP Cloud for Service and SAP CRM. These provide organizations with the foundation, framework and business tools to create a holistic customer view across channels, simplify customer engagement and solve complex business problems. For more information, visit www.hybris.com.

# # #

Contacts:

David LaBar
Accenture
+ 1 646 456 4505
david.labar@accenture.com

Jenny Gardynski or Nikki Festa
PAN Communications for SAP hybris
+ 1 617 502 4300
SAPCEC@pancomm.com\