April 23, 2015
Majority of U.S Citizens Feel Safe in Their Neighborhoods but Want Police to Increase Community Collaboration and Their Use of Digital Communication Tools


Citizens show strong desire to play a greater role in community policing

CAMBRIDGE, Mass.; April 23, 2015 – While the vast majority of U.S. citizens feel safe in their neighborhoods, more than three-fourths (76 percent) believe there is room for improvement in how police services are delivered locally, according to results of an Accenture (NYSE: ACN) survey of 2,000 U.S. citizens.
Specifically, the survey found that nine in 10 respondents (91 percent) said they feel safe in their neighborhoods, and almost the same number (85 percent) said they are generally satisfied with their local police services. Yet more than two-thirds of citizens (70 percent) also believe that the effectiveness of police services would be increased by greater use of digital technologies by police.

For instance, more than nine in 10 citizens said they want their police forces to provide new ways to report crime (91 percent), increase information sharing on police services (92 percent) and collaborate with citizens through community policing programs (91 percent). Citizens also support the greater use of digital communications to interact with police: Nearly nine in 10 respondents (86 percent) said they want more police services available online, and more than two-thirds (71 percent) said they want better mobile access to police services and public safety information.

The survey findings are being released by Accenture to coincide with a public safety summit hosted by Accenture in collaboration with Leadership for a Networked World and the Technology and Entrepreneurship Center taking place this weekend at Harvard University.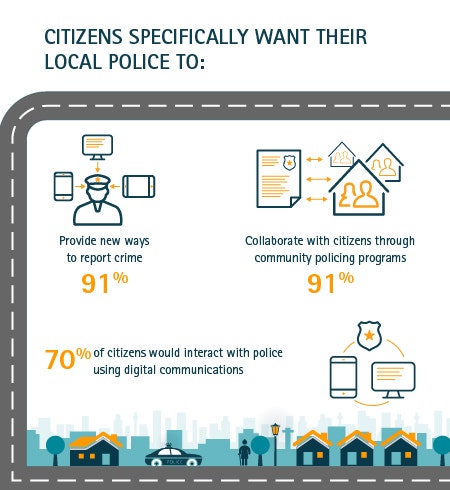 "The survey identified strong citizen support for their local police and an eagerness among citizens to engage and collaborate with police to fight crime," said Wai-Ming Yu
,
who leads Accenture's State & Local Policing business in North America. "This highlights an opportunity to improve the level of collaboration, through better information sharing and engagement between police and the public, both in-person and through new digital technologies. Increased collaboration will help local police forces reduce operating costs and increase crime reporting, ultimately enabling them to better protect and serve citizens."

Respondents between 18 and 34 years old were more likely than older respondents to say that new technologies have the potential to increase police effectiveness – cited by 76 percent of the younger respondents, versus 60 percent of those aged over 55 years. In addition, three-quarters (77 percent) of the respondents aged 18-34 said their preferred method of communicating with police is by mobile device contrasting with 60 percent of respondents aged over 55 years.

The survey, similar to previous studies undertaken by Accenture in 2014 and 2012, identified a strong desire among citizens to play a greater role in community policing. Almost all respondents (95 percent) said they are willing to collaborate with their local police, and two-thirds (67 percent) said they would anonymously report crime and public safety incidents to police using digital communications channels. More than half of citizens (52 percent) said they would participate in a community policing program, such as neighborhood watch.

"The good news from this survey is that the majority of respondents trust their police force and are willing to collaborate with them to fight crime," said Jody Weis, a retired Chicago police superintendent and a director with Accenture Police Services. "However, citizens say their police forces can improve how they partner with them to problem-solve and reduce crime. Now more than ever, citizens want their local police force to involve them in efforts to reduce crime in their neighborhoods by providing more opportunities for engagement, increased digital services, and a local leadership vision that can drive collaboration and increase trust between police and their communities."

When respondents between 18 and 34 years old were asked what one action they would suggest their police chief undertake to improve local police services, more than three-quarters of those respondents (79 percent) suggested prioritizing community relations, this contrasts with 6 percent of those respondents aged 35-54 years and 7 percent of those aged over 55 years who viewed community relations as a top priority.

While citizens want more ways to report crime and help support crime-reduction efforts, the survey found that three-fourths (75 percent) of respondents believe that crimes in their neighborhoods are reported only sometimes or rarely. The primary reasons that respondents cited for citizens failing to report crimes are not wanting to become involved in an incident that does not directly relate to them (42 percent) and fear of retaliation from a third-party (29 percent).

Learn more about Accenture's global Public Safety business and Delivering Public Service for the Future.

Methodology
Accenture surveyed 2,000 citizens across the United States to capture their attitudes, perspectives and behaviors concerning local police services and police use of technology, and to identify citizen expectations regarding interacting and collaborating with police. The online quantitative survey, fielded by Penn Schoen Berland during September 2014, has a margin of error of ±2.19 percentage points.

About Accenture
Accenture is a global management consulting, technology services and outsourcing company, with more than 323,000 people serving clients in more than 120 countries. Combining unparalleled experience, comprehensive capabilities across all industries and business functions, and extensive research on the world's most successful companies, Accenture collaborates with clients to help them become high-performance businesses and governments. The company generated net revenues of US$30.0 billion for the fiscal year ended Aug. 31, 2014. Its home page is www.accenture.com

# # #

Contact:

Joe Doyle
Accenture Health & Public Service
+ 353 87 2507583
joe.x.doyle@accenture.com