December 01, 2015
Majority of B2B Companies Missing Out on Revenue Growth Due to Poor Customer Experience Performance, Accenture Study Finds

NEW YORK; Dec. 1, 2015 – In an environment where business-to-business (B2B) customers are demanding a richer consumer-like experience, new research from Accenture (NYSE: ACN) finds that only 23 percent of companies are implementing truly effective customer experience programs and achieving higher revenue growth.
According to the Accenture Strategy report, 2015 B2B Customer Experience, of the 1,350 B2B sales and customer service executives surveyed in 10 countries, 66 percent believe that new entrants are providing better customer experiences in today's age of digital disruption. To compete, incumbent businesses recognize they need to make a significant shift in their business models: 78 percent of executives think higher customer expectations for tailored B2B solutions will have a substantial impact, and 76 percent feel that customers are now more knowledgeable, self-directed, and continually evaluating suppliers.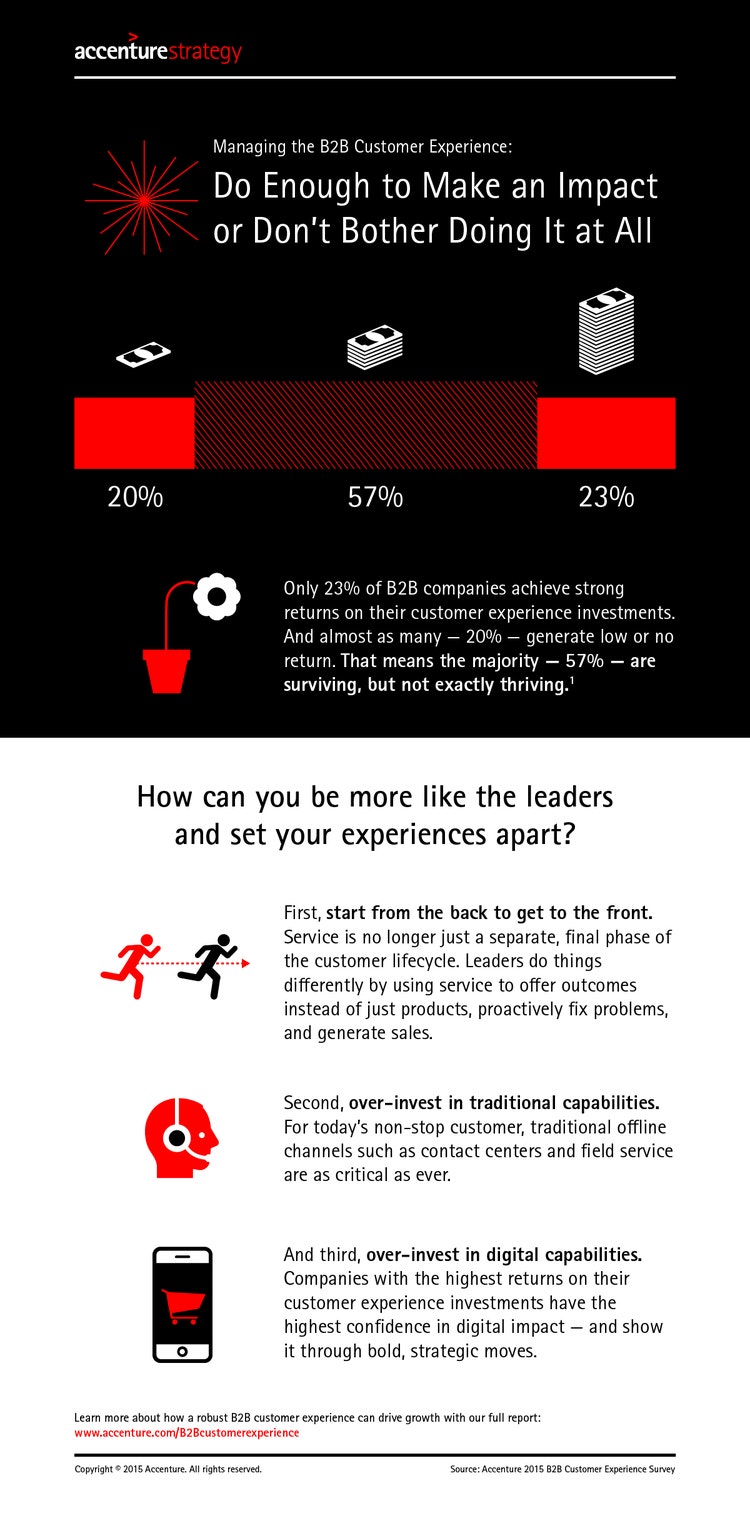 The poor self-assessed performance comes despite the fact that 86 percent of B2B supplier executives continue to view the overall customer as 'very important' to their strategic priorities. Furthermore, 74 percent of respondents recognize customer experience will play an even larger role in overall corporate strategy over the next two years.

"B2B companies overwhelmingly recognize the importance of customer experience to their corporate strategy and bottom line, but the majority are wasting their investments on changes that are delivering mediocre results," said Robert Wollan, senior managing director, Accenture Strategy. "With consumer-like expectations and a substantial threat from new entrants, B2B companies must be ready to design and execute a transformed customer experience or not invest in such improvements at all."

Barriers to Success
In response to rapidly changing customer demands, new competition and low returns on investment, 45 percent of executives surveyed intend to increase spending by 6 percent or more to improve customer experience programs.

However, internal roadblocks are preventing B2B companies from meeting higher customer expectations. Only 32 percent of executives (versus 40 percent polled in the same research in 2014) say they are well-equipped with the skills, tools, and resources necessary to deliver the desired B2B customer experience. Executives point to a lack of C-suite attention, customer experience processes, and necessary cross-organizational integration.

Leaders, Strivers and Laggards: More B2B Companies Racing to Become Average
Accenture Strategy identifies three groups of B2B companies – Leaders, Strivers and Laggards – differentiated by their ability to plan and execute customer experience and deliver annual revenue growth. With just over a fifth (23 percent) of organizations remaining as Leaders since last year, more Laggards have moved up to the Strivers category, increasing it from 48 to 57 percent.

The 2015 research shows Leaders generate an average of 13 percent annual revenue growth. Strivers achieve an average of six percent annual revenue growth and Laggards record an average decline in revenue growth of -1 percent.

"There's a clear distinction between the Leaders and Strivers in B2B customer experience," said Wollan. "Strivers are 'racing to become average' and average is a precarious position to be in these days. Leaders see after-sales service as a critical part of the customer lifecycle and they invest not just in new digital technologies, but in traditional customer connection points too. Leaders realize that a multi-channel approach is needed to reach B2B customers seamlessly and consistently."

How Leaders of Customer Experience Succeed
Among the main ways that Leaders generate outsized returns on their customer experience investments compared to Strivers:
Leaders "start from the back." Almost double the proportion of Leaders (61 percent to 34 percent of Strivers) place greater value on after-sales service. They see it as the most important point in the customer lifecycle.
Leaders don't avoid disruption – they create it. Sixty-two percent of Leaders (versus 42 percent of Strivers) see defending their business from new types of competitors as a priority and a third (35 percent) are being more proactive in using customer experience to become the disruptor instead of the disruptee compared to 24 percent of Strivers.
Leaders invest heavily in both digital and legacy. Twice as many Leaders (44 percent versus 23 percent of Strivers) believe their digital investments give them a competitive advantage and allocate more of their customer experience budget to digital (67 percent versus 41 percent). But, Leaders also continue to invest in traditional channels, with 39 percent (versus 22 percent of Strivers) spending more on contact centers, field service capabilities and even legacy CRM systems over the past two years.
Leaders understand the role and value of the "connected ecosystem." Leaders are more focused on partner collaboration and performance monitoring to ensure optimal customer experience. Notably, 51 percent of Leaders, versus 29 percent of Strivers, maintain vigorous vendor management programs across several external partners.
Please visit www.accenture.com/B2BCustomerExperience to read the report. Learn more about Digital Disruption. Join the conversation at @AccentureStrat.

Methodology
Accenture conducted an online survey of more than 1,350 chief sales, service and customer officers, vice presidents, directors and managers from the sales and service functions, across 16 industry subgroups and 10 countries (including the US, UK, Germany, France, Italy, Spain, Japan, Brazil, China and South Korea). The survey explored the significance, scale and performance of B2B companies' initiatives to provide their business customers with a differentiated customer experience across all sales, marketing and service touch points. The survey was fielded in February and March, 2015. Respondents represented companies from 10 countries and 16 industries with the vast majority posting annual revenues of more than US$1 billion.

About Accenture
Accenture is a leading global professional services company, providing a broad range of services and solutions in strategy, consulting, digital, technology and operations. Combining unmatched experience and specialized skills across more than 40 industries and all business functions – underpinned by the world's largest delivery network – Accenture works at the intersection of business and technology to help clients improve their performance and create sustainable value for their stakeholders. With more than 358,000 people serving clients in more than 120 countries, Accenture drives innovation to improve the way the world works and lives. Visit us at www.accenture.com.

Accenture Strategy operates at the intersection of business and technology. We bring together our capabilities in business, technology, operations and function strategy to help our clients envision and execute industry-specific strategies that support enterprise wide transformation. Our focus on issues related to digital disruption, competitiveness, global operating models, talent and leadership help drive both efficiencies and growth. For more information, follow @AccentureStrat or visit www.accenture.com/strategy.

# # #

Contacts:

Lucy Davies
Accenture
+ 44 777 3044 808
lucy.d.davies@accenture.com