October 06, 2015
Large Companies and Entrepreneurs Face Cultural Barriers to Achieving Open Innovation, Finds Accenture Study
Failure to use digital collaboration puts at risk a $1.5 trillion growth opportunity

NEW YORK; October 6, 2015 – As corporations seek greater revenues from working with entrepreneurs, large and small businesses are failing to use digital collaboration to innovate together, according to new research by Accenture (NYSE:ACN). As a result, they are putting at risk a $1.5 trillion growth opportunity, equivalent to 2.2 percent of global GDP. In the United States, $433 billion of potential growth is at risk, equivalent of 2.7 percent of the U.S. economy.
The report, "Harnessing the Power of Entrepreneurs to Open Innovation," published in association with the G20 Young Entrepreneurs Alliance, surveyed more than 1,000 entrepreneurs and 1,000 large companies in the G20 economies. It found that 82 percent of corporates say they can learn from startups/ entrepreneurs about how to become a digital business. And they expect the proportion of their revenues generated by collaboration with entrepreneurs to rise from an average of 9 percent today to 20 percent in five years.

Large companies and entrepreneurs agree that today's corporate venturing and incubator models of collaboration will increasingly give way to more open and joint innovation, whereby corporates don't just fund startups, but use digital collaboration to jointly create innovations in broader networks of partners. However, corporates and entrepreneurs don't see eye to eye on how to achieve that.

While 78 percent of large companies say that working with entrepreneurs is important or critical to their own growth and innovation, only 67 percent of entrepreneurs hold that view. And while 41 percent of corporates believe small companies are committed to supporting their growth as they work together, only one quarter (24 percent) of entrepreneurs think large companies are likewise committed to supporting the growth of their smaller partners. Further, entrepreneurs and startups are four times more likely than corporates to say their counterparts lack commitment to working together (29 percent versus 7 percent).

Cultural differences compound the divisions. The report found that, while 75 percent of large companies judge themselves as sufficiently entrepreneurial, 75 percent of those entrepreneurs who previously worked at large companies left because they did not feel they could be entrepreneurial there.

"In the digital economy, corporations have the opportunity to disrupt their markets by working more effectively with innovative startups to jointly create new products and services,' says Paul Daugherty, Chief Technology Officer, Accenture. "That means corporates should not just fund startup innovation, but actively participate in it by pooling ideas, assets and intellectual property. And it will require them to take new approaches to sharing risks and rewards more equitably."

Digital collaboration boosts growth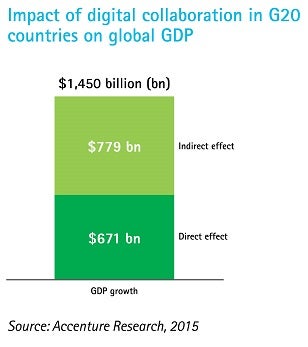 The report also reveals that greater digital collaboration between G20 large companies and entrepreneurs could result in an additional $1.5 trillion in global economic output, according to Accenture's Digital Collaboration Index and economic model, equivalent to a 2.2 percent uplift to global GDP. $779 billion of the total would be generated directly through greater revenues by large companies, and $671 billion would be generated indirectly through economic activity in value chains. The Index uses the survey data and economic modelling to predict the potential dividend of greater digital collaboration. It shows that the top fifth of those committed to collaboration achieved higher levels of revenue growth and that, if all entrepreneurs and large companies were to achieve the degree of collaboration of the top 20 percent, revenue growth rates could rise between 3 and 18 percentage points for entrepreneurs, and between 2 and 16 percentage points for large companies.

"The journey to open innovation requires large companies to recognize that collaboration cannot continue to be done on their terms, on their premises or just for their benefit," said Jitendra Kavathekar, managing director, Open Innovation, Accenture. "To make a success of digital disruption will require new forms of innovation in which multiple partners collaborate to create, fail and try again in more experimental and entrepreneurial settings. That can only happen if more participants come together through digitally enabled networks to create innovations together."

"Harnessing the Power of Entrepreneurs to Open Innovation," makes a series of recommendations. Large companies are encouraged to:
Set a clear strategy that defines shared outcomes to give all parties confidence that their ROI and commitments will be shared equally
Define and budget for success: Ensure that successful ideas are not stranded beyond pilot phase and can be scaled quickly
Seed an "intrapreneurship" culture by seconding employees to start-ups and encouraging employees to launch their own start-ups.
The report also makes recommendations for governments to consider:
Develop co-financing models: Encourage a greater range of financing models, from public grants to crowdfunding, to meet the varying need of entrepreneurs at different stages.
Create collaboration networks: Actively build clusters and networks by supporting and funding groups of partners rather than single universities or participants.
Encourage a borderless physical world: Support digital trade through regulation that encourages the safe exchange of data across borders and immigration policies that secure the supply of critical talent.
About the Research
Accenture explored the views and attitudes of entrepreneurs and large companies relating to collaboration and innovation. The research, conducted in cooperation with the G20 Young Entrepreneurs' Alliance, comprised of the following:
An online survey of 1,002 entrepreneurs and 1,020 executives at large companies
In-depth interviews with 20 executives at companies and institutions
Analysis of the digital business and collaboration landscape in all G20 countries
About Accenture
Accenture is a global management consulting, technology services and outsourcing company, with more than 336,000 people serving clients in more than 120 countries. Combining unparalleled experience, comprehensive capabilities across all industries and business functions, and extensive research on the world's most successful companies, Accenture collaborates with clients to help them become high-performance businesses and governments. The company generated net revenues of US$30.0 billion for the fiscal year ended Aug. 31, 2014. Its home page is www.accenture.com.

# # #
Contact:

Matthew McGuinness
Accenture
+ 1 917 282 7187
matthew.mcguinness@accenture.com