September 09, 2015
Internet of Things to Boost China's Economic Growth by US$1.8 trillion by 2030, Finds Accenture


Manufacturing to Enjoy Largest Gains, but Greater Government and Business Action Needed To Fulfil Potential

DALIAN, China; Sept. 9, 2015 – The Internet of Things (IoT) could deliver economic gains in China of up to US$1.8 trillion in cumulative Gross Domestic Product (GDP) by 2030, according to new research from Accenture (NYSE:ACN) published at the World Economic Forum's Annual Meeting of New Champions 2015, but the potential gains are at risk due to challenges in infrastructure, data policy and talent.
The Accenture report, "How the Internet of Things Can Drive Growth in China's Industries," explores how the IoT's ability to unite the physical world of objects and the virtual one of computing and analytics can deliver a range of benefits to multiple sectors. It shows that, based on current policy and investment trends, the IoT could add about US$500 billion to China's cumulative GDP by 2030. This would result in China's GDP being 0.3 percent higher in that year compared with current projections.

The report claims that, by taking additional measures to improve its capacity to absorb IoT technologies and increase IoT investment, China could boost its annual GDP by 1.3 percent by 2030, cumulatively adding US$1.8 trillion to the economy by that time (see graphic below).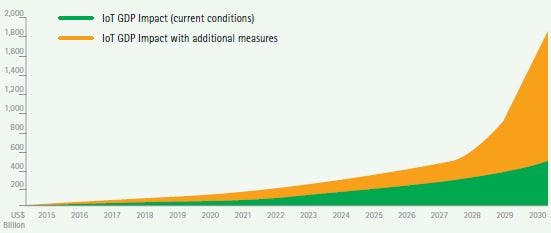 The Accenture report analyses the impact of the IoT on twelve key industrial sectors in China and reveals that manufacturing, public services and the resources sectors are most likely to gain from the use of IoT technologies and business models. Together they account for more than 60 percent of the IoT's total cumulative impact on China's GDP by 2030. In each case, however, there is an even greater upside to growth if investment increases and actions are taken to improve supporting conditions beyond current levels.

The manufacturing sector will benefit by US$196 billion in its cumulative GDP contribution in the next 15 years, based on China's current policy and investment trends. But that could jump to US$736 billion – a 276 percent increase as a result of the enhanced measures advocated by the report. The public sector could see an increase in cumulative output from US$61 billion to US$217 billion. A similar increase could be seen in the resources sector, with its contribution to cumulative GDP rising from US$48 billion to US $189 billion under enhanced measures, almost three times higher than under current conditions.

The economic benefits of the IoT will be achieved through a range of improvements to competitiveness in each sector, according to the report. Manufacturers could improve production processes, by using predictive analytics to better track, control and maintain equipment. Safety can be improved through the use of smart devices worn by workers in hazardous industrial environments. Most significantly, IoT can generate new revenues by using data to create more tailored products and a range of new services based on those products.

Improvements required to strengthen China's enabling conditions
For these greater gains to be achieved, the Accenture analysis shows that China will need to significantly improve its capacity to diffuse IoT technology throughout its economy. In an international ranking of the strength of enabling conditions for the widespread use of the IoT, China comes 14 out of 20 leading economies (see graphc below).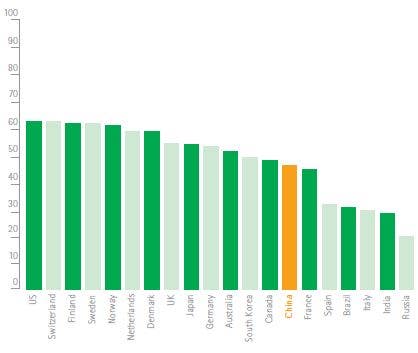 "Chinese business leaders and policy makers cannot assume that the country will automatically enjoy strong economic growth thanks to the IoT," said Gong Li, Chairman of Accenture Greater China. "To make such an expansion possible, they must shift their attention away from the technology itself and toward the conditions that enable the technology to be widely adopted through all parts of the economy. The government's 'Made in China 2025' initiative provides a strong basis, as the IoT will be most relevant to advanced and intelligent manufacturing."

Accenture's analysis of multiple sectors concludes that a number of factors are holding back adoption of the IoT in China. A shortage of specialized talent is seen not only through a lack of core technology skills, but in the expertise required to transform traditional product offerings into more intelligent data-based services. A lack of integrated communications and IT systems and unclear data sharing policies prevent companies exchanging data to deliver these intelligent solutions jointly.
The report makes three key recommendations:

Address critical skills and infrastructure gaps
A shortage of technical skills is holding back faster take up of IoT technologies at the industry level. China needs to boost the number and quality of tertiary graduates in science and engineering. It should build on its existing IoT hubs and clusters, such as that established at Wuxi and draw on its powerful network of stakeholders in academia and non-government organizations to direct specific training initiatives. China must also invest to upgrade legacy infrastructure and broaden its availability in remote regions.

Promote cross-industry ecosystems
Chinese business leaders recognize the growth opportunities of IoT, but they should look beyond their own operational boundaries. The main opportunity lies in cross industry collaboration, such as that between agriculture, farm equipment and fertilizer companies to deliver new data-based solutions. Beyond supporting clusters of multiple parties, China needs to invest in more integrated communications systems and secure networks to encourage the sharing of data between partners. Clearer data sharing regulation is also required.

Accelerate the investment cycle
According to a recent Accenture survey, 62 percent of Chinese business leaders have developed strategies for the IoT, but just a little over two-fifths are investing in them. China's business leaders and policymakers should promote experimental, pilot and demonstration projects in IoT applications. For example, Singapore, is doing so with driverless cars, in ways that involve citizens as well as industry. Demonstrating benefits early will stimulate greater investment.

"The IoT will not only boost China's ability to deliver more advanced industrial solutions to break through efficiency bottlenecks, but also help differentiate its products and services around customers' digital experience, " said Leo Ng, Accenture Digital Lead in Greater China. "That is why IoT needs to be deployed through a clear business strategy and across all sectors at scale. Companies and government need to learn to work across traditional boundaries and in a spirit of collaboration and experimentation in order to create new business models and innovations."

Further insights on the Internet of Things can be found here.

About Accenture
Accenture is a global management consulting, technology services and outsourcing company, with more than 336,000 people serving clients in more than 120 countries. Combining unparalleled experience, comprehensive capabilities across all industries and business functions, and extensive research on the world's most successful companies, Accenture collaborates with clients to help them become high-performance businesses and governments. The company generated net revenues of US$30.0 billion for the fiscal year ended Aug. 31, 2014. Its home page is www.accenture.com.

# # #

Contacts:

Yuelong Fan
Accenture
+ 86 10 5870 5450
yuelong.fan@accenture.com