March 10, 2015
Increased Use of Digital Technologies Could Add $1.36 Trillion to World's Top 10 Economies in 2020, According to New Study from Accenture
"Digital Density" index will help businesses improve competitiveness by siting operations in digitally optimal locations

NEW YORK; March 10, 2015 – The increased use of digital technologies could boost productivity for the world's top 10 economies and add US$1.36 trillion to their total economic output in 2020, according to a new study by Accenture (NYSE: ACN). The study is based on the Accenture Digital Density Index, a tool that helps companies make better strategic investments based on granular measures of digital performance.

The Accenture Digital Density Index measures the extent to which digital technologies penetrate a country's businesses and economy. A country's "digital density" is determined by a scorecard comprising over 50 indicators, such as the volume of transactions conducted online, the use of cloud or other technologies to streamline processes, the pervasiveness of technology skills in a company, or an economy's acceptance of new digitally driven business models.

At its broadest level, the Index reveals that a ten point improvement in digital density (on a 100-point scale) over five years would lift GDP growth rates in advanced economies by 0.25 percentage points, and by 0.5 percentage point in emerging economies. That would give the U.S. an uplift to GDP of US$365 billion in 2020. Emerging economies, such as Brazil, India and China could see rises of between $97 billion and $418 billion (see Figure 1).

Figure 1 – Impact of Digital Density on GDP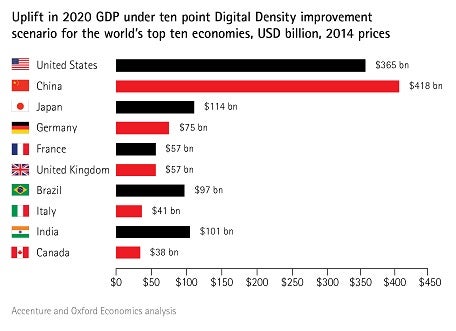 At a more detailed level, the Index identifies the factors that reinforce or weaken the digital density of an economy. This can help business and political leaders determine their digital strategy, gauge their progress, and determine the ultimate return on their investments.

As many companies strive to lift their growth and competitiveness, the Index can also be used to identify the "digital hotspots" around the world that indicate where best a company should place different parts of its operations depending on that location's comparative digital strengths. According to the analysis, the Netherlands ranks as having the highest digital density, followed by the USA, Sweden, South Korea, the UK and Finland (see Figure 2).

Figure 2 – Digital Density scores and country rankings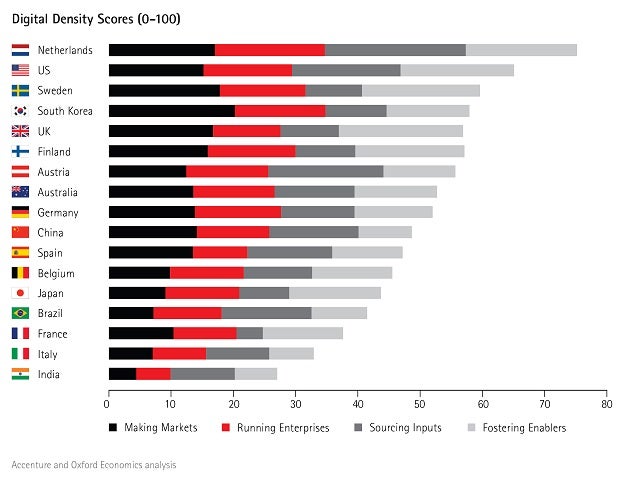 "As companies become more digitally enabled, so digital density should rank alongside access to natural resources, a good transportation system, and skilled people in their list of location criteria," said Bruno Berthon, managing director, Digital Strategy, Accenture Strategy. "Being digitally competitive means applying new technologies to a range of performance areas, from sourcing labor and automating processes to creating new goods and services. The Accenture Digital Density Index's 50 indicators show that being digital cannot depend on a handful of well-intentioned but narrow initiatives. Improving digital competitiveness requires a broad, interrelated, program of actions by governments and businesses."

Accenture's index and analysis points to how businesses and governments can collaborate to improve the attributes that can help enable greater digital effectiveness for businesses, and enhance digital-driven growth at a national level. Although the required actions will vary across different geographies, there are four consistent factors:
Making digital markets: The extent to which businesses are using digital to provide products or services to their customers, sell to new audiences, and collaborate with other firms. As traditional industry boundaries continue to blur, governments need to focus on protecting consumers while collaborating with businesses to understand new business models and required skills, and identify ways to facilitate and govern the resulting new markets.
Running enterprises digitally: How businesses are placing digital at the heart of their strategy and enterprise to transform every part of their operations, including R&D, supply chains, and the use of cloud, analytics and CRM technologies. Companies and governments should increase their use of digital technologies to reinvent rather than simply automate key business processes to boost efficiency and productivity.
Sourcing inputs: Making key factors of production such as land, capital, talent, plant, and property accessible via digital technology will improve productivity and reduce costs. The Industrial Internet of Things will further accelerate the digitalization of supply chains as objects interact with objects and humans to optimize processes or spawn new product and service hybrids.
Fostering enablers: The degree to which the policy and regulatory environment fosters the adoption of digital business models while maintaining constituent trust. Although infrastructure, such as super-broadband and mobile broadband remain important to digital growth, governments should also focus on making it easier for entrepreneurs to use digital technologies to launch businesses, streamlining the regulatory environment, finding innovative ways to create the right skills in the workforce, and supporting trust and confidence in citizens and business.
To read more on the Accenture Digital Density Index, click on the link.

About Accenture
Accenture is a global management consulting, technology services and outsourcing company, with approximately 319,000 people serving clients in more than 120 countries. Combining unparalleled experience, comprehensive capabilities across all industries and business functions, and extensive research on the world's most successful companies, Accenture collaborates with clients to help them become high-performance businesses and governments. The company generated net revenues of US$30.0 billion for the fiscal year ended Aug. 31, 2014. Its home page is www.accenture.com.

Accenture Strategy operates at the intersection of business and technology. We bring together our capabilities in business, technology , operations and function strategy to help our clients envision and execute industry-specific strategies that support enterprise wide transformation. Our focus on issues related to digital disruption, competitiveness, global operating models, talent and leadership help drive both efficiencies and growth. For more information, visit www.accenture.com/strategy

# # #

Contact:

Matthew McGuinness
Accenture
+ 917 282 7187
matthew.mcguinness@accenture.com