October 27, 2015
Improving Customer Experience is Top Business Priority for Companies Pursuing Digital Transformation, According to Accenture Study


Challenges to becoming a customer-focused digital enterprise include digital strategy ownership, organizational readiness, and establishing metrics to measure digital success

NEW YORK; October 27, 2015 – Improving the overall customer experience is a top business priority for companies and a main driver behind their digital transformation ambitions, according to a new study from Accenture (NYSE: ACN). But the majority of businesses don't set themselves apart yet from competitors through the digital customer experience they offer.
The study, titled "Digital Transformation in the Age of the Customer," is based on a survey of nearly 400 decision-makers in companies globally. It was commissioned by Accenture Interactive, part of Accenture Digital, and conducted by Forrester Consulting. Key findings in the study include:
"Improving the customer experience" topped the list of business priorities companies have for the next 12 months. It received the most number one rankings (21 percent), followed by "growing revenues" (17 percent) and "improving differentiation" (16 percent).
"Improving customer satisfaction" was cited as one of the top three motivations for digital transformation, along with "increasing profitability" and "accelerating speed to market."
Companies are focusing on digital channels to make customer interactions more engaging: sixty-three percent are planning to enhance their online experience, 46 percent are looking to add or improve their mobile offerings, but only 39 percent want to improve their in-store experience.
"Customer experience is now clearly at the heart of digital transformation, and digital is at the center of that customer experience," said Anatoly Roytman, managing director Accenture Interactive and global digital commerce lead. "But many companies have considerable ground to cover on their path to becoming digital enterprises. They're challenged with setting a digital vision and strategy, getting the right people in place, and measuring digital success."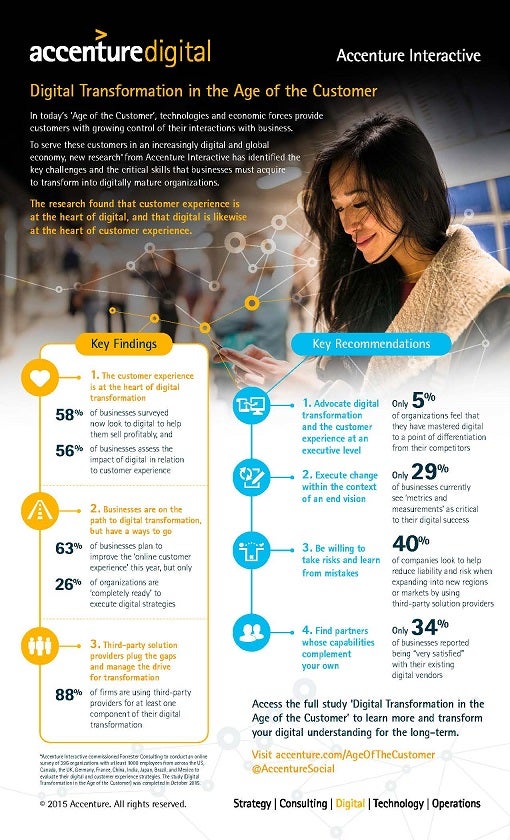 Download the infographic "Digital Transformation in the Age of the Customer"

Three Challenges to Becoming a Customer-Focused Digital Enterprise
Setting a Digital Vision and Strategy: Confusion over who sets the digital vision and strategy hampers digital transformation, as indicated in the study. Currently, ownership is divided between the chief executive officer (38 percent), chief information officer (33 percent), chief digital officer (ten percent), and chief marketing officer (eight percent). When asked who should own an organization's digital vision and strategy, the CIO came out on top (30 percent) followed by the CEO (27 percent). The CDO and CMO lagged at 17 percent and eight percent, respectively.
Organizational Readiness: Respondents were hesitant that their business has the right people in place to execute its digital strategy. They listed their "organization" as the part of the company that is least ready to digitally transform (64 percent) compared to technology (75 percent) and operational processes (75 percent).
Measuring Digital Success: Companies tend to worry about implementation of processes and technologies before putting in useful analytics and metrics with which to evaluate them. Fifty-seven percent of the respondents said that implementing digital technologies is critical to enabling their digital business, but only 29 percent said establishing digital metrics and measurements are.
Digital Customer Experience Not Yet a Differentiator for Most Companies
Considering these prevailing challenges, it may not be surprising that only five percent of respondents think their organization is exceeding their customers' expectations in digital experiences, while 73 percent believe they meet those expectations.

"Look at how fast consumer behavior is changing and how great customer experiences are jumping industry boundaries," said Jay Dettling, managing director Accenture Interactive and North America digital commerce lead. "Companies need to ask themselves how long customers will accept experiences that are just 'good enough'."

Recommendations from the study
To achieve differentiation through digital customer experiences, leaders from different parts of the business will need to team up even more tightly. They need to recognize that digital transformation can't be confined to a single department.
Leaders should advocate digital transformation and customer experience with clear goals to ensure that all changes to culture, processes and technology ultimately support the digital vision and are not made in isolation.
The way to becoming a digital enterprise requires its leaders to take risks and learn from mistakes. For example, adding functionality that is in the spirit of digital transformation and the customer experience shouldn't always require traditional approvals and a detailed business case.
Third-parties can help fill gaps even digitally mature companies will have and make it cheaper and faster for the organization to implement and execute their digital strategy. Forty-five percent already work with providers on enhancing the customer experience.
"Operationalizing digital transformation, developing digital visions and strategies, and executing the required organizational change are inhibitors to achieving superior customer experience," said Roytman. "Only a few organizations have the capabilities to master customer-focused digital transformation by themselves efficiently and at pace. Our findings show that nearly 90 percent use third-party providers for at least one component of their digital transformation. With their capabilities, providers help plug the gaps and manage the drive for transformation."

About the research
The study, "Digital Transformation in the Age of the Customer," was commissioned by Accenture Interactive and is based on a survey Forrester Consulting conducted among 396 decision-makers with responsibility for customer experience strategy or digital initiatives in US, Canada, the UK, Germany, France, China, India, Japan, Brazil, and Mexico in May/June 2015. The research covers B2C and B2B companies in the following industries: Automotive, Consumer Goods, Technology and Electronics, Manufacturing and Materials, Retail, Media and Entertainment, Travel and Hospitality, Energy and Utilities, Telecommunications, Banking, Life Science, Insurance, Capital Markets.

For further information on this research, please join an upcoming webinar with Accenture and guest Forrester on November 12, 2015 at 11:00 AM ET/16:00 PM GMT/17:00 PM CET and register here: http://webcast.accenture.com?event=digital-transformation.

About Accenture
Accenture is a global management consulting, technology services and outsourcing company, with more than 358,000 people serving clients in more than 120 countries. Combining unparalleled experience, comprehensive capabilities across all industries and business functions, and extensive research on the world's most successful companies, Accenture collaborates with clients to help them become high-performance businesses and governments. The company generated net revenues of US$31.0 billion for the fiscal year ended Aug. 31, 2015. Its home page is www.accenture.com.

Accenture Interactive, part of Accenture Digital, helps the world's leading brands drive superior marketing performance across the full multichannel customer experience. Accenture Interactive offers integrated, industrialized and industry-driven digital transformation and marketing solutions. To learn more follow us @AccentureSocial and visit www.accenture.com/interactive.

# # #

Contact:
Jens R. Derksen
Accenture
+ 49 175 57 61393
jens.derksen@accenture.com