July 07, 2015
European Agency for Large-Scale IT Systems Selects Consortium of Accenture, Altran and Tieto to Provide IT Services
BRUSSELS; July 7, 2015 – The European Agency for Large-Scale IT Systems (eu-LISA) has selected Accenture (NYSE: ACN), Altran and Tieto to provide IT services across agency locations in Brussels, Strasbourg and Tallinn.
The consortium will help eu-LISA enhance its IT architecture, increase its operational capabilities and provide IT services to eu-LISA customers around the world. Technology services will include application development, biometric system maintenance, and network and data storage enhancements.

"Accenture has significant experience working with government clients and border management agencies around the world, helping them meet the challenges of managing large complex IT projects," said James Slessor, managing director of Accenture's global Public Safety business. "We are pleased to have been chosen for this project and will bring our experience working as part of a consortium on the Schengen Information System to enable valuable synergies and support delivery excellence for eu-LISA."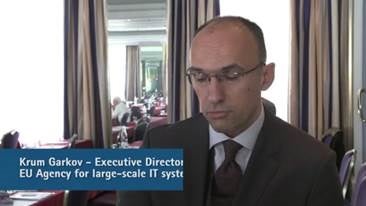 https://www.accenture.com/us-en/insight-video-insights-smart-borders-2013-understanding-technology.aspx
Watch Krum Garkov, Executive Director at eu-LISA speaking on the IT challenges and opportunities facing his organization and on the future of EU Smart Borders.
The contracts were awarded after a competitive tendering process and under two different lots, each for two years with a possible two-year extension. Accenture and Altran jointly bid for Lot 1, comprising services for eu-LISA's Strasbourg and Brussels locations. Accenture and Tieto jointly bid for Lot 2, comprising services for eu-LISA's Tallinn location. As consortium leader, Accenture will also provide overall program management services across all locations.

"Altran is looking forward to working with eu-LISA and bringing our expertise in highly technical systems, networks and database administration to benefit the agency," said William Rozé, CEO of Altran France. "This collaboration with Accenture and Tieto is part of our company's business strategy and brings a new dimension to our offering to EU clients."

Anneli Heinsoo, CEO of Tieto said, "Tieto has vast experience working with governments and large public service institutions and has extensive expertise across a wide range of ICT services. As one of the biggest IT companies in Scandinavia, we know how to achieve goals in effective and cost-efficient ways while adhering to delivery deadlines. We are proud to be selected for this project and look forward to working with eu-LISA in the years ahead."

Learn more about Accenture's global Public Safety business and Delivering Public Service for the Future.

About Accenture
Accenture is a global management consulting, technology services and outsourcing company, with more than 336,000 people serving clients in more than 120 countries. Combining unparalleled experience, comprehensive capabilities across all industries and business functions, and extensive research on the world's most successful companies, Accenture collaborates with clients to help them become high-performance businesses and governments. The company generated net revenues of US$30.0 billion for the fiscal year ended Aug. 31, 2014. Its home page is www.accenture.com

About Tieto
Tieto is the largest IT services company in the Nordics providing full lifecycle IT services. Tieto also provides global product development services for companies in the communications and embedded technologies arena. Through industry insight, technology vision, and innovative thinking, Tieto proactively strives to inspire and engage our customers in finding new ways of accelerating their business. Building on a strong Nordic heritage, Tieto combines global capabilities with local presence. Headquartered in Helsinki, Finland, Tieto has over 13 000 experts in more than 20 countries. Turnover is approximately €1.5 billion. Tieto's shares are listed on NASDAQ in Helsinki and Stockholm. www.tieto.com

About Altran
As a global leader in innovation and high-tech engineering consulting, Altran accompanies its clients in the creation and development of their new products and services. Altran Innovation Makers have been providing their expertise for over thirty years to key players in the aerospace, automotive, defense, energy, finance, life sciences, railway, and telecoms sectors, among others. Covering every stage of project development from strategic planning to manufacturing, Altran solutions capitalize on the Group's technological know-how in five key areas: Innovative Product Development, Intelligent Systems, Lifecycle Experience, Mechanical Engineering, and Information Systems. In 2014, the Altran group generated revenues of €1.756bn. Altran has approximately 23,000 employees in more than 20 countries.
www.altran.com

# # #

Contact:
Joe Doyle
Accenture Health & Public Service
+ 353 87 2507583
Joe.x.doyle@accenture.com