April 07, 2015
Enrollment in Private Health Insurance Exchanges Doubled, to 6 Million in 2015, According to Accenture

CHICAGO; April 7, 2015 – A new report by Accenture estimates 6 million people enrolled in private health insurance exchanges for their 2015 employer benefits. These findings show private health insurance exchanges – an online marketplace for people to choose their employer-sponsored benefits – doubled enrollment this year, up from 3 million in 2014.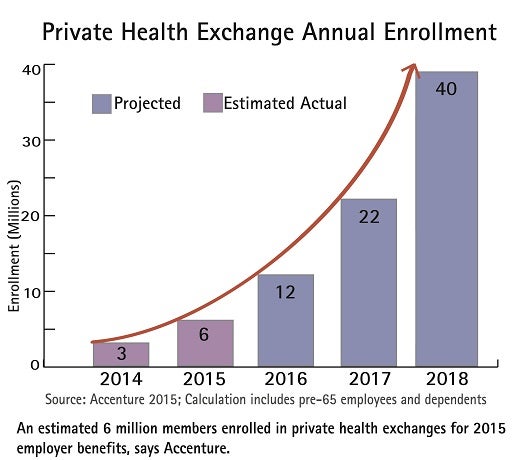 Accenture's findings show midsize employers, defined as companies with 100 to 2,500 employees, contributed most to the adoption of private health exchanges increase.

Based on its research, Accenture forecasts that enrollment in private health insurance exchanges will grow to 12 million in 2016 and 22 million in 2017. As previously forecasted, Accenture expects total enrollment in private exchanges to ultimately surpass state and federally funded exchanges, reaching 40 million by 2018.

"We remain optimistic that several factors will catalyze enrollment growth in private health insurance exchanges through 2018, said Rich Birhanzel, managing director for Accenture Health Administration Services. "This is especially true as the market matures, employers gain more control of benefit design and evidence continues mounting on the tangible benefits of the model."

Other Accenture findings on the factors driving enrollment growth in private health insurance exchanges are as follows:
Many employers did not drop coverage in 2015, as initially forecasted. In fact, an Accenture survey shows 76 percent of consumers with employer-sponsored coverage see health insurance as a primary factor for continuing to work at their current employer, limiting some employers' ability to drop or defund health coverage. As employers seek a compelling alternative, private exchanges will emerge for some as a compelling model to reduce costs and administrative burden.
Private exchange enrollment is expected to accelerate in 2017 due to looming penalties for "Cadillac" Plans. This provision of the Affordable Care Act (ACA) places a 40 percent excise tax on high-cost employer health plans beginning in 2018. Research estimates that 38 percent of large employers (those with more than 2,500 employees) and 17 percent of American businesses overall will face those penalties in 2018 if action is not taken prior.
Market funding is growing: Continued investments by exchange sponsors in private exchange technology solutions, such as Aetna's acquisition of bswift and Mercer's equity investment in Benefitfocus, are expected to drive market maturity and scalability.
The number of large employers who have been on the fence in determining whether to adopt private health insurance exchanges is expected to drop over the next two years due to looming mandates and a maturing market.
Compliance burden for employers accelerates: Accenture expects that increased compliance requirements mandated by regulations, such as the ACA (section 6055), HIPAA and the Employee Retirement Income Security Act, will drive employers to adopt new models for managing benefits administration.
Methodology
For the third year, Accenture conducted an analysis and projection of U.S. enrollment in private health insurance exchanges, focusing on individuals and dependents under the age of 65 who receive group health insurance through an employer. Current 2015 enrollment was calculated by assessing enrollment activity in private health insurance exchanges through March 2015. Where relevant, findings are included from an Accenture survey of 2,709 U.S. employees, between the ages of 18 and 64, who receive health benefits from their employer. The research was conducted in March 2015.

About Accenture?
Accenture is a global management consulting, technology services and outsourcing company, with more than 323,000 people serving clients in more than 120 countries. Combining unparalleled experience, comprehensive capabilities across all industries and business functions, and extensive research on the world's most successful companies, Accenture collaborates with clients to help them become high-performance businesses and governments. The company generated net revenues of US$30.0 billion for the fiscal year ended Aug. 31, 2014. Its home page is www.accenture.com.

# # #

Media Contact:

Jenn Francis
Accenture
+1 630 338 6426
jennifer.francis@accenture.com