June 04, 2015
Digital Health Solutions Expected to Save U.S. Healthcare System More Than $100 Billion Over Next Four Years, Accenture Finds


FDA Approvals of Digital Health Solutions Expected to Triple

CHICAGO; June 4, 2015 – FDA-regulated digital health solutions are expected to save the U.S. healthcare system more than $100 billion over the next four years, according to new research from Accenture.
"A digital disruption is playing out in healthcare, as witnessed by the emergence of new business models and technology that will change the nature of patient interactions, alter consumer expectations and ultimately improve health outcomes," said Rick Ratliff, managing director of digital health solutions, Accenture.

Accenture estimates that FDA-approved digital health solutions – an internet-connected device or software created for detection or treatment of a medical indication – achieved $6 billion in cost savings in 2014, primarily driven by medication adherence, behavior modifications and fewer emergency room visits. The company expects that figure to rise to $10 billion in 2015, $18 billion in 2016, $30 billion in 2017 and $50 billion in 2018. Accenture also predicts that FDA approvals of digital health solutions will triple by the end of 2018, to 100, from 33 last year.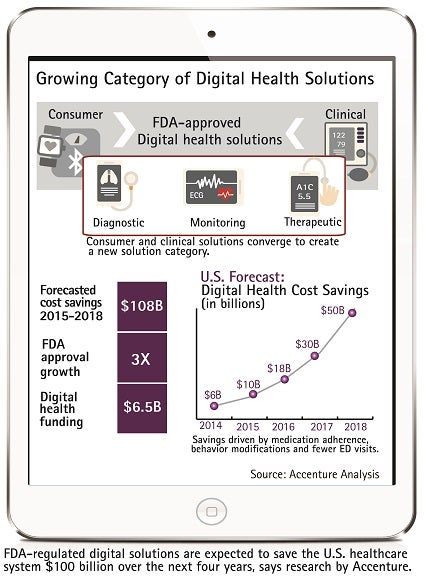 Accenture's research found several factors, such as health IT mandates, payment reform and regulatory changes will accelerate the growth of FDA-approved digital solutions:
Increased use of healthcare IT among physicians and patients, driven by federal Meaningful Use mandates, will continue enabling devices and solutions to integrate with patient portals and digital health records. In fact, a recent survey from Accenture found one-in-four U.S. physicians routinely use tele-monitoring devices for some aspect of chronic disease management.
Growing demand for patients to self-manage care: Accenture estimates the number of U.S. consumers who own a wearable fitness device will double in the next five years, from 22 percent this year to 43 percent by 2020. In fact, an Accenture survey found over half (57 percent) of U.S. consumers self-track their health information online, such as medical history (cited by 37 percent of respondents), physical activity (34 percent) and symptoms (33 percent).
Recently released regulatory guidelines for low-risk health products, establishing a line between when a wellness tool — such as a heart rate monitor — becomes a medical device, will enable more clarity on the process, expedite regulatory pathways and is expected to drive 30 percent annual growth of these solutions through 2018.
A shift to value-based reimbursement is creating fertile ground for clinical and business strategies that incorporate [digital health] devices. Accenture estimates digital health funding will reach $6.5 billion by 2018.
"The proliferation of internet-connected solutions and evolving regulatory guidelines are blurring the lines between clinical and consumer health solutions," added Ratliff "As consumer health platforms support more 'medical' devices, rather than just today's wellness trackers, they'll create a viable self-care model in a segment that today is occupied by chronic-disease monitoring companies."

Methodology
The Accenture study assessed the number of digital health solutions that received FDA 510(k) clearance from 2010 through 2014. The analysis focused on devices and software created for [medical] indications that are FDA-regulated but incorporate consumer-driven principles, such as mobility, user experience, industrial design and always-on connectivity. Analysis included review of secondary sources and examination of regulatory, clinical and other market trends.

About Accenture?
Accenture is a global management consulting, technology services and outsourcing company, with more than 323,000 people serving clients in more than 120 countries. Combining unparalleled experience, comprehensive capabilities across all industries and business functions, and extensive research on the world's most successful companies, Accenture collaborates with clients to help them become high-performance businesses and governments. The company generated net revenues of US$30.0 billion for the fiscal year ended Aug. 31, 2014. Its home page is www.accenture.com.

# # #

Media Contact:

Jenn Francis
Accenture
+ 1 630 338 6426
jennifer.francis@accenture.com