June 17, 2015
Consumers Rate Energy Providers Higher on Data Security Than on Energy-Consumption Advice, Accenture Research Shows


Interest in new products and services, like solar and energy management, continues to rise

LONDON and NEW YORK; June 17, 2015 – In today's digital world of connected devices, energy consumers are nearly twice as likely to trust their energy providers to safeguard their personal data than to advise them on energy consumption, according to new research by Accenture (NYSE: ACN).
Accenture's sixth annual survey this year included more than 11,000 energy consumers in 21 countries. The report, The New Energy Consumer: Unleashing Business Value in a Digital World, found that 65 percent of consumers showed confidence in their energy provider to secure and protect their personal data and information about their energy usage. This rose to 76 percent among regular users of digital channels. In contrast, only 36 percent said that they trust their energy provider to inform them about actions they can take to optimize their energy use.

"As energy and everyday devices become increasingly connected, an unprecedented amount of personal information about consumers' habits and their households is becoming available, magnifying the importance of digital trust," said Tony Masella, global managing director of Accenture Energy Consumer Services.

Highlighting this level of digital trust among energy consumers, almost two-thirds (61 percent) of respondents said they would be comfortable with their energy provider sharing their data with third parties, although in most cases only with prior permission. In addition, about the same number (62 percent) said they would allow their energy provider's mobile application to access their location information, regardless of whether to provide outage information or to inform them about promotions.

"In addition to ensuring customers' confidence in their data privacy, energy providers can use this information to develop more personalized products and services," Mr. Masella said. "In fact, they must do this to remain competitive, given that barriers to entry are coming down and utilities must now compete with start-up digital retailers and new entrants from other industries, which are offering new and bundled solutions and services."

With the proliferation of new energy-generating technologies, from distributed generation to wireless charging furniture, Accenture's research also found that consumers are becoming increasingly conscious of their energy consumption. Two-thirds (66 percent) would be interested in products and services to help them save electricity – up from 56 percent last year – while 69 percent said that they would be interested in participating in an energy-management program to help them conserve energy.

More than three-quarters of consumers have taken energy-efficiency actions in the past year, including installing energy-efficient light bulbs (52 percent), reducing appliance usage (34 percent), using appliances in non-peak times (28 percent), and lowering thermostat settings (28 percent). However, nearly four in 10 consumers (38 percent) said they believe that their energy provider is not effective in helping them manage their energy consumption.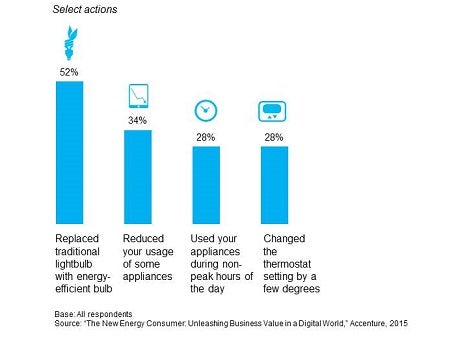 In addition to conserving energy, consumers are increasingly interested in generating and storing their own electricity, such as by installing solar panels and home-battery storage. More than half (57 percent) said they would consider investing to become power self-sufficient. While this varies dramatically between countries, with a much stronger bias towards the economies with lower electrification rates like South Africa, Indonesia or Brazil, most (89 percent) of those willing to invest would still want to be connected to the grid for back-up power.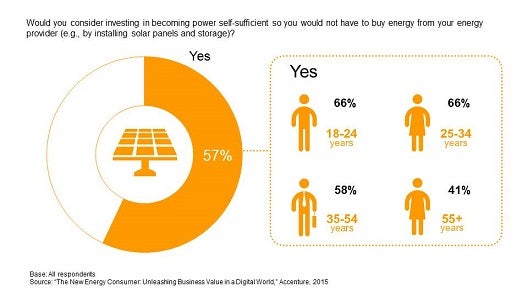 "Energy providers can offer new value propositions to their customers, as these products and services are no longer niche market opportunities," Mr. Masella said. "In competitive markets, energy providers can create new revenue streams by offering digital solutions for home-related products and services, such as solar and other home-energy generation platforms, energy-efficiency tools, or even bundled home services. In a regulated marketplace, opportunities for energy providers include innovative partnerships or digital information services. While interest in new products and services is high and increasing among all energy consumers, our research shows that consumers who use digital channels to interact with their energy provider may represent even greater value."

Methodology
Accenture's six years of global research surveys are based on questionnaire-led interviews with end consumers. Surveys were conducted online in native languages for Accenture by Harris Interactive. The selected countries represent a range of regulated and competitive markets. In 2015, a total of 11,298 interviews were conducted in 21 countries, including 1,074 in the United States, 640 in the United Kingdom, 584 in Canada, and 500 in Argentina, Australia, Belgium, Brazil, China, France, Germany, Indonesia, Italy, Japan, Netherlands, Norway, Portugal, Singapore, South Africa, Spain, Sweden and Thailand. For residential consumers the survey sample was statistically representative of the general population in each country, with the exceptions of Argentina, Brazil, China, Indonesia and South Africa, where the sample was representative of the urban populations. For countries with large and/or diverse populations, participants were selected from a broad spectrum of locations. The surveys included attitudinal, behavioral and demographic questions.

About Accenture
Accenture is a global management consulting, technology services and outsourcing company, with more than 323,000 people serving clients in more than 120 countries. Combining unparalleled experience, comprehensive capabilities across all industries and business functions, and extensive research on the world's most successful companies, Accenture collaborates with clients to help them become high-performance businesses and governments. The company generated net revenues of US$30.0 billion for the fiscal year ended Aug. 31, 2014. Its home page is www.accenture.com.

# # #

Contacts:

Guy Cantwell
Accenture
+ 1 281 900 9089
guy.cantwell@accenture.com

Justyna Devraj
Accenture
+ 44 20 7844 0090
+ 44 750 012 4567 (mobile)
justyna.devraj@accenture.com