October 28, 2015
Bank Boardrooms Lack Technology Experience, Accenture Global Research Finds


Only 6% of board directors and 3% of CEOs of leading banks have professional technology experience;

More than two-fifths of banks have no board members with professional technology experience

LONDON; Oct. 28, 2015 – A new report from Accenture (NYSE: ACN) has found a drastic lack of technology experience in the boardrooms of the world's largest banks.
According to the report, "Bridging the Technology Gap in Financial Services Boardrooms," only 6 percent of board members and 3 percent of CEOs at the world's largest banks have professional technology experience. In addition, more than two-fifths (43 percent) of the banks have no board members – and nearly one-third (30 percent) have only one board member – with professional technology experience.

"Many of the biggest challenges now confronting banking are intimately connected with technology so directors need a robust understanding of technology if they are to make informed decisions," said Richard Lumb, group chief executive of Financial Services at Accenture. "FinTech, cyber-security, IT resilience and technology implications of regulatory changes have all become critical board-level issues but many bank boards simply don't have adequate expertise to assess these issues and make decisions about strategy, investment and how best to allocate technology resources."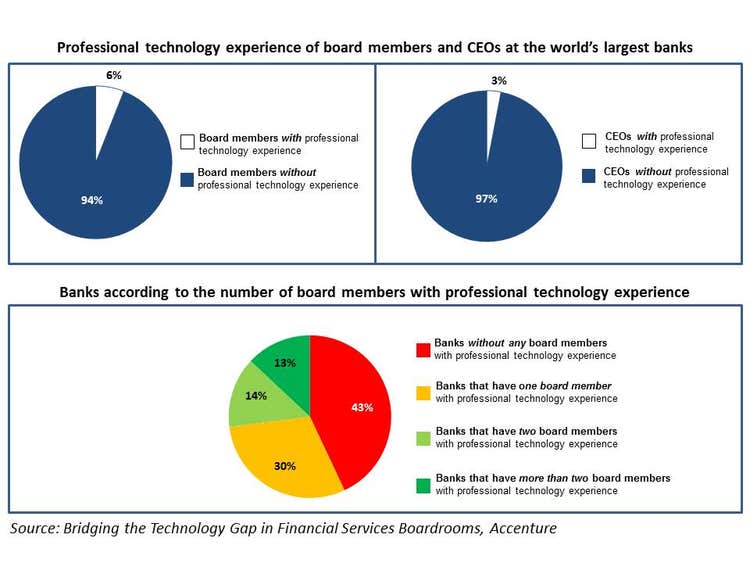 The report – based on an analysis of the professional backgrounds of nearly 2,000 executive and non-executive board members at more than 100 of the largest banks in the world – defines "technology experience" as holding or having held senior technology positions at a company or senior responsibilities at a technology firm.

The boards of banks in the United States and the United Kingdom have higher percentages of directors with professional technology experience than those in any other countries, according to the report. But the numbers are still low, at 16 percent of directors in the US and 14 percent in the UK. Boards of Chinese, Brazilian, Greek, Italian and Russian banks have the lowest technological experience representation. Less than 1 percent of directors at Chinese banks – and none of the directors at Brazilian, Greek, Italian and Russian banks – have professional technology experience.

"Many banks now realise how important it is to close the technology gap and are looking to hire technology experts on the board but it is not easy," Lumb said. "It is also important to recognise that simply having one or two technology experts on the board is not a panacea. Banks need to change boardroom culture through a combination of deep technology expertise and also much-improved understanding of the impact of technology among other board members."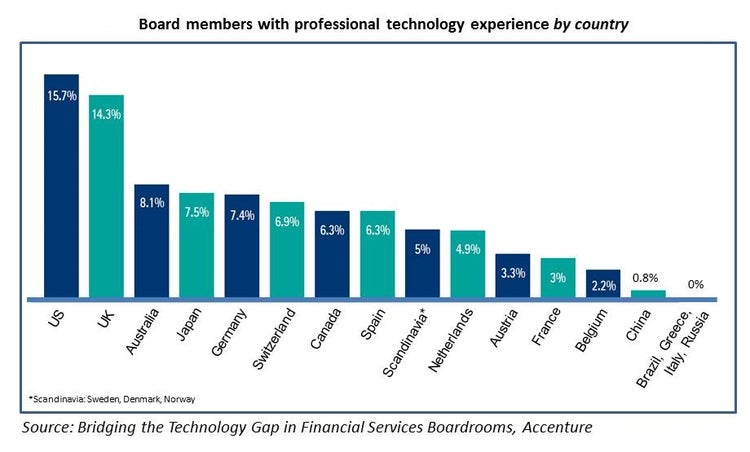 The report recommends that banks set up board-level technology committees. Similar to risk and audit committees, technology committees would provide additional expertise and advise the board on major technology decisions. At present only 11 percent of the top banks have technology committees.

The report also suggests that financial services boards embark on regular programs of personalized coaching to help improve the technology acumen of all directors so they are better equipped to make informed decisions. During these programs, for instance, board members would work on scenario-based case studies to help them learn to make the right decisions around technology and investing challenges.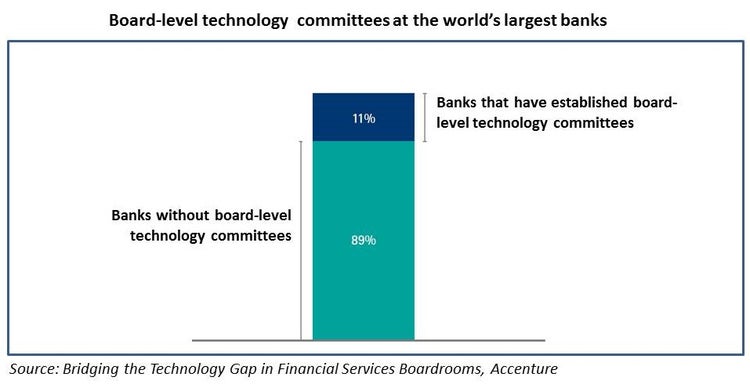 "It's not sufficient for banks to just realize that their businesses are under threat and that innovation is critical to prevent them from being disrupted," Lumb said. "They also need a clear innovation agenda with measurable objectives, investment plans and execution strategy. Board members have a key role to play in helping set the trajectory and monitor progress, but to do so, they will need to fill the current technology expertise gap in boardrooms."

Methodology
Accenture analysed the professional background of 1,925 executive and non-executive directors of 109 of the largest banks by assets in the world. The analysis included 68 banks in Europe (10 in Germany, 8 in France, 8 in Spain, 8 in Scandinavia (4 in Sweden, 3 in Denmark, 1 in Norway), 7 in the United Kingdom, 7 in Italy, 4 in the Netherlands, 4 in Greece, 3 in Belgium, 3 in Austria, 2 in Ireland, 2 in Russia, and 2 in Switzerland); 20 banks in Asia Pacific (8 in Japan, 7 in China and 5 in Australia); 18 banks in North America (12 in the United States and 6 in Canada); and 3 banks in South America (all Brazil).

For the purpose of this analysis, Accenture defines board members with professional technology experience as those who have senior technology responsibilities – such as serving as chief information officer, chief technology officer or chief digital officer – at their current company or had such responsibilities in previous companies; or those who have or had senior responsibilities at a technology firm.

About Accenture
Accenture is a global management consulting, technology services and outsourcing company, with more than 358,000 people serving clients in more than 120 countries. Combining unparalleled experience, comprehensive capabilities across all industries and business functions, and extensive research on the world's most successful companies, Accenture collaborates with clients to help them become high-performance businesses and governments. The company generated net revenues of US$31.0 billion for the fiscal year ended Aug. 31, 2015. Its home page is www.accenture.com.

# # #

Contacts:

Francois Luu
Accenture
+ 33 660 538 428
francois.luu@accenture.com


\