September 28, 2015
Accenture's US$4.5 Million Grant to Save the Children Will Help Secure Jobs for 28,000 Indonesian and Filipino Youth


Company's total support to nonprofit tops US$13.5 million since 2010

JAKARTA, INDONESIA; Sept. 29, 2015 – Accenture (NYSE:ACN) and the Accenture Foundations have made a US$4.5 million grant to Save the Children to help the nonprofit provide job skills training to 47,000 at-risk youth in Indonesia and the Philippines.
Accenture's contribution will enable Save the Children to secure jobs and self-employment for 28,000 of these youth and help the nonprofit develop new web-based and mobile training platforms to deliver e-learning. The grant will strengthen links between trainers, employers and government to match more youth to available jobs.

Accenture also will provide pro-bono consulting services to help Save the Children launch a database system that will better measure impact of its programs and ultimately put more youth into jobs.

"We share a passion with Save the Children for creating secure futures for young people – helping them build the skills they need to find work or even start their own businesses – and we're applying our collective learnings to help increase the success of our work together," said Jill Huntley, managing director of Global Corporate Citizenship at Accenture. "Also through our partnership we are embracing digital opportunities by leveraging technologies that enable more effective training and increase employment results."

This latest grant brings Accenture's total contributions to Save the Children to more than US$13.5 million worldwide since 2010 and is part of Accenture's corporate citizenship initiative, Skills to Succeed, which is equipping more than 3 million people around the world with the skills to get a job or build a business. Over the past five years, Accenture and Save the Children have partnered to help more than 18,000 disadvantaged youth gain job skills in nearly a dozen countries.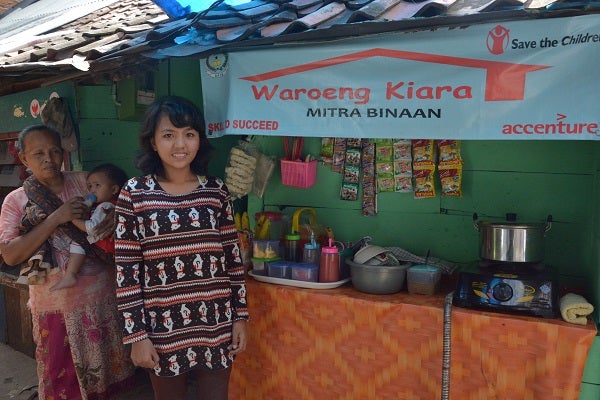 Through Accenture and Save the Children's partnership, Sumiati – a single mother from Indonesia without formal education – gained the entrepreneurial skills she needed to start her own business, achieve financial independence and provide for her daughter.

For example, Skills to Succeed helped 20-year-old Sumiati, a single mother with only a few years of primary school education who struggled to support her daughter. She and her daughter shared a tiny one-room house with 13 people in one of the most impoverished communities in Bandar Lampung, the capital of Lampung Province in Indonesia. In 2013, a local leader in her village encouraged her to enroll in cooking classes through Skills to Succeed. Today, Sumiati is selling homemade cookies and snacks in her neighborhood and earning a living. Through life skills, vocational and entrepreneurship training and coaching, she says she not only learned how to cook, she also learned how to start a business and other life skills. "I tried to look for jobs but it was very difficult because of my lack of education," said Sumiati. "I need to stand on my own two feet, I will not depend on others. Skills to Succeed has helped me achieve financial independence."

"Save the Children's partnership with Accenture empowers youth and builds communities. Just a few years into our partnership, we have already seen deprived and at-risk youth make successful transitions to adulthood and begin to break the cycle of poverty in their families and communities," said David Kauck, associate vice president of Hunger and Livelihoods for Save the Children. "Skills to Succeed prepares youth to be successful and productive employees, business owners, and leaders, and boosts their ability to care for and invest in their own children and children in the community."

About Accenture
Accenture is a global management consulting, technology services and outsourcing company, with more than 336,000 people serving clients in more than 120 countries. Combining unparalleled experience, comprehensive capabilities across all industries and business functions, and extensive research on the world's most successful companies, Accenture collaborates with clients to help them become high-performance businesses and governments. Through its Skills to Succeed corporate citizenship initiative, Accenture is equipping more than 3 million people around the world with the skills to get a job or build a business. The company generated net revenues of US$30.0 billion for the fiscal year ended Aug. 31, 2014. Its home page is www.accenture.com.

About Save the Children
Save the Children gives children in the United States and around the world a healthy start, the opportunity to learn and protection from harm. We invest in childhood — every day, in times of crisis and for our future. Follow us on Twitter and Facebook.
# # #


Contact:

Sam Hyland
Accenture
+ 1 917 452 5184
samuel.hyland@accenture.com