December 01, 2015
Accenture's Support of Youth Business International Will Help Young Entrepreneurs Launch 10,000 Start-Ups

LONDON; Dec. 1, 2015 – With a US$5 million grant from Accenture (NYSE:ACN), Youth Business International (YBI) will enhance the capacity, scale and impact of its global network and equip 50,000 youth worldwide with entrepreneurial skills.
Accenture's contribution to YBI will enable youth around the world to establish approximately 10,000 start-ups and create over 16,000 associated jobs. It will help the nonprofit increase the capacity of its network and develop a global technology infrastructure to improve knowledge sharing among its members. As a result, YBI's network will expand from 40 to 65 countries, increasing the scale of its support to young entrepreneurs.

"Entrepreneurs around the world are increasingly operating online. YBI needs a network that reflects this shift, embraces digital and drives scalability and efficiency in its support for disadvantaged youth," said Jill Huntley, managing director of Global Corporate Citizenship at Accenture. "By helping YBI increase the size and impact of its network, more young aspiring entrepreneurs will gain the skills they need to start and grow businesses, potentially creating new jobs."

"YBI is hugely proud to continue our partnership with Accenture. Working together since 2006, we have been able to deliver much needed support to thousands of young entrepreneurs around the world, and this investment in our network represents a significant vote of confidence in our achievements," said Andrew Devenport, chief executive officer of YBI. "We are on a journey with Accenture as we work to build the world's most effective network supporting young entrepreneurs and we are delighted that we will continue to work together."

The grant is part of Accenture's corporate citizenship initiative, Skills to Succeed, which is equipping more than 3 million people around the world with the skills to get a job or build a business. It builds upon the success of a nearly decade-long partnership between the company and YBI, which has equipped nearly 38,000 young entrepreneurs with skills, access to finance and mentoring needed to build and sustain their businesses.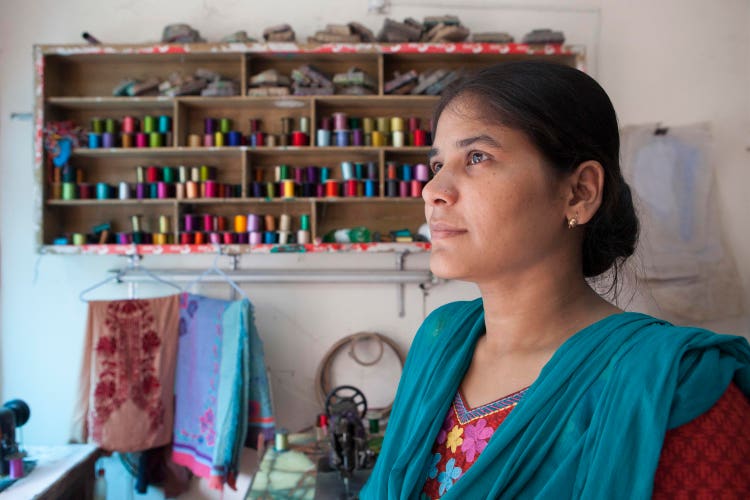 Anowara Shuley from Bangladesh challenged gender roles by pursuing her passions of
becoming a budding entrepreneur. With training and financial support from a YBI network member,
she launched a successful fashion and handcrafted-products business.

For example Anowara Shuley, a Bangladeshi entrepreneur seeking financial independence, challenged traditional gender roles with her dream to launch a fashion and handcrafted-products business. "All young entrepreneurs, especially women, have to confront so many obstacles – from family to several other social and economic barriers. I was determined to overcome these obstacles and achieve my goal of financial independence." After participating in a training program and receiving mentoring support and a start-up loan from a YBI network member, Anowara has grown her business into a successful enterprise.

About Accenture
Accenture is a leading global professional services company, providing a broad range of services and solutions in strategy, consulting, digital, technology and operations. Combining unmatched experience and specialized skills across more than 40 industries and all business functions – underpinned by the world's largest delivery network – Accenture works at the intersection of business and technology to help clients improve their performance and create sustainable value for their stakeholders. With more than 358,000 people serving clients in more than 120 countries, Accenture drives innovation to improve the way the world works and lives. Visit us at www.accenture.com.

About Youth Business International
Youth Business International (YBI) is a global network of independent non-profit initiatives helping young people to start and grow their own business and create employment. YBI members have helped over 100,000 young people to create their own business and generate employment. An estimated 70% of these businesses are still trading after three years, with many going on to create significant levels of employment and further benefits for their communities.

# # #

Contacts:

Sam Hyland
Accenture
+ 1 917 452 5184
samuel.hyland@accenture.com

Ewan Gaffney
Youth Business International
+ 44 20 3326 2087
ewan.gaffney@youthbusiness.org