May 18, 2015
Accenture to Hire 5,000 U.S. Veterans by 2020

NEW YORK; May 18, 2015 – Accenture (NYSE: ACN) plans to hire 5,000 U.S. veterans and military spouses in the next five years, significantly adding to the more than 1,000 former members of the U.S. Armed Forces the company currently employs.
"As a talent-led business, we know the lessons that military men and women learn – including leadership, discipline and teamwork – are an excellent fit with the work we do for clients," said Ellyn Shook, Accenture's chief human resources officer. "We welcome that experience, and we offer veterans a wide range of rewarding career opportunities, tailored resources to help them transition to Accenture and a dynamic environment in which to learn and grow their skills."

The company recently launched a number of initiatives to attract former active-duty personnel and current reservists who possess the experience, skills or just the aptitude to be successful in a technology, operations or consulting career. Accenture is also waiving its standard college-degree requirement for some positions where military recruits already have the skills necessary to be job-ready.

One initiative, the Accenture Veteran Technology Training Program, helps veterans become Java programmers. Accenture selects the veterans and awards scholarships to a two-month course provided by Udacity, an online education company that was included in the White House TechHire Initiative.Those who complete the course receive verified certification from Udacity and job interviews with Accenture for entry-level software engineering positions.

Kim Belton, a U.S. Air Force veteran based in the Washington, D.C. area who completed the Java program without any prior technology experience, said, "The course is really rigorous because the training time is so compact. The constant problem-solving kept me on my toes, but now I love computers and have a career ahead of me in this exciting field."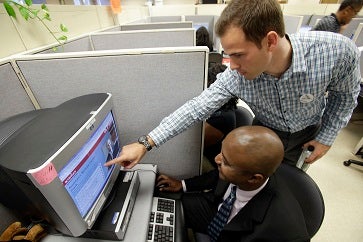 Accenture's lead military recruiter and Navy veteran Chris Green demonstrates the company's
Military Career Coach to North Carolina veteran Mark Scott.
The company's other primary military recruiting initiatives include the Accenture Student Veteran Program
,
a national effort to attract top veterans who are pursuing undergraduate and MBA degrees, and the Accenture Junior Military Officer Program
,
targeted at current military officers with three to seven years of leadership experience who could be a good fit for industry consulting roles.

"Even though I worked for two global corporations prior to my military service, it was the coaching from my military leaders and the experience of leading thousands of soldiers and civilians that really prepared me to manage more than a hundred people with Accenture Operations on the first day of my new job," said Jason Butler, a former Army captain who joined the company in San Antonio, Texas, last year.

Melanie Golladay said it was her finance and accounting experience in the Air Force that helped her land a job at Accenture in Tampa, Florida. Today, she is determined to help the company meet its recruiting mission: "I've recommended three veterans since I joined the company last year and two have already been hired, because there's a vast array of career options at Accenture."

Accenture has a dedicated team that focuses on attracting the best talent from the military community. The company also encourages its employees to refer candidates and compensates those whose referrals end in hiring. Additionally, it works with dozens of military-focused nonprofit organizations, attends career fairs across the country and regularly applies analytics to determine skill sets and geographic locations of military candidates who correspond to its available jobs.

Veterans may visit the company's Military Career Coach and apply for jobs at Accenture.com/military.

Accenture's support for the military community
In addition to Accenture's current and prior client work for the U.S. Department of Defense, the military branches – U.S. Army, U.S. Navy, U.S. Air Force and U.S. National Guard – and the U.S. Department of Veteran's Affairs, the company is recognized as a CivilianJobs.com, a G.I. Jobs' Military Friendly Employer and a Military Times Best for Vets employer. Accenture's longstanding commitment to the military community includes contributing more than $1.4 million to the Institute for Veterans and Military Families at Syracuse University (IVMF) and partnering with the organization to develop and deploy coordinated networks of private, public and nonprofit resources to offer holistic services that include employment training, housing, healthcare and expanding existing career services initiatives. Accenture also helps injured service members returning to the home front through the Bob Woodruff Foundation, which finds, funds and shapes innovate programs in communities across the country. Additionally, the company provides workshops that teach professional skills to veterans, transitioning service members and military spouses across the country for the U.S. Chamber of Commerce Foundation's Hiring Our Heroes initiative and hosts its own Military Career Coach on its website.

About Accenture
Accenture is a global management consulting, technology services and outsourcing company, with approximately 323,000 people serving clients in more than 120 countries. Combining unparalleled experience, comprehensive capabilities across all industries and business functions, and extensive research on the world's most successful companies, Accenture collaborates with clients to help them become high-performance businesses and governments. Through its Skills to Succeed corporate citizenship initiative, Accenture is equipping more than 3 million people around the world with the skills to get a job or build a business. The company generated net revenues of US$30.0 billion for the fiscal year ended Aug. 31, 2014. Its home page is http://www.accenture.com.
# # #
Contact:

Joanne Giordano
Direct: 1-(703) 947-4860
Mobile: 1-(703) 919-1288
Joanne.b.giordano@accenture.com

Sam Hyland
Accenture
Direct: 1-(917) 452-5184
samuel.hyland@accenture.com