June 12, 2015
Accenture Named to 'Winner's Circle' by HfS Research for Excellence in Population Health and Care Management

CHICAGO; June 12, 2015 – Accenture (NYSE:ACN) has been named to the "Winner's Circle" of HfS Research's Blueprint Report on Population Health and Care Management Business Services. The report ranked Accenture as the overall leader in execution, with strong delivery performance, quality of client relationships and scale and breadth of services.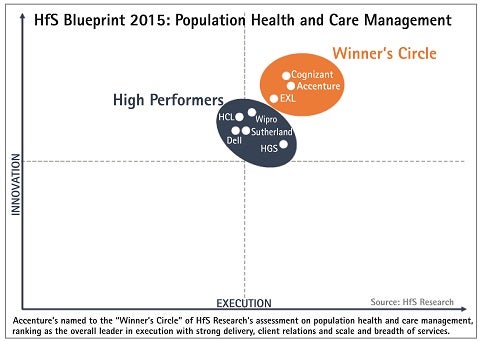 "What separates Accenture from other industry peers is its clear vision for population health, executional excellence, commitment to quality and client collaboration," said Barbra Sheridan McGann
,
managing director, HfS Research. "Accenture has the broadest experience, most comprehensive offering and is deepest in health strategy."

The report, which assessed eight service providers, found that companies in the 'Winner's Circle' demonstrate excellence in execution and innovation. Additional Accenture strengths highlighted in the report include:
Depth and breadth of services with global credentials. Accenture was cited as among the more experienced service providers in the market with the ability to lead with strategy and tap into its depth in outsourcing and technology. For example, its Clinical Review Analytics Model embeds analytics into operations to assess the cost effectiveness of authorization at an individual code level.
Investments in client collaboration, pursuing opportunities with clients and communities to break new ground, such as in patient navigation and Radiant in care management.
Strong delivery and account teams, receiving praise from clients for its commitment to excellence, willingness to address operational challenges, and ability to tap into its global network as critical elements for breaking ground with new concepts for patient-centric services that disrupt the status quo in hospitals and health plans.
A broad range of analytics and proprietary technologies, such as remote monitoring, utilization management, risk score accuracy and STARS optimization.
"We're honored to receive a recognition that conveys the success of our clients as they position for growth in this new era of healthcare," said Theresa Gaffney, managing director of health business process outsourcing for Accenture Operations. "As hospitals, insurers and organizations shift their focus from disease management to one that also includes health and wellness, they'll use this capability as a lever for delivering effective, lower-cost care with better outcomes for patient populations."

The 2015 HfS Blueprint for Population Health and Care Management assessed eight service providers to evaluated the innovation and execution of capabilities in this segment for U.S. healthcare providers, health plans and emerging entities, like Accountable Care Organizations. The methodology also used crowd-sourced input by 1,109 stakeholders, including buyers, service providers, industry influencers and HfS Sourcing Council members in healthcare and life sciences. The report evaluated how established service providers with scale address this market segment by aligning, packaging, building and acquiring capabilities to help health organizations deliver consumer-centric, value-based care.

The HfS Research Blueprint Report for Population Health and Care Management services can be accessed here.

About Accenture
Accenture is a global management consulting, technology services and outsourcing company, with more than 323,000 people serving clients in more than 120 countries. Combining unparalleled experience, comprehensive capabilities across all industries and business functions, and extensive research on the world's most successful companies, Accenture collaborates with clients to help them become high-performance businesses and governments. The company generated net revenues of US$30.0 billion for the fiscal year ended Aug. 31, 2014. Its home page is www.accenture.com.

About HfS
HfS Research is the leading independent global analyst authority and knowledge community for the business and IT services industry. HfS serves the research and strategy needs of business and IT operations leaders across finance, supply chain, human resources, marketing, customer management, and core industry functions. HfS provides detailed and thoughtful analyst coverage of the various areas that impact successful business outcomes, namely, process automation and outsourcing, global business services frameworks, mobility, analytics, and social collaboration. HfS also focuses heavily on talent acquisition, development, and motivation strategies. HfS applies its acclaimed crowdsourced Blueprint MethodologyTM to evaluate the performance of service providers in terms of innovating and then executing against those business outcomes.
# # #


Contact:

Jenn Francis
Accenture Health
+ 1 630 338 6426
jennifer.francis@accenture.com