October 21, 2015
Accenture Named as Premier IoT Partner in HfS Blueprint Report on IoT Services


Report cites Accenture's robust platform-based offerings, IoT expertise and As-a-Service pricing models as reasons behind 'Winner's Circle' placement

NEW YORK; Oct. 21, 2015 – Accenture (NYSE:ACN) has been placed in the 'Winner's Circle' in HfS Research's inaugural IoT Services Blueprint report. Highlighting Accenture's breadth of robust platform-based offerings, strength of IoT vision, As-a-Service IT operating models and deep enterprise and industry expertise among its strengths, HfS placed Accenture as a leader in IoT Services for both execution and innovation.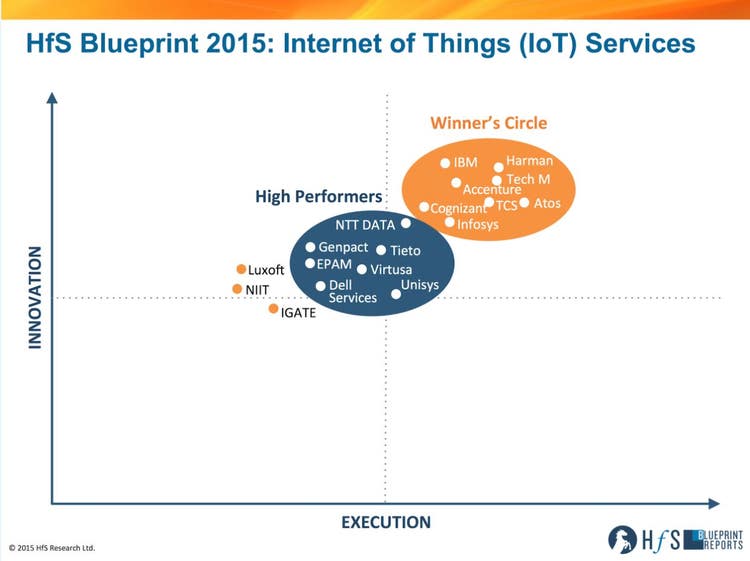 "Accenture is a leading IoT partner," said Charles Sutherland, HfS analyst and author of the report. "Accenture has all the necessary digital, industry and enterprise experience and skills to support IoT deployments in G2000 companies. By forming strong collaborations with other technology vendors and service providers and creating one of the most thorough IoT reference architectures with corresponding platforms, Accenture is cementing its role as a key player in the IoT ecosystem. This is supported by its development of offerings such as the Accenture Connected Platforms as a Service and its array of pricing models."

In the HfS Blueprint Report: IoT Services 2015, 18 service providers were identified as designing and delivering IoT services for enterprise clients. Focused on the emergence of the 'as-a-service' economy and the impact that digital services are having on IT and business processes, HfS undertook the Blueprint to review how the IoT is being delivered to clients today.

"We are focused on delivering the benefits of the IoT to our clients," said Craig McNeil, global IoT Practice lead, Accenture Digital – Mobility. "To be recognized as a leading IoT partner in this Blueprint demonstrates that our approach of building platform-based, industry-specific solutions and services is working. We are helping clients use the IoT to improve operations and identify new revenue opportunities. We brought the best talent into our global IoT practice and are committed to building the strongest possible IoT ecosystem to help organizations quickly overcome roadblocks to IoT adoption. Accenture will continue to innovate in this space and deliver on the business value of the IoT for our clients."

The Accenture IoT practice is organized into five business areas to best meet clients' needs:
Connected Transport – IoT technologies to improve the use and experiences of transportation including connected ships and fleet management
Connected Spaces – IoT technologies to improve the use and experiences of physical spaces where we live and work. Capabilities include connected home capabilities and smart building solutions that reduce energy usage
Connected Operations – IoT technologies to optimize and enhance operational work processes and asset performance to enable productivity enhancements
Connected Health – IoT technologies to improve the quality of healthcare, enhance patient experience and optimize operational processes and asset utilization of medical equipment
Connected Commerce – emerging payment capabilities to enable commerce in the IoT world and deliver a personalized commerce experience wherever and whenever a transaction is required/initiated by an individual or device
To date, Accenture's IoT practice has worked with a number of clients to help bring the benefits of the IoT to their businesses. These include:
Fiat Chrysler Automobiles – Accenture was selected in EMEA to co-develop the technology and mobile platform needed to deliver the next generation of Uconnect™LIVE services across Europe
Hyundai Heavy Industries – Accenture and Hyundai Heavy Industries are working together to build connected smart ships
Rio Tinto – The recently launched Accenture IoT Centre of Excellence for Resources will house an innovation hub for Rio Tinto. This will bring new business insights from a broad range of information systems and technology (IS&T)-driven technologies developed by Accenture and its ecosystem into Rio Tinto's business.
About Accenture
Accenture is a global management consulting, technology services and outsourcing company, with more than 358,000 people serving clients in more than 120 countries. Combining unparalleled experience, comprehensive capabilities across all industries and business functions, and extensive research on the world's most successful companies, Accenture collaborates with clients to help them become high-performance businesses and governments. The company generated net revenues of US$31.0 billion for the fiscal year ended Aug. 31, 2015. Its home page is www.accenture.com.

Accenture Digital , comprised of Accenture Analytics, Accenture Interactive and Accenture Mobility, offers a comprehensive portfolio of business and technology services across digital marketing, mobility and analytics. From developing digital strategies to implementing digital technologies and running digital processes on their behalf, Accenture Digital helps clients leverage connected and mobile devices; extract insights from data using analytics; and enrich end-customer experiences and interactions, delivering tangible results from the virtual world and driving growth. To learn more about Accenture Digital, follow us @AccentureDigi and visit www.accenture.com/digital.

# # #

Contacts:

Joanna Vos
Accenture
+ 44 7500 835588
joanna.r.vos@accenture.com