September 23, 2015
Accenture Launches the Accenture Connected Analytics Experience


Immersive analytics environment from Accenture Analytics transforms relationships with data
New York; Sept. 23, 2015 – Accenture (NYSE: ACN) is launching the Accenture Connected Analytics Experience, an immersive and collaborative analytics capability that makes data more accessible and engaging, helping insight-driven businesses make faster, more informed decisions.
The Experience is designed to make analytics easier to understand and expand the range of business users who can undertake an integrated analytics journey – from C-suite to functional managers to data scientists. By transforming their relationships with data, users with a variety of skillsets can collaborate on a specific challenge in an analytics environment, more easily examine and interpret the insights via data visualizations, and innovate through data-driven exploration and decision making. Through an immersive environment, users can find the hidden value in their data, either live or remotely on their preferred devices, and pursue outcomes in real-time.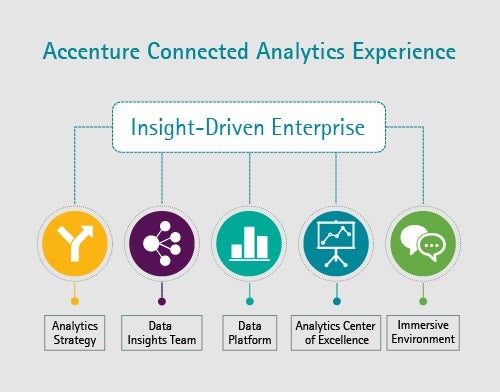 The Accenture Connected Analytics Experience End-to-End Offerings
The Accenture Connected Analytics Experience, delivered by Accenture Analytics, provides users with next-generation business intelligence powered by end-to-end analytics offerings including analytics strategy, a multidisciplinary data insights team, a data platform containing big data technologies and an analytics center of excellence that democratizes analytics.

Companies in the telecommunications, healthcare, consumer packaged goods, and financial services industries are already participating in the Accenture Connected Analytics Experience.

"Accenture thrives on applying our industry and analytics expertise and developing new solutions that can uncover new data-driven opportunities," said Narendra Mulani, senior managing director, Accenture Analytics, part of Accenture Digital. "With the Accenture Connected Analytics Experience, we can help take businesses and governments through every stage of their analytics journey, from issues to outcomes, mobilizing data, transforming data into insight, and providing decision-makers with insight in visually appealing formats at the pivotal time to drive discussion, decisions, and value. Through the new immersive environment, companies are empowered in a whole new way as it brings a new energy into analytics and business intelligence, making it more collaborative, engaging, and accessible to a broader group of users, both physically and virtually."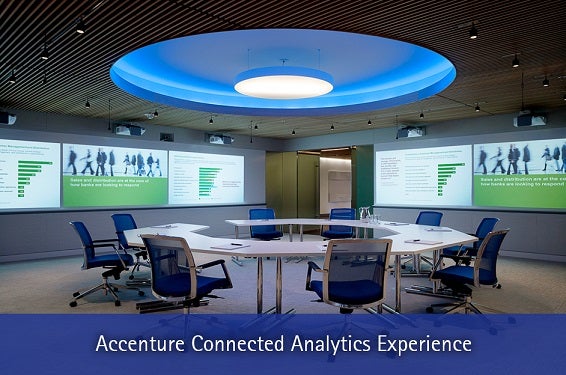 The Accenture Connected Analytics Experience
immersive environment in Accenture's San Jose office
The Accenture Connected Analytics Experience is a powerful example of a solution that was developed in conjunction with the Accenture Technology Labs, Accenture's global R&D organization, which is focused on leveraging cutting edge technologies and applying them in new ways to address specific business challenges.

"Innovation doesn't happen singularly, it requires collaboration among people, data, and technology," said Paul Daugherty, chief technology officer, Accenture. "By bringing all of these enabling elements together through the Accenture Connected Analytics Experience – from leading and emerging big data technologies and data visualization tools to Accenture's large global multidisciplinary talent pool – businesses can more confidently weave collaborative, data-driven decision-making into their corporate cultures and take actions that can lead to innovation, transformation and disruption. Through the new relationships being established with data, we'll be able to develop exciting new ways of educating, governing, working, living and more."

Accenture maintains relationships with an ecosystem of advanced analytics providers and emerging players in the analytics and big data space. Mezzanine from Oblong Industries, enables the immersive environment for the Accenture Connected Analytics Experience.

The Accenture Connected Analytics Experience is currently available in Accenture locations in New York City, San Jose, CA, and Bangalore, India. Accenture plans to build environments in other locations around the world including Chicago, Paris, Madrid, Milan, London, Mumbai, Singapore, and more. Immersive environments can also be built on premise at a company's site.
A video detailing the Accenture Connected Analytics Experience
For more information on the Accenture Connected Analytics Experience, please visit here.

About Accenture
Accenture is a global management consulting, technology services and outsourcing company, with more than 336,000 people serving clients in more than 120 countries. Combining unparalleled experience, comprehensive capabilities across all industries and business functions, and extensive research on the world's most successful companies, Accenture collaborates with clients to help them become high-performance businesses and governments. The company generated net revenues of US$30.0 billion for the fiscal year ended Aug. 31, 2014. Its home page is www.accenture.com

Accenture Analytics, part of Accenture Digital, delivers insight-driven outcomes at scale to help organizations improve their performance. With deep industry, functional, business process and technical experience, Accenture Analytics develops innovative consulting and outsourcing services for clients to help ensure they receive returns on their analytics investments. Accenture also offers analytics platforms that can drive data-driven decisions: the Accenture Insights Platform – a cloud-based, end-to-end analytics solution designed to deliver real-time actionable insights – and the Accenture Analytics Applications Platform – a scalable platform that develops industry- and function-specific advanced analytics applications that are reusable, configurable and adaptable to meet the needs of each unique company and its individual users. For more information follow us @ISpeakAnalytics and visit www.accenture.com/analytics
# # #
Contact:

Kathryn Zbikowski
Accenture
+ 1 917 452 0127
kathryn.zbikowski@accenture.com