May 14, 2015
Accenture Launches Advanced Analytics Applications Platform to Deliver Actionable Insights to Decision-Makers


Trade marketing, demand forecasting, and fraud detection applications are released for the retail industry; Inventory optimization application is available for manufacturers
New York; May 14, 2015 – Accenture (NYSE: ACN) is launching the Accenture Analytics Applications Platform to develop industry- and function-specific advanced analytics applications, delivering actionable insights to users that enable swift data-driven decisions that can create a competitive advantage or an improved bottom line. Configured through Accenture's platform, four advanced analytics applications are now available to support the retail industry's trade marketing, demand forecasting, and fraud detection strategies, and an inventory optimization application is available for manufacturers. These applications simplify analytics as they are configurable, reusable, and adaptable to meet the needs of each unique company and its specific users – ranging from business users to part-time data analysts to data scientists.
Accenture's advanced analytics applications are currently delivering results. For example, Ducati Motor Holding, an Italian company that designs and manufactures motorcycles, is using an advanced analytics application to enhance the company's inventory management and business performance.
.

The advanced analytics applications for the retail industry include:
Trade Marketing Impact Measurement – Measures the impact trade marketing efforts have on sales by generating analytics insights on activities, such as promotions, based on sales history, product volume and activity frequency. The insights can be broken out by quarter, region and brand, depending on what the user requires.
Trade Marketing Activities Optimization – Provides data-driven recommendations on the trade marketing activities that can deliver positive future results. For example, the application's insights can outline the number of initiatives that can be deployed successfully and the best mix of activities.
Demand Forecast – Delivers accurate item forecasts based on a forecasting methodology built on the life cycle of the product and product data. The insights allow users to determine the optimal size of stock needed to reduce delivery times while keeping stocks at a reasonable level.
Fraud Detection – Identifies fraud risk and behavior that can result in business losses. Through a mix of business rules, anomaly detection and predictive analytics that identify risky behavior, the application can assign a fraud risk score to any event.

To help manufacturers more effectively manage their inventory, Accenture is also launching the Spare Parts Inventory Optimization application, which delivers accurate demand forecasts for thousands of spare parts. It does this by taking into account the amount of stocked items, the lead time for each individual component, the life cycle of the products and other factors, such as replacements.

Ducati Motor Holding is using this application to make data-driven decisions. "Through the use of Accenture's Spare Parts Inventory Optimization application, we were able to meet our business goals. And quickly," said Alessandro Guella, Logistics Director, Ducati. "Not only was the advanced analytics application developed in less than 60 days, it was also configured specifically for our spare parts planners needs, enabling them to trust application's algorithms and data insights to drive change through rapid decision-making. As a result, we were able to optimize our inventory for dealers, suppliers and stores across 80 countries and realize our improved service goal in a quicker time span than we thought was possible."

"A main challenge businesses face with advanced analytics is how to present the insights in a way that enables users to make decisions that add value," said Narendra Mulani, senior managing director, Accenture Analytics, part of Accenture Digital. "Through the Accenture Analytics Applications Platform, applications can be created to help specific users, including business users from analysts to the C-suite, solve specific problems – you don't need to be a data scientist to pursue data-driven company changes. When data is turned into an asset through analytics applications, positive transformations can be made for the business and customers alike."

The Accenture Analytics Applications Platform, a scalable platform attained through Accenture's i4C Analytics acquisition in May 2014 that has been integrated with Accenture Analytics offerings, facilitates the agile development of easy-to-use turnkey advanced analytics applications. To meet a company's needs, the platform will be used to fully configure the advanced analytics applications with their specific operational workflow process and specific user requirements – for example, less data granularity for business users and more granularity for data scientists. Depending on how much customization is needed, applications can be ready for use in approximately one week to 60 days.\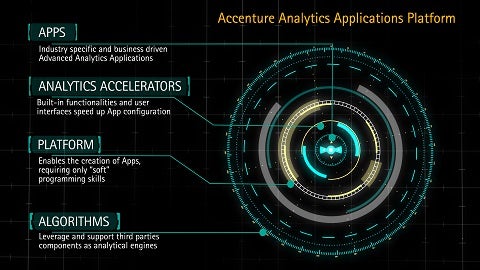 The Accenture Analytics Applications Platform features.
Accenture currently has a total of 19 advanced analytics applications available for the retail, financial services, utilities and telecommunications industries. Additional details on the Accenture Analytics Application Platform and existing applications can be found here. Videos detailing the analytics platform and applications can be found on YouTube.

About Accenture
Accenture is a global management consulting, technology services and outsourcing company, with more than 323,000 people serving clients in more than 120 countries. Combining unparalleled experience, comprehensive capabilities across all industries and business functions, and extensive research on the world's most successful companies, Accenture collaborates with clients to help them become high-performance businesses and governments. The company generated net revenues of US$30.0 billion for the fiscal year ended Aug. 31, 2014. Its home page is www.accenture.com.

Accenture Analytics, part of Accenture Digital, delivers insight-driven outcomes at scale to help organizations improve their performance. With deep industry, functional, business process and technical experience, Accenture Analytics develops innovative consulting and outsourcing services for clients to help ensure they receive returns on their analytics investments. For more information follow us @ISpeakAnalytics and visit www.accenture.com/analytics.
# # #

Contact:
Kathryn Zbikowski
Accenture
+ 1 917 452 0127
Kathryn.zbikowski@accenture.com