August 20, 2015
Accenture Launches Advanced Analytics Applications for the Telecommunications Industry

NEW YORK; August 20, 2015 – Accenture (NYSE: ACN) is launching five advanced analytics applications for the telecommunications industry, equipping users with customized analytics insights that can empower them to make smarter, data-driven decisions. Developed through the Accenture Analytics Applications Platform – a scalable platform that develops industry- and function-specific advanced analytics applications that are reusable, configurable and adaptable to meet the needs of each unique company and its individual users – the new analytics applications are designed to help telecommunications companies make more effective pricing, staffing, maintenance and planning decisions.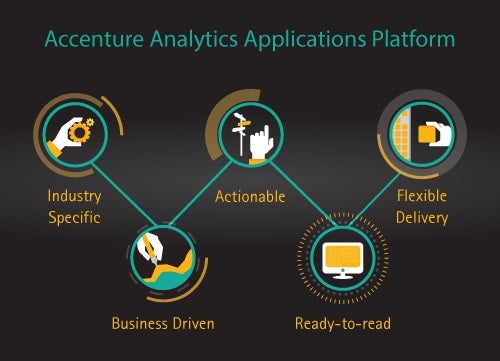 "Countless companies are vying to be the next big digital disruptor in the highly competitive global telecommunications industry," said Marco Vernocchi, senior managing director, Accenture Communications, Media and Technology – Global Digital Lead. "One way to have a strong foot in this race is by turning data into an asset and using it to make insight-driven decisions. When data is put to work through advanced analytics applications and smarter decisions, a company can unlock new opportunities for themselves and their customers."

Accenture's new advanced analytics applications for the telecommunications industry include:
Network Predictive Fault Management – Helps providers predict network incidents before they occur, allowing for pre-emptive maintenance and improved service assurance. Users receive insights detailing network vulnerabilities and recommendations for proactive maintenance of the network infrastructure.
Revenue Forecasting – Forecasts revenues in different areas – such as customer base, activations, cancellations, and traffic – to support revenue-generating business decisions.
Bundle Pricing – Supports the development of effective pricing strategies for offering bundles, such as bundling a handset and a connection. Insights on customer preferences enable pricing decisions that can support customer demands, optimize inventory management, achieve business objectives, and increase profitability.
Call Volume Forecaster – Improves the planning, staffing and management of contact centers by providing users with insights on forecasted call volumes and the right staffing resources needed to support the center. Through an analytics-driven management process, providers can improve customer service levels and increase customer satisfaction, loyalty and brand perception.
IT Governance – Helps providers to optimize and improve IT infrastructure efficiency, even when transitioning to virtualized environments. To support decision-making, users receive insights involving asset mapping, the impact of future application scenarios, and reporting that can validate decisions or inform new actions.
Accenture currently has a total of 25 advanced analytics applications available for the telecommunications, retail, financial services, and utilities industries. In addition to these ready-made applications developed through the Accenture Analytics Applications Platform, custom applications can also be created to meet a company's specific needs. For each application, Accenture's platform can be used to fully configure the advanced analytics applications with a company's exact operational workflow process and precise user requirements – for example, greater granularity for data scientists and less data granularity for business users. Depending on the amount of customization needed, applications can be ready for use in approximately one week to 60 days.

Accenture's advanced analytics applications can be run on their own or through the Accenture Insights Platform. Launched last month, the Accenture Insights Platform is a cloud-based, end-to-end analytics-as-a-service solution comprised of an integrated suite of leading technologies, consumption-based commercial arrangements, and enterprise support.

Additional details on the Accenture Analytics Application Platform and existing advanced analytics applications can be found here and videos can be found here.

About Accenture
Accenture is a global management consulting, technology services and outsourcing company, with more than 336,000 people serving clients in more than 120 countries. Combining unparalleled experience, comprehensive capabilities across all industries and business functions, and extensive research on the world's most successful companies, Accenture collaborates with clients to help them become high-performance businesses and governments. The company generated net revenues of US$30.0 billion for the fiscal year ended Aug. 31, 2014. Its home page is www.accenture.com.

Accenture Analytics, part of Accenture Digital, delivers insight-driven outcomes at scale to help organizations improve their performance. With deep industry, functional, business process and technical experience, Accenture Analytics develops innovative consulting and outsourcing services for clients to help ensure they receive returns on their analytics investments. For more information follow us @ISpeakAnalytics and visit www.accenture.com/analytics.

# # #

Contact:

Kathryn Zbikowski
Accenture
+ 1 917 452 0127
kathryn.zbikowski@accenture.com