May 18, 2015
Accenture Launches Accenture Interactive Innovation Center for the Future of Digital Customer Interaction


Center provides leading brands an environment to experience the impact of social media and artificial intelligence on marketing campaigns and customer service

NEW YORK/SOPHIA-ANTIPOLIS, France; May 18, 2015 – The digitization of everything is fundamentally changing the way customers engage with brands. In its new Accenture Interactive Innovation Center in Sophia-Antipolis, France, Accenture (NYSE: ACN) demonstrates to clients how new opportunities are emerging as a result of increased digital customer interactions and how they can apply the latest digital technologies to capitalize on these opportunities.
A look inside the new Accenture Interactive Innovation Center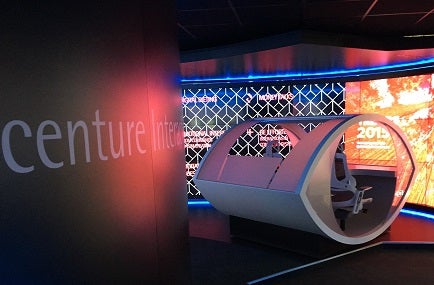 "Today is the most challenging and yet exciting time for brands to innovate around the customer experience," says Alexandre Naressi, managing director at Accenture Interactive
,
part of Accenture Digital, and head of the Accenture Interactive Innovation Center. "Social media, wearable technology and big data are adding a new dynamic level of complexity to the brand-customer-interaction. This requires companies and marketing departments to stay on top of digital developments and kick-off strategic innovation processes to better serve the digital customer. This is what our researchers and consultants work on hand-in-hand every day."
Watch the Accenture Interactive Innovation Center video

Inspired by the duality of the human brain, the center is designed to focus on both the emotional and analytical implications of future digital experiences. Accenture clients will be invited into the center for one-day innovation workshops that will be tailored to the industry they operate in, the particular company's needs and the business challenges the company faces. During these workshops, Accenture will showcase the impact of several factors, including, social media, the Internet of Things and artificial intelligence on marketing, sales and customer service.
View the Accenture Interactive Innovation Center infographic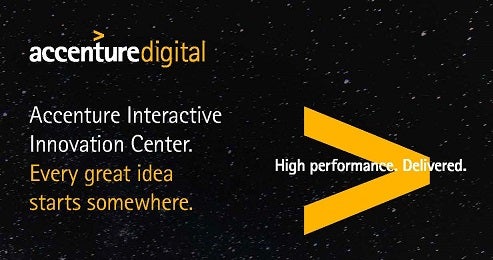 https://www.accenture.com/SiteCollectionDocuments/PDF/Accenture-Interactive-Innovation-Center-Info-Pack.pdf

Topics and digital technologies covered in an innovation workshop can include:
How chief marketing officers can better influence conversations around their brands on social media channels by applying the latest social media diagnostics tools – an approach that helped Korean automotive company Kia Motors double the impact of their social media marketing campaigns at less than half the cost;
The impact of digital assistants and robots capable of detecting customer moods by analyzing voice and facial expressions on customer interaction – a development described as "Emotional Interfaces – From Commands to Conversations" in a trends report by Fjord, Design and Innovation from Accenture Interactive;
Opportunities for integrating existing customer relationship data with a customer's social media activity – to generate early-warnings of customer dissatisfaction and enable customer service responses in real time.
The center also offers two-day service and experience design workshops called Rumbles™, a proprietary highly structured and disciplined brainstorm format, designed to create a high number of qualified ideas. Led by Fjord and researchers from Accenture Interactive, Rumbles make full use of the Accenture Interactive Innovation Center to prototype and test digital customer journeys and brainstorm and observe their impact on business performance and results.

"What we want our clients to walk away with isn't just slideware, but rather tangible results of what a new service or customer experience can look like," says Mark Curtis, chief client officer at Fjord. "We try to bring together people from different parts of a company, for example, their marketing professionals and customer service agents. It makes the process of coming up with ideas much more fruitful and it creates a much higher commitment to the ideas within the organization."

The need to innovate remains an imperative as companies are on the cusp of the next major wave of transformative digital services called "The Era of Living Services", as described in another recent Fjord report. Fjord predicts that over the next five years, sensors, the cloud, connected smart devices and real-time analytics will form a new layer of connected intelligence – a layer that will enable brands and organizations to offer interesting and increasingly indispensable digital services which are able to constantly learn and evolve, are contextually aware and able to react in real time to changes in the environment or patterns of behavior.

For more information about the Accenture Interactive Innovation Center, visit
www.
accenture.com/AIIC.

About Accenture
Accenture is a global management consulting, technology services and outsourcing company, with more than 323,000 people serving clients in more than 120 countries. Combining unparalleled experience, comprehensive capabilities across all industries and business functions, and extensive research on the world's most successful companies, Accenture collaborates with clients to help them become high-performance businesses and governments. The company generated net revenues of US$30.0 billion for the fiscal year ended Aug. 31, 2014. Its home page is www.accenture.com.

Accenture Interactive, part of Accenture Digital, helps the world's leading brands drive superior marketing performance across the full multichannel customer experience. Accenture Interactive offers integrated, industrialized and industry-driven digital transformation and marketing solutions. To learn more follow us @AccentureSocial and visit www.accenture.com/interactive.

# # #
Contact:
Jens R. Derksen
Accenture Interactive
+49 175 57 61393
jens.derksen@accenture.com