August 26, 2015
Accenture Expands Benefits for Working Parents in the United States and Canada
Company strengthens commitment, offers opportunity to work locally for one year following return from the birth or adoption of a child

NEW YORK; Aug. 26, 2015 – Accenture (NYSE: ACN) announced today that it is expanding its programs available to working parents in the U.S. and Canada. This is part of the company's ongoing commitment to providing attractive career opportunities for its people at all stages of their lives. The new programs include:
Offering primary caregivers, both women and men, the opportunity to work locally for one year following their return from the birth or adoption of a child;
Doubling the time the company provides for back-up dependent care for children, spouses or elderly family members from 40 hours to 80 hours per year. Accenture will also provide an additional 40 hours of back-up dependent care within the first year of a child's birth or adoption;
The opportunity to ship breast milk when traveling on business. Also, for new parents in the U.S., hospital grade breast pumps will be available; and
Online educational resources for U.S. employees, including a personalized portal and one-on-one support for childhood issues, such as ADHD and learning and developmental disabilities.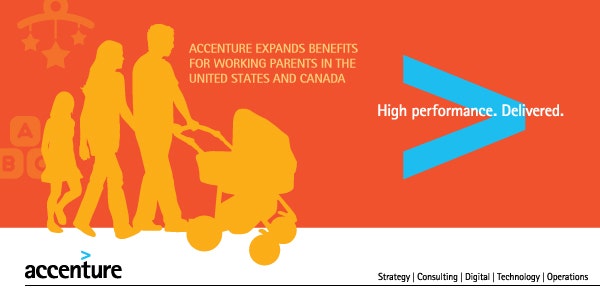 "These new benefits provide working parents – particularly those who travel frequently – with more flexibility as they navigate the challenges of raising a family while continuing to pursue their careers," said Julie Sweet, Accenture's group chief executive – North America. "Creating an environment where our people can thrive in their personal and work lives and that recognizes the changing needs over a course of a career is a top priority."
"As a professional services company, our people are everything, and allowing them to have a voice in shaping our benefits and development opportunities has been key to making the changes that are most important to them," said Ellyn Shook, Accenture's chief human resources officer. "Today's announcement builds on our enhanced parental leave policy, which we introduced earlier this year."

"Just like our commitment to achieving gender pay equality and to growing our percentage of women new hires to at least 40 percent by 2017, the enhancements that we have made for working parents are all part of our broader commitment to an inclusive and diverse work environment," Shook added.

About Accenture
Accenture is a global management consulting, technology services and outsourcing company, with more than 336,000 people serving clients in more than 120 countries. Combining unparalleled experience, comprehensive capabilities across all industries and business functions, and extensive research on the world's most successful companies, Accenture collaborates with clients to help them become high-performance businesses and governments. The company generated net revenues of US$30.0 billion for the fiscal year ended Aug. 31, 2014. Its home page is www.accenture.com.

# # #

Contact:

Stacey Jones
Accenture
+ 1 917 535 6333 (mobile)
stacey.jones@accenture.com

Dana Muldrow
Accenture
+ 1 917 452 2875
+ 1 646 234 4157 (mobile)
dana.f.muldrow@accenture.com