February 05, 2015
Accenture Develops Wearable Proof of Concept to Enhance Live Sports Viewing During RBS 6 Nations Rugby Championship


Demonstrations to be Held at Twickenham Stadium

LONDON; Feb. 5, 2015 – Accenture (NYSE: ACN), the Official Technology Partner of the RBS 6 Nations Rugby Championship, has unveiled an innovative Proof of Concept (PoC) using a wearable device to demonstrate a new way for fans to interact with live sport. Designed by Accenture Mobility to provide an in-stadium, non-intrusive experience, the PoC shares curated content to a wearable headset in order to provide real-time, relevant data about the game as it's being played.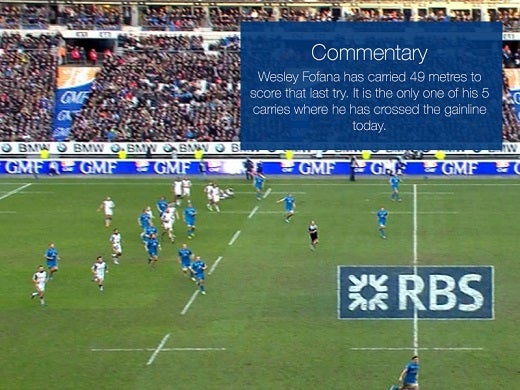 The PoC has been designed to provide fans with deeper insight into player performance, game-changing moments and relevant facts and figures for the match being watched, as it happens. A curator will push 'cards' carrying clearly displayed data-driven insights and other match observations to fans using the Accenture PoC, which has been built using open standards and Android SDKs in order that it can work on a number of wearable devices with screens, such as headsets and smartwatches. Fans will be able to view the cards shared by the expert curator without having to take their eye off the game, enhancing the in-stadium experience.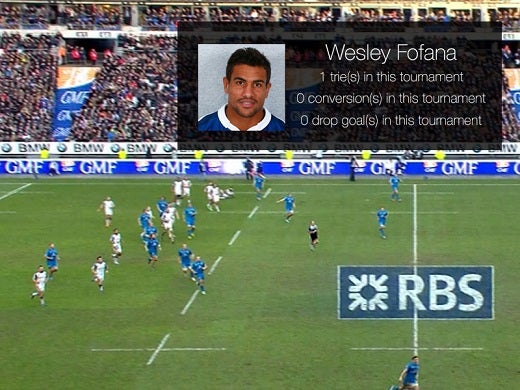 The first demonstrations of the PoC during a live sporting event will take place during the RBS 6 Nations Rugby Championship using wearable headsets. The PoC could also be designed to interact with the official Championship mobile application designed by Accenture, and make use of insights from the newly launched Accenture analysis team.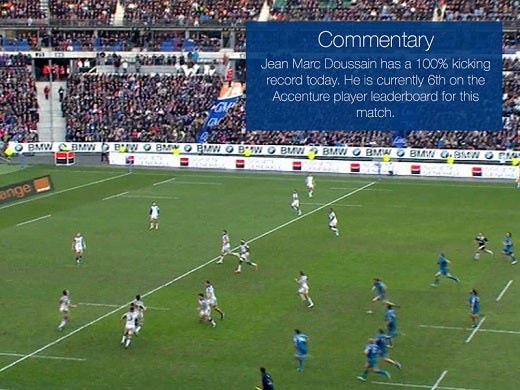 "We're always looking for new ways to engage existing rugby fans and enhance their viewing experience, and to encourage new fans to come and enjoy the live game," said Nick Mallett, former international rugby player and coach. "This incredible use of new technology brings the power of data together with the power and atmosphere of watching live sport. TV viewers have benefitted from additional information being brought to them by commentators and flashed up on screen for years, and now Accenture's PoC means that same experience can be brought to people in the stadium too. This is a real revelation, and provides a glimpse of how fans may enjoy live sport in the future."

A recent report from Accenture entitled Engaging the Digital Consumer in the New Connected World found that in three to five years, 41 percent of 24,000 consumers surveyed expected to buy a smartwatch, and 35 percent to purchase a wearable heads-up display, demonstrating the importance of developing now for technologies that can improve the in-stadium experience for sports fans.

"A major part of Accenture's role as Official Technology Partner to the RBS 6 Nations Championship is to offer the audience a new perspective on rugby," said Ben Salama, UKI managing director of Accenture Mobility, part of Accenture Digital. "Sharing real insights about the game, the players and the teams with fans without them having to take their eyes off the field is a sign of things to come. There is enormous potential to transform the entire 'match-day' experience with this PoC, as expert curators control which content is shared and when. Their commentary, stats and background will help make everyone an expert on the game they're watching from the stands."

The Accenture Proof of Concept explores how best to deliver detailed analytics and live match information to a small screen, as well as exploring the use of wireless technologies such as wearables in high-volume, densely-populated environments such as a stadium. When stadia are able to offer full wireless connectivity, the functionality that could be added to this app might include seat-based services such as beverage ordering, additional information from channels other than the official curator for the app, and merchandising opportunities through the wearable's screen. In addition, with a 'playback' functionality for the cards shared by the curator throughout a game, fans watching on TV at home after the match will also be able to benefit from the insights shared at the relevant points in the game.

About Accenture
Accenture is a global management consulting, technology services and outsourcing company, with approximately 319,000 people serving clients in more than 120 countries. Combining unparalleled experience, comprehensive capabilities across all industries and business functions, and extensive research on the world's most successful companies, Accenture collaborates with clients to help them become high-performance businesses and governments. The company generated net revenues of US$30.0 billion for the fiscal year ended Aug. 31, 2014. Its home page is www.accenture.com.

Accenture Mobility, part of Accenture Digital, plans, implements and manages mobility solutions for businesses and public organizations, including developing and implementing enterprise mobility strategies; incorporating applications and managed services; creating and delivering mCommerce solutions; and supplying credible, business ready Connected Product offerings. Accenture Mobility services are based on deep industry insights and technical expertise that help clients across all industries achieve growth, efficiency and manage a successful transformation as they adopt the tools of a digital business. Find out more by following @mobilitywise and visiting www.accenture.com/mobility.

# # #

Contact:

Joanna Vos
Accenture
+ 44 7500 835588
joanna.r.vos@accenture.com