August 04, 2015
Accenture Delivers IT Framework for National September 11 Memorial & Museum


State-of-the-art infrastructure underpins digital exhibition

ARLINGTON, Va.; August 4, 2015 – Visitors to the National September 11 Memorial & Museum in New York City can enjoy a rich digital experience as they honor the heroes and remember the victims of that day, thanks to the Memorial & Museum's state-of-the-art IT infrastructure, delivered by Accenture (NYSE: ACN).
The Memorial & Museum serves as the United States' principal remembrance and tribute to the victims and heroes of the terrorist attacks on the World Trade Center and other locations on Sept. 11, 2001 and the terrorist attack on the World Trade Center on Feb. 26, 1993. The Memorial & Museum complex documents and explores the impact and the continued significance of those attacks. It has attracted more than 18 million visitors from 175 nations and all 50 U.S. states.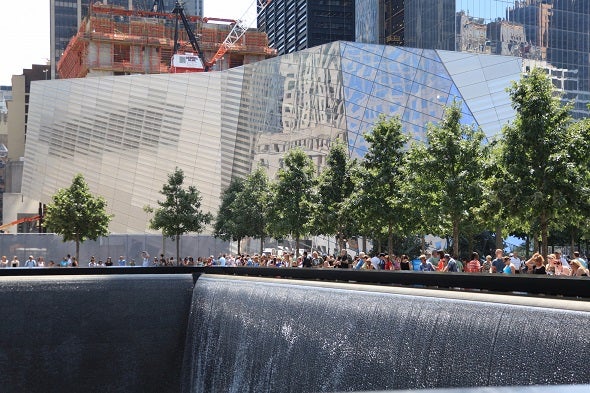 Visitors at a reflecting pool and waterfall, one of two set within the footprints of the original Twin Towers, are part of the National September 11 Memorial & Museum (museum in the background) honoring the victims and heroes of terrorist attacks on the United States. Accenture developed the technology network for the digital exhibits that span three floors below ground. Photo credit Amy Dreher, 9/11 Memorial
To support the creative design of the complex – which occupies 110,000 square feet of exhibition space underground, displays nearly 12,500 artifacts and hosts more than 10,000 visitors a day – Accenture helped develop a robust IT infrastructure for the Museum's digital exhibition that spans three floors, below ground.

Delivery of the IT system included:
Deployment of a comprehensive wired and wireless network;
Installation and implementation of a virtualized infrastructure to run the Memorial & Museum operations;
Deployment of a powerful cellular distributed antennae system;
Development and implementation of operational procedures to support daily operations; and
Implementation of a network, systems and service management framework to manage IT infrastructure and applications.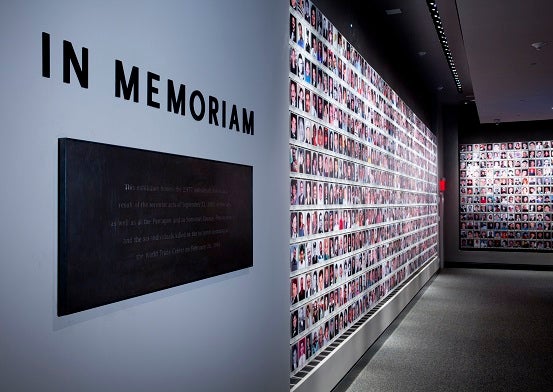 The National September 11 Memorial & Museum includes digital historical and memorial exhibitions, including artifacts, video footage, photographs and recordings of first-person testimonials drawing more than 10,000 visitors a day. Accenture developed the leading-edge technology infrastructure supporting the exhibits. Photo credit Jin Lee, 9/11 Memorial
"Accenture is honored to be part of the team which helped create the National September 11 Memorial & Museum, commemorating these tragic events," said Johnny Cavaliero, Accenture's managing director leading the firm's work for government and nonprofit organizations in New York. "We are proud to have brought our IT solutions to support the telling of important stories honoring those who were lost and help ensure the events are never forgotten."

Key elements of the Museum visitors' experience include the digital historical and memorial exhibitions, told through personal artifacts, photographs, audio and video footage, and first-person testimonials. To protect these exhibits, the Accenture team also established primary connectivity and data backup with an offsite data center for disaster recovery.

The Memorial opened on Sept. 12, 2011, the day after the tenth anniversary of the attacks, and the Museum opened on May 21, 2014.

Learn more about Accenture and Delivering Public Service for the Future.

About Accenture
Accenture is a global management consulting, technology services and outsourcing company, with more than 336,000 people serving clients in more than 120 countries. Combining unparalleled experience, comprehensive capabilities across all industries and business functions, and extensive research on the world's most successful companies, Accenture collaborates with clients to help them become high-performance businesses and governments. The company generated net revenues of US$30.0 billion for the fiscal year ended Aug. 31, 2014. Its home page is www.accenture.com.

# # #

Contact:

Joe Dickie
Accenture
+ 1 512 694 6422
joseph.r.dickie@accenture.com