July 22, 2015
Accenture Acquires Chaotic Moon to Continue Growing its Digital Design and Innovation Capabilities

Austin-based studio known for its bold, innovative design and technology to join Accenture Interactive

AUSTIN, TX; July 22, 2015 – Accenture (NYSE: ACN) has acquired Chaotic Moon, a creative technology studio that creates and develops user-centered experiences for leading brands, strengthening its full suite of marketing and digital services provided by Accenture Interactive, part of Accenture Digital. Terms of the transaction were not disclosed.
Austin-based Chaotic Moon has capabilities in experience strategy, digital design, prototyping, and development. The acquisition provides Accenture Interactive with expanded rapid prototyping and creative technology capabilities, as well as a regional foothold in the talent-rich Texas market. The studio is known for its adventurous style, boundary-pushing technology, and a methodology that pairs designers with developers on rapid co-creation -- from concepting to delivery.

"We're delighted to bring all of the talented and creative people of Chaotic Moon to Accenture Interactive to help us keep pace with the growing demand for our digital design and innovation services," said Brian Whipple, senior managing director, Accenture Interactive. "Chaotic Moon is a natural extension of our capabilities and allows us to expand geographically into Austin, with its strong base of designers and engineers. Together, we will work to fulfill our ambition at Accenture Interactive to be a market leader in experience design, marketing, content and commerce for the world's biggest brands."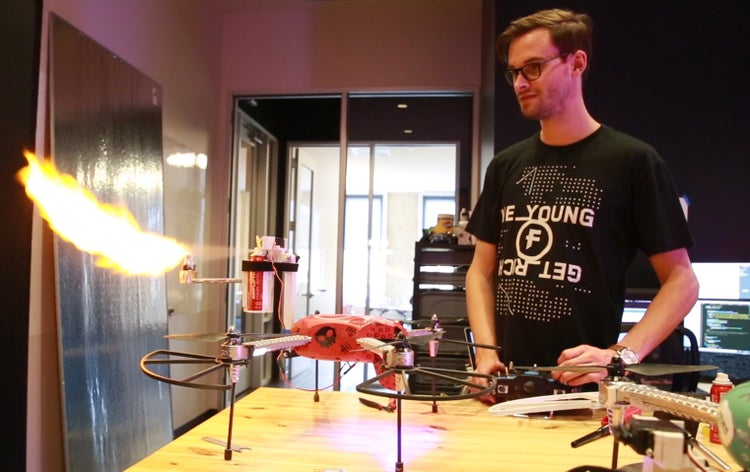 For the 2015 SXSW Interactive Festival in Austin, Chaotic Moon shows off
its recent prototyping work with drones, a technology of interest
to its clients in the energy and public safety sectors
"Chaotic Moon is a place where ideas are realized, conversations are sparked, and problems are solved through creativity and technology by having the best talent," said Ben Lamm, chief executive officer and co-founder. "With Accenture Interactive, Chaotic Moon will continue to design and build technology of consequence for our existing clients, as well as Accenture's roster of many of the world's biggest brands. With Accenture's global footprint, ability to deliver at scale, deep industry expertise, and enduring client relationships, we'll be able to create amazing digital experiences, pushing the boundaries of technology to do things that haven't been done – or even thought of – before."

Founded in 2010, Chaotic Moon is based in Austin and recently announced plans to open a second office in Dallas. The fast-growing company made its name by creating transformational digital products for popular brands, including Disney, Marvel, and others. Its bold, innovative work has won accolades for its creativity and innovation, including recognition from a leading analyst firm for its agile and rapid development processes and highly creative, innovative mobile projects. The company has also garnered strong market recognition for its futuristic inventions, such as The Whole Foods "Smart Cart," an autonomous cart that can follow a shopper around the store while keeping track of needed items, ingredients and purchase totals.
Chaotic Moon Reel 2015
Chaotic Moon is the latest move Accenture has made to rapidly scale Accenture Interactive's end-to-end digital experience, marketing, content and commerce services for brands globally. They will join forces with Fjord, the design and innovation arm of Accenture Interactive.

Earlier this month, Accenture acquired PacificLink Group, an independent set of full service digital agencies in Hong Kong. Prior to that, it acquired Brightstep, a Swedish provider of digital content and commerce solutions. In May, it opened the Accenture Interactive Innovation Center in Sophia Antipolis, France, which provides leading brands an environment to experience the impact of social media and artificial intelligence on customer service, marketing campaigns and the entire customer experience.

About Accenture
Accenture is a global management consulting, technology services and outsourcing company, with more than 336,000 people serving clients in more than 120 countries. Combining unparalleled experience, comprehensive capabilities across all industries and business functions, and extensive research on the world's most successful companies, Accenture collaborates with clients to help them become high-performance businesses and governments. The company generated net revenues of US$30.0 billion for the fiscal year ended Aug. 31, 2014. Its home page is www.accenture.com.

Accenture Interactive, part of Accenture Digital, helps the world's leading brands drive superior marketing performance across the full multichannel customer experience. Accenture Interactive offers integrated, industrialized and industry-driven digital transformation and marketing solutions. To learn more follow us @AccentureSocial and visit www.accenture.com/interactive.

Forward-Looking Statements
Except for the historical information and discussions contained herein, statements in this news release may constitute forward-looking statements within the meaning of the Private Securities Litigation Reform Act of 1995. Words such as "may," "will," "should," "likely," "anticipates," "expects," "intends," "plans," "projects," "believes," "estimates," "positioned," "outlook" and similar expressions are used to identify these forward-looking statements. These statements involve a number of risks, uncertainties and other factors that could cause actual results to differ materially from those expressed or implied. These include, without limitation, risks that: the transaction might not achieve the anticipated benefits for the company; the company's results of operations could be adversely affected by volatile, negative or uncertain economic conditions and the effects of these conditions on the company's clients' businesses and levels of business activity; the company's business depends on generating and maintaining ongoing, profitable client demand for the company's services and solutions, and a significant reduction in such demand could materially affect the company's results of operations; if the company is unable to keep its supply of skills and resources in balance with client demand around the world and attract and retain professionals with strong leadership skills, the company's business, the utilization rate of the company's professionals and the company's results of operations may be materially adversely affected; the markets in which the company competes are highly competitive, and the company might not be able to compete effectively; the company could have liability or the company's reputation could be damaged if the company fails to protect client and/or company data or information systems as obligated by law or contract or if the company's information systems are breached; the company's results of operations and ability to grow could be materially negatively affected if the company cannot adapt and expand its services and solutions in response to ongoing changes in technology and offerings by new entrants; the company's results of operations could materially suffer if the company is not able to obtain sufficient pricing to enable it to meet its profitability expectations; if the company does not accurately anticipate the cost, risk and complexity of performing its work or if the third parties upon whom it relies do not meet their commitments, then the company's contracts could have delivery inefficiencies and be less profitable than expected or unprofitable; the company's results of operations could be materially adversely affected by fluctuations in foreign currency exchange rates; the company's profitability could suffer if its cost-management strategies are unsuccessful, and the company may not be able to improve its profitability through improvements to cost-management to the degree it has done in the past; the company's business could be materially adversely affected if the company incurs legal liability; the company's work with government clients exposes the company to additional risks inherent in the government contracting environment; the company might not be successful at identifying, acquiring or integrating businesses or entering into joint ventures; the company's Global Delivery Network is increasingly concentrated in India and the Philippines, which may expose it to operational risks; changes in the company's level of taxes, as well as audits, investigations and tax proceedings, or changes in the company's treatment as an Irish company, could have a material adverse effect on the company's results of operations and financial condition; as a result of the company's geographically diverse operations and its growth strategy to continue geographic expansion, the company is more susceptible to certain risks; adverse changes to the company's relationships with key alliance partners or in the business of its key alliance partners could adversely affect the company's results of operations; the company's services or solutions could infringe upon the intellectual property rights of others or the company might lose its ability to utilize the intellectual property of others; if the company is unable to protect its intellectual property rights from unauthorized use or infringement by third parties, its business could be adversely affected; the company's ability to attract and retain business and employees may depend on its reputation in the marketplace; many of the company's contracts include payments that link some of its fees to the attainment of performance or business targets and/or require the company to meet specific service levels, which could increase the variability of the company's revenues and impact its margins; if the company is unable to collect its receivables or unbilled services, the company's results of operations, financial condition and cash flows could be adversely affected; if the company is unable to manage the organizational challenges associated with its size, the company might be unable to achieve its business objectives; the company's share price and results of operations could fluctuate and be difficult to predict; the company's results of operations and share price could be adversely affected if it is unable to maintain effective internal controls; any changes to the estimates and assumptions that the company makes in connection with the preparation of its consolidated financial statements could adversely affect its financial results; the company may be subject to criticism and negative publicity related to its incorporation in Ireland; as well as the risks, uncertainties and other factors discussed under the "Risk Factors" heading in Accenture plc's most recent annual report on Form 10-K and other documents filed with or furnished to the Securities and Exchange Commission. Statements in this news release speak only as of the date they were made, and Accenture undertakes no duty to update any forward-looking statements made in this news release or to conform such statements to actual results or changes in Accenture's expectations.

Copyright © 2015 Accenture. All rights reserved.

# # #

Contacts:

David LaBar
Accenture Interactive
+ 1 646 456 4505
david.labar@accenture.com

Chad Darbyshire
Chaotic Moon
darby@chaoticmoon.com