November 23, 2015
A Buoyant Christmas Ahead as UK Consumers Are Set to Increase Retail Spending, Accenture Research Reveals
One in five shoppers plan to spend more this Christmas season than last year, and almost half (43 percent) of UK shoppers feel optimistic about their financial situation
Over half (53 percent) of respondents anticipate doing the majority of their Christmas shopping online
Barriers to continued growth in mobile shopping, include concerns about privacy or security
Food and drink has overtaken clothing as the most popular items for shoppers to buy as a gift
LONDON; Nov. 23, 2015 – With less than five weeks until gifts are unwrapped across the country, spending on Christmas purchases is set to increase this year, with one in five consumers planning to spend more than last year. A further two thirds (68 percent) plan to maintain their levels of spending, according to new research from Accenture.
Almost half (43 percent) of UK shoppers surveyed are either confident about how much they have to spend this Christmas, or feel optimistic about their financial situation more generally, pointing to a promising period for retailers.

Now in its second year, the Accenture UK Holiday Shopping Survey offers insights into consumer buying patterns during the Christmas period. It gives an indication of retail performance expectations both on the high street and online at a key time for the sector. Over 1,500 UK shoppers from around the country were surveyed about their Christmas shopping intentions.

While spending is set to increase, British shoppers still can't resist a bargain with a quarter (24 percent) of shoppers seeing a discount of between 20 percent – 29 percent as enough to convince them to buy a product. Almost half (48 percent) of respondents report that in-store promotions enhance their shopping experience.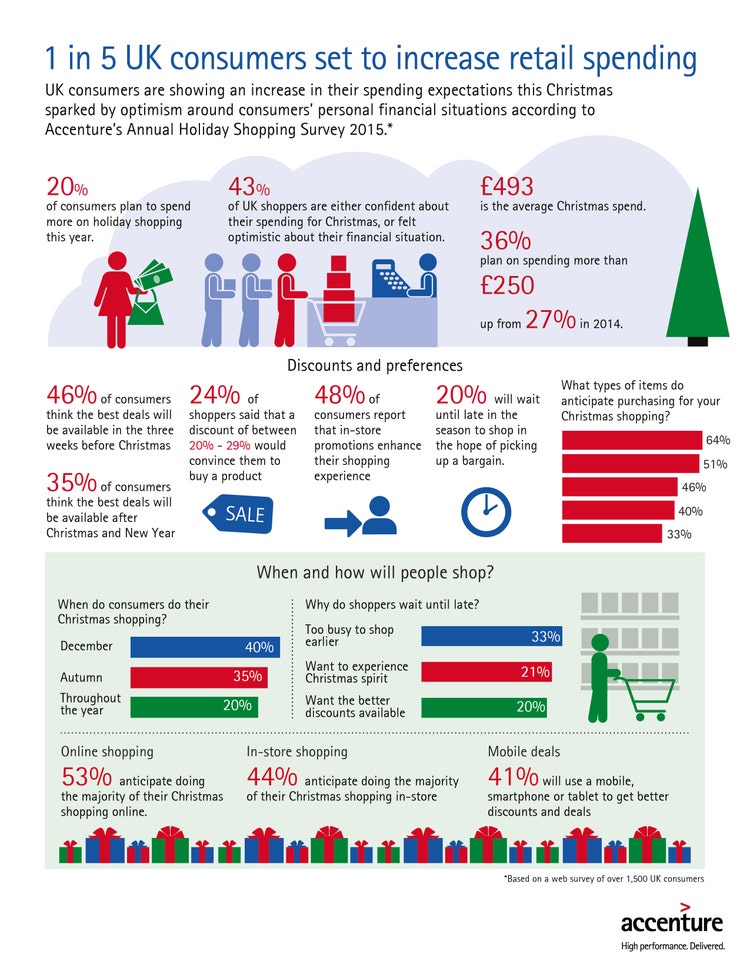 "The intention of consumers to spend more this Christmas points to what should be a strong trading period for retailers," said Matt Prebble, managing director, Retail, Accenture UK & Ireland. "We found that 35 percent of consumers have already started purchasing their Christmas gifts, giving retailers an extended period to drive revenue. To ensure they capitalise on this opportunity, retailers should make sure they are offering a seamless experience with targeted offers and promotions extending across all of the digital and physical channels."

Over half (53 percent) of the respondents anticipate doing the majority of their Christmas shopping online with 44 percent planning to do the majority of shopping in-store. The growth of mobile shopping, in particular, is set to have an impact on spending this holiday season, with 41 percent of consumers citing better discounts and deals as a reason to shop using a mobile, smartphone or tablet.

There are barriers to continued growth in mobile shopping, however. More than a third (39 percent) of consumers are concerned about privacy or security, with an additional 31 percent citing concerns about the fact that not all sites are mobile enabled. Given the increasing prevalence of mobile, this presents both an opportunity and a risk for retailers over the holiday season.

"Consumers want to shop via any channel, at any time," said Prebble. "So it is critical that retailers begin to think with a mobile first approach to ensure they provide services in a way that the customer wants, or they could risk losing trade to their competition."

Increased levels of spending seem set to be driven by an increased demand for food and drink gifts, with almost two thirds (64 percent) of shoppers planning on buying such items, up from 49 percent last year.

However, the survey delivered potentially bad news for those hoping for a new Christmas jumper. In an indication of shifting consumer trends, only half (51 percent) of consumers are planning to buy clothing as a present this holiday season, down from two thirds (64 percent) in 2014.

Despite the confidence and increased spending intentions, consumers are still worried about external factors potentially impacting their Christmas budget. More than a third (39 percent) are concerned about an unexpected emergency reducing how much they have to spend on Christmas gifts, with energy bills (32 percent) and rising food bills (30 percent) also having the potential to cut into Christmas spending.

Methodology
Accenture conducted an online survey with Coleman Parkes using a representative sample of 1,513 UK consumers in September and October 2015.

About Accenture
Accenture is a leading global professional services company, providing a broad range of services and solutions in strategy, consulting, digital, technology and operations. Combining unmatched experience and specialized skills across more than 40 industries and all business functions – underpinned by the world's largest delivery network – Accenture works at the intersection of business and technology to help clients improve their performance and create sustainable value for their stakeholders. With more than 358,000 people serving clients in more than 120 countries, Accenture drives innovation to improve the way the world works and lives. Visit us at www.accenture.com.

# # #

Contact:

Molly McDonagh
Accenture UK
+ 44 (0)7825 023 622
molly.mcdonagh@accenture.com