November 12, 2014
Most U.S. Consumers Believe Unbiased Information Trumps Accuracy When Making Medical Decisions, says Accenture Survey

Chicago; Nov. 12, 2014 – Don't expect U.S. consumers to look to health insurers as their primary source of information when they have to make medical decisions, a new survey by Accenture (NYSE:ACN) indicates. The survey of 2,003 U.S. consumers showed the majority (69 percent) of the respondents believe that the information provided by insurers steers them in a preferred direction, and 65 percent believe the information they receive is difficult to apply to their own situation.
The survey asked consumers a range of questions about the types of information they consult for making healthcare decisions, including medical information, doctor selection and estimating costs.

"At a time when healthcare is adapting to a more consumer-directed marketplace, individuals need to find medical information that is both unbiased and relevant," says Jean-Pierre Stephan, managing director for customer relationship management solutions, Accenture Health. "Healthcare organizations have the ability to shift consumer perceptions by giving them what they want."

Medical Information
According to the survey, the top sources consumers consult for getting the medical information they need are: medical professionals (95 percent), health websites (89 percent), internet searches (87 percent) family and friends (74 percent) and health plans (67 percent).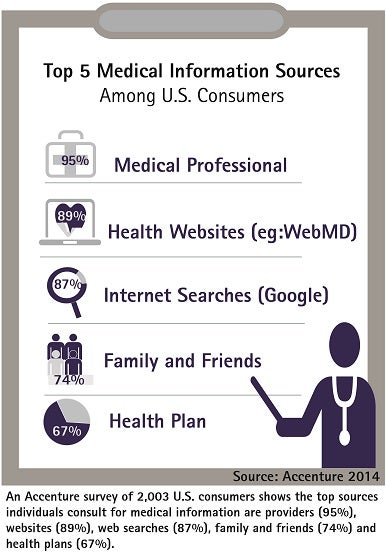 Three-fourths of consumers reported that lack of bias trumps accuracy when searching for medical information. For example, although a quarter of consumers believe online searches yield inaccurate information, most (87 percent) still turn to the internet because they consider it an unbiased channel. Conversely, most respondents (69 percent) suspect that health plans are steering them in a preferred direction. Not surprisingly, most consumers (97 percent) view medical professionals as accurate, unbiased sources for seeking medical information and potential treatment alternatives.

Doctor Selection
When finding or qualifying a primary care physician or specialist, about half (51 percent) of consumers consult patient reviews from health insurers as their primary source of information. And, when reviewing their health insurer's website, significantly more consumers surveyed select doctors based on patient reviews rather than quality ratings (34 percent versus 9 percent).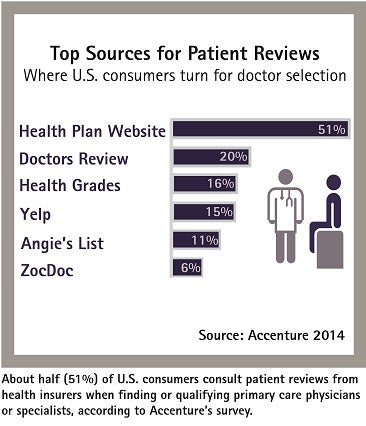 Other top online sources for finding and qualifying physicians include: Doctors Review (20 percent), Health Grades (16 percent), Yelp (15 percent), Angie's List (11 percent) and Zoc Doc (6 percent).

Estimating Cost of Services
"Although one might expect consumers to turn to their health insurer first for estimating the costs of services, health plans actually ranked below a number of other sources," added Stephan. In fact, the survey shows that when researching costs for a treatment, consumers are most likely to consult a doctor (95 percent), local pharmacy (86 percent) or hospital (84 percent) before consulting a health insurer (80 percent).

"Above all, consumers want a trusted advisor, as no one wants to make medical decisions alone," added Stephan. "The more healthcare organizations learn how and when to provide guidance, the more consumers will accept input as part of their own decision-making process."

About Accenture
Accenture is a global management consulting, technology services and outsourcing company, with more than 305,000 people serving clients in more than 120 countries. Combining unparalleled experience, comprehensive capabilities across all industries and business functions, and extensive research on the world's most successful companies, Accenture collaborates with clients to help them become high-performance businesses and governments. The company generated net revenues of US$30.0 billion for the fiscal year ended Aug. 31, 2014. Its home page is www.accenture.com.
# # #


Contact:

Jenn Francis
Accenture
+ 630 338 6426
jennifer.francis@accenture.com