March 20, 2014
Patients Expect Pharmaceutical Companies to Provide Services that Help Them Manage Their Health, Accenture Survey Finds

NEW YORK; March 20, 2014 – A new Accenture (NYSE: ACN) survey of 2,000 patients in the United States taking long-term, short-term or lifestyle medications found that the vast majority (76 percent) believe pharmaceutical companies should provide services that complement the products they provide.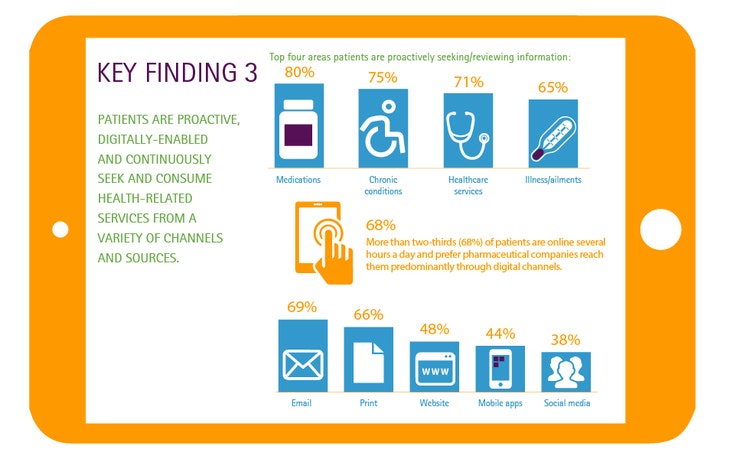 The survey – Why Pharma Companies Can't Ignore Patient Services – also uncovered significant gaps in the services that patients want and those that they are currently receiving. Those that do receive patient services – from participation in rewards programs to receipt of product information and financial assistance – value them greatly and are eager to use them. Yet the survey also indicates that for many customers these programs are not available.

While 63 percent of the patients surveyed say they want to participate in customer rewards programs, only 10 percent say they have been offered the opportunity to do so. According to the survey, other services that patients most expect or want but are not receiving are:
Financial assistance: 51 percent of patients want it, but only 10 percent receive it.
Measuring and tracking alerts, such as monitoring of blood glucose levels: 35 percent of patients want it, but only 20 percent receive it
Product information: 53 percent of patients want it, and 48 percent say they receive such information.
"The vast majority of patients surveyed don't just want patient services – they expect them and are looking to pharmaceutical companies to be part of the solution. While many patient services are underserved, those who receive services are very satisfied with them," said Shawn Roman, managing director in Accenture's Life Sciences industry group.

Roman adds, "This indicates there is tremendous opportunity for pharmaceutical companies to become more engaged with the patients they treat and truly understand how to help deliver a better patient outcome. Our survey findings show that this process can start early, with three out of four (74 percent) saying that outreach by pharmaceutical companies to patients should be initiated as soon as patients start taking a medication."

Patients polled across all three groups indicated the most important services are:
Product information: 73 percent
Financial assistance: 64 percent
Reward programs: 60 percent
Physician referrals: 55 percent
Nurse support via phone: 45 percent
"Services provided to patients are still in their infancy in the industry," said Roman. "There is a plethora of unmet patient needs surrounding medication that can be fulfilled by the Life Sciences companies – pharmaceuticals, consumer health and medical device manufacturers, in combination with the providers and the patients. We believe that these parties converging and collaborating to provide services to better meet patient needs is a fundamental tenet of the future of healthcare."

A comparison of the top-five services that pharmaceutical companies provide today and the satisfaction levels among survey participants taking long-term, short-term or lifestyle medications are as follows:
Product information: 80 percent satisfaction
Measurement tracking and alerts: 79 percent satisfaction
Adherence support: 77 percent satisfaction
Physician referrals: 76 percent satisfaction
Adherence support: 77 percent satisfaction
Rewards programs: 73 percent satisfaction
Roman added, "Patients are exerting more influence than ever on their treatment decisions. And while medicines and therapies are essential for delivering an improved health outcome, patients also are clear about their desire for complementary services to help them better manage their health and individual outcomes."

The survey also shows that nearly 64 percent of patients taking long-term, short-term or lifestyle medications would be willing to provide information on their health to pharmaceutical companies if that would enable them to receive free information or services. When it comes to receiving information, survey participants indicated that their communications preferences from pharmaceutical companies are:
Email: 69 percent
Printed materials: 66 percent
Website: 48 percent
Mobile apps: 44 percent
Social media: 38 percent
Live support: 35 percent
"Consumer-facing industries provide a wide range of information through digital channels, so it is natural that patients' preference is switching to digital methods of communication, particularly if it is available at the moment of need," said Roman. "Pharmaceutical companies need to understand what patients truly value in services for their particular health need and how to best deliver them in a cost-effective, meaningful way. This opens up the opportunity to deliver a range of new outcome-based programs for patients through greater collaboration with the broader healthcare system including payers, providers, physicians, and government."

Click here to view the infographic.

Click here to view the research brief.

About the Survey
Accenture retained Coleman Parkes Research to conduct an online survey of 2,000 respondents in the United States between September and October, 2013. Respondents had to be 18 years or older with annual household income of $25K or higher and currently taking a short-term medicine (for example, antibiotics, or migraine medication), a long-term medicine (such as diabetes or blood pressure control) or a lifestyle medicine (e.g., birth control pills, or erectile dysfunction therapies). Online questionnaires were completed at home, in private, and screeners and quotas were put in place to ensure the quality of respondents and representation of the targeted population. Questions explored respondents' perspectives on a variety of services, including information or education, financial assistance, reward programs, physician referrals and nurse support.

About Accenture
Accenture is a global management consulting, technology services and outsourcing company, with approximately 281,000 people serving clients in more than 120 countries. Combining unparalleled experience, comprehensive capabilities across all industries and business functions, and extensive research on the world's most successful companies, Accenture collaborates with clients to help them become high-performance businesses and governments. The company generated net revenues of US$28.6 billion for the fiscal year ended Aug. 31, 2013. Its home page is www.accenture.com.

# # #

Contact:

Cam Granstra
Accenture
+ 312 693 5992
cameria.l.granstra@accenture.com