Majority of U.S. Consumers with Chronic Conditions Believe Accessing Medical Records Online Outweighs Privacy Risks, According to Accenture Survey
CHICAGO; May 5, 2014 – More than two-thirds (69 percent) of U.S. consumers with chronic health conditions believe patients should have the right to access all of their healthcare information, and roughly half (51 percent) believe that accessing their medical records online outweighs the privacy risks, according to a new survey by Accenture (NYSE:ACN).
Accenture surveyed 2,011 individuals, 918 healthy and 1,093 with 11 chronic conditions – asthma, arthritis, cancer, chronic obstructive pulmonary disease (COPD), depression, diabetes, heart disease, hypertension, clinically diagnosed obesity, osteoporosis and stroke – and found the chronic patients were slightly less concerned about the privacy of their electronic medical record (65 percent) than they were about other personal information that is stored digitally, such as online banking (70 percent), in-store credit card use (69 percent) and online shopping (68 percent).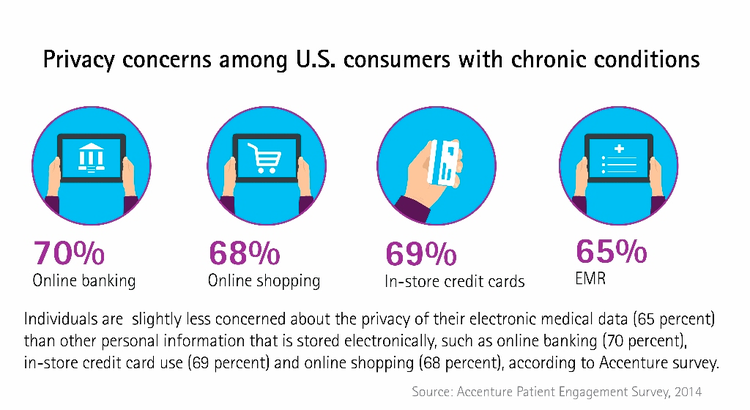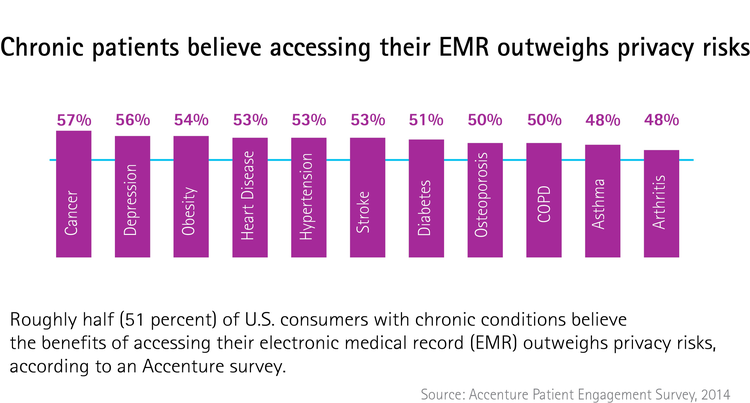 Even though they are eager to have access to their online medical records, roughly half (55 percent) of those with chronic conditions said the top barrier to accessing their records was not knowing how to do so.

Beyond accessing medical data, the vast majority (87 percent) of U.S. consumers want to control their health data, but roughly half (55 percent) believe they currently do not have very much control – or any control – over their medical information. The survey also showed that, depending on the type of chronic illness they have, there are differences in a person's ability to exercise some level of control over his or her healthcare data. For example, nearly two-thirds (65 percent) of consumers with heart disease reported having some level of control compared to only 49 percent of individuals with chronic obstructive pulmonary disease (COPD).

The rising population of chronic patients remains an area of growing concern, as the U.S. Centers for Disease Control estimates that 47 percent of Americans have at least one chronic disease, yet they account for 76 percent of all physician visits. Accenture's findings show, however, that these individuals are actively engaged at most stages of patient care, including during medical diagnosis (91 percent), managing treatment (87 percent) and maintaining general health on a day-to-day basis (84 percent).

"Healthcare will need to adapt to a new generation of individuals who are taking a more proactive role in managing their health and expect to have transparency," said Kaveh Safavi M.D. J.D., who leads Accenture's global health business. "As consumers continue to demand more access to their personal data online, we expect that patients will gain more power to manage some aspects of their own care. This will not only make healthcare more effective but also more affordable, as consumers doing more for themselves will free up the system to be more productive."

Learn more about Accenture's Insight Driven Health and Delivering Public Service for the Future.

Methodology
Accenture's Patient Engagement Survey polled 10,730 consumers in 10 countries, including 2,011 in the United States, as well as respondents in Australia, Brazil, Canada, Italy, Spain, Norway, Japan, Singapore and the United Kingdom. Where applicable, the survey compared the perceptions of healthy individuals and those who self-reported being diagnosed with one or more of the following 11 chronic conditions: asthma, arthritis, cancer, chronic obstructive pulmonary disease (COPD), depression, diabetes, heart disease, hypertension, clinically diagnosed obesity, osteoporosis and stroke. The survey was conducted online between February 21 and March 16, 2014, by Penn Schoen Berland (PSB).

About Accenture
Accenture is a global management consulting, technology services and outsourcing company, with approximately 289,000 people serving clients in more than 120 countries. Combining unparalleled experience, comprehensive capabilities across all industries and business functions, and extensive research on the world's most successful companies, Accenture collaborates with clients to help them become high-performance businesses and governments. The company generated net revenues of US$28.6 billion for the fiscal year ended Aug. 31, 2013. Its home page is www.accenture.com.
# # #

Contact:

Jenn Francis
Accenture
+ 630 338 6426
Jennifer.francis@accenture.com