November 24, 2014
Majority of Students Cite Digital Capabilities and Services at Universities as Key Factor in Higher Education Choice, Accenture Survey Finds

ARLINGTON, VA; Nov. 24, 2014 – A large majority of college-bound students (85 percent) said that digital capabilities, such as integration of technology into classrooms, virtual coursework and online classes are a top determinant in choosing which university to attend, according to a five-country survey by Accenture (NYSE:ACN). The survey of 1,500 students in Australia, India, Singapore, the United Kingdom and the United States found the strong demand for digital capabilities carried over to students currently attending a university as well as recent graduates, with the majority (70 percent) calling for greater use of digital tools for learning and content delivery.


"Our research revealed that as universities compete to attract students, digital capabilities are a major draw," said Ryan Oakes, who leads Accenture's education practice. "Like successful government programs and businesses, universities need to rise to the challenge of addressing demands for digital services among current and prospective students."

At the same time, most students considered alternatives before deciding to attend university, and the survey showed that the cost of attending a university was the number one reason such university-bound secondary students across the five countries – 54 percent overall – said they were considering alternatives to higher education. The concern over cost was fairly consistent across the five countries, cited by 54 percent in Australia, 48 percent in India, 53 percent in Singapore, 59 percent in the United Kingdom and 55 percent in the United States.

Most current students and recent graduates – 86 percent – rated their overall university experience as either excellent or good. Indian students were the most satisfied overall, with 92 percent saying their experience was excellent or good, followed by students in the U.S., the United Kingdom, Australia and Singapore (cited by 90 percent, 88 percent, 82 percent and 80 percent, respectively)

University web sites were considered the most valuable source of information for university-bound students in four of the five countries, with the exception of Australia, where a higher percentage of students rated "university visits/open houses" as the most useful information source.





"In most countries we studied, the online channel is favored by students as an information source, but we also found significant numbers of students relying on more traditional sources, including visits, open houses, guidance counselors and teachers, and friends and family," added Oakes. "Universities must continue to leverage a variety of channels to convey their value and attractiveness to prospective students. At the same time, they must capitalize on the utility of web sites to highlight what they offer, including the digital capabilities so important to many students."

The survey also found that while the majority of all respondents (84 percent) identified obtaining skills and knowledge for success in the job market as the main goal of a university education, three out of four respondents also said personal benefits, such as exposure to new people and new ways of thinking, were also very important.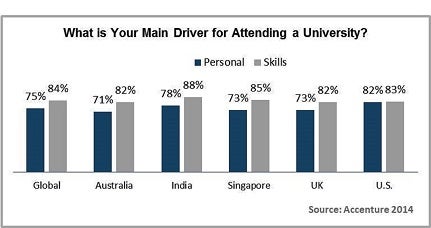 Methodology
Accenture surveyed 1,500 students (300 per country, including university-bound secondary students, current university students, and recent graduates) in Australia, India, Singapore, the United States and the United Kingdom during mid-2014. The survey was fielded by Penn Schoen Berland (PSB).

Learn more about Accenture and Delivering Public Service for the Future.

About Accenture
Accenture is a global management consulting, technology services and outsourcing company, with more than 305,000 people serving clients in more than 120 countries. Combining unparalleled experience, comprehensive capabilities across all industries and business functions, and extensive research on the world's most successful companies, Accenture collaborates with clients to help them become high-performance businesses and governments. The company generated net revenues of US$30.0 billion for the fiscal year ended Aug. 31, 2014. Its home page is www.accenture.com.
# # #

Contact:

Joe Dickie
Accenture
+ 512 694 6422
joseph.r.dickie@accenture.com